VRINDAVAN TOURISM | TEMPLES, PLACES TO VISIT & TRAVEL GUIDE TO VRINDAVAN
Pilgrimage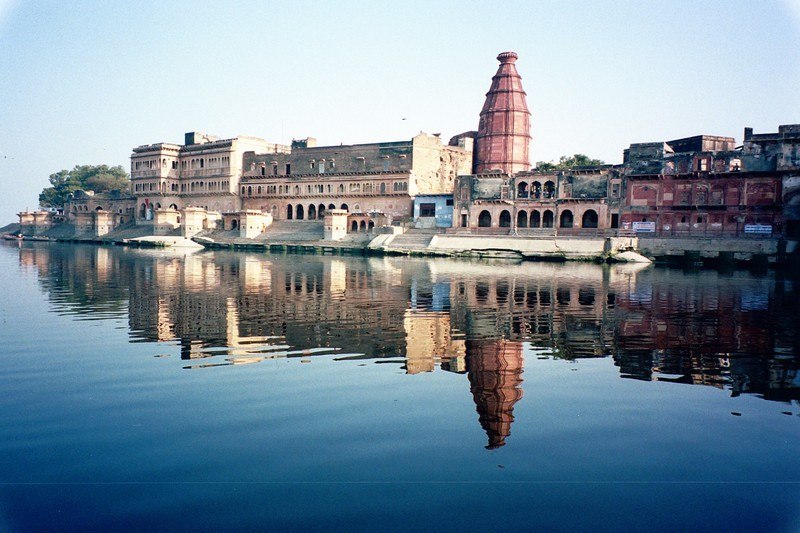 Ideal Trip Duration:
1-2 Days

Nearest City to Vrindavan:
Agra (70 Kms), Delhi City (155 Kms)

Best Time to Visit Vrindavan:
August to March

Peak Season:
August to September & March
At a distance of 13 km from Mathura, 70 km from Agra, 155 km from Delhi, 400 km from Lucknow and 235 km from Jaipur, Vrindavan is a holy town situated on the banks of Yamuna River in Mathura district of Uttar Pradesh. It is also among the sacred places to visit near Delhi for a 2 day weekend trip and also one of the popular places to visit near Agra.

Vrindavan is a major pilgrimage center for the Hindus and one of the oldest cities in the country. The holy town of Vrindavan has a very rich history associated with the Hindu god Lord Krishna. It is said to be the place where Lord Krishna spent his childhood. Chaitanya Mahaprabhu, a great devotee of Lord Krishna is credited with rediscovering of Vrindavan. The place was later developed by various kings of the region.

The name Vrindavan is derived from the words vrinda meaning tulsi (or basil) and van meaning grove and most likely refers to the two small groves at Nidhivan and Seva Kunj. While Seva Kunj is believed to be the place where Krishna performed Raaslila with Radha and the Gopikas, Nidhivan is said to be the place where the divine couple rested. The place is also one of the Shaktipeeths, named Bhuteshwar Mahadev. The place is believed to have been the site where the hair of Devi Sati fell.

Vrindavan is also one of the most prominent sites for ISKCON, the association of Krishna devotees. The city of Vrindavan is home to about 4,000 temples. Rangaji temple, Govind Dev Temple, Bankey Bihari temple, Madan Mohan temple, Radha Vallabh Temple, Nidhivan temple and the Pagal Baba temple are the popular and most visited Vrindavan temples.

Holi and Janmastami are the major festivals celebrated in Vrindavan. The Holi festival attracts national and international tourists to this town. Tourists can also visit nearby Barsana where the interesting tradition of Lath Mar Holi is observed. Barsana is the place where Krishna's consort Radha was born. The place is especially interesting during the festival of Holi when the women of Barsana attack the men of nearby village Nandgaon with sticks and play the Lath Mar Holi.

Agra Airport is the closest airport, which is 70 km away. Vrindavan has a Railway Station but Mathura is the major railhead, which is about 13 km. Vrindavan is also well connected by road with Mathura, Agra, Jaipur, Lucknow, Delhi, Indore and Allahabad.

The best time to visit Mathura is from October to March.
Internet Availability:
Average
Languages Spoken:
Hindi and English
Major Festivals:
Holi (Mar) and Janmastami (Aug/Sep)