PACHMARHI TOURISM | PLACES TO VISIT & TRAVEL GUIDE TO PACHMARHI
Hill Station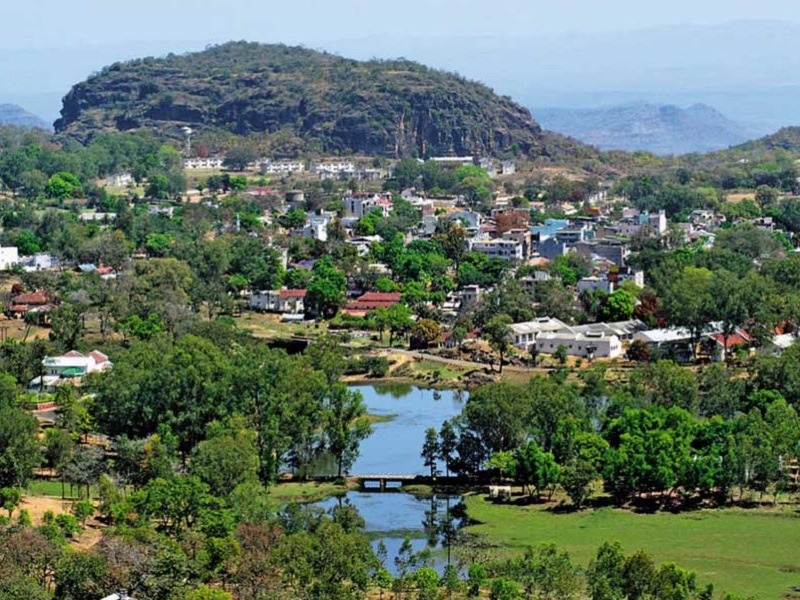 Ideal Trip Duration:
1-2 Days

Nearest City to Pachmarhi:
Bhopal (194 Kms)

Best Time to Visit Pachmarhi:
September to March

Peak Season:
October to February
At a distance of 51 km from Pipariya, 108 km from Chhindwara, 119 km from Hoshangabhad, 121 km from Itarsi, 159 km from Bhimbetka, 194 km from Bhopal, 203 km from Sanchi, 228 km from Nagpur, 242 km from Jabalpur, 337 km from Indore, and 383 km from Ujjain, Pachmarhi is a stunning hill station located in the Hoshangabad district of Madhya Pradesh, India. It is one of the popular hill stations in India, and among the must include places in MP tour packages.

Situated at an altitude of 1,067 m in a valley of the Satpura Range, Pachmarhi is the only hill station in Madhya Pradesh, and among the scenic places to visit near Bhopal. This is also often known as 'Satpura ki Rani' or the 'Queen of the Satpura Range'. Dhupgarh, the highest point (1,352 m) in Madhya Pradesh, and the Satpura range is located here. The picturesque hill town is also a part of the UNESCO Biosphere Reserve, which is home to leopards and bison. A beautiful retreat and a great tourist spot, it is the perfect place for nature lovers.

The name Pachmarhi is believed to be derived from the Hindi words Panch ('five') and Marhi ('caves'). According to the legend, these caves were built by five Pandava brothers of Mahabharata during their exile. It has been the location of a cantonment (Pachmarhi Cantonment) since British Raj. Before the British, the region of Pachmarhi was under the kingdom of the Gond king Bhawut Singh. This beautiful region of Pachmarhi was discovered by Captain James Forsyth in 1857 while leading his troops on the way to Jhansi. Impressed with the natural splendor of the hill station, the British officer opened a sanatorium and quickly developed it into a hill station. Pachmarhi also served as the summer capital for the Central Provinces.

Pachmarhi is treasured with ancient caves of the Buddhist era, and bewitching forests of the Satpuras with the streams and waterfalls which are the must-visit attractions of Pachmarhi tour packages. Bee Falls, Jata Shankar Caves, Pandava Caves, Dhoopgarh, Handi Khoh, Mahadeo Hill, Duchess Falls, Priyadarshini Point (Forsyth Point), Chauragarh Temple, Gupt Mahadev, etc., are some of the top and major places to visit in Pachmarhi. Since the town was discovered and developed by Captain James Forsyth of the British Army, it houses charming churches built in colonial-style architecture.

Pachmarhi is not only famous for its natural beauty but also famous for its festivals. Pachmarhi Utsava is one of the major and important festivals celebrated here annually. Starts from 25th December, it is a 6 days festival that hosts exhibitions, craft fairs along with some fascinating art performances. Mahashivratri is the other important festival celebrated here at Mahadeo Caves and also a big fair is organized during this occasion.

About 205 km from Pachmarhi, Raja Bhoj Airport in Bhopal is the nearest airport and has direct flights from Mumbai, Hyderabad, and New Delhi. Pipariya Railway Station is the nearest railhead which is about 51 km from Pachmarhi. It has well-connected trains from Rewa, Indore, Jabalpur, Gorakhpur, Pune, Bangalore, Mumbai, Puri, Katni, Bhagalpur, Guwahati, Itarsi, Allahabad, Amarkantak, Varanasi, Tirunelveli, Lucknow, Vadodara, Rajkot, Coimbatore, Patna, Darbhanga, Agartala, Secunderabad, Bandra, Satna, Howrah, Habibganj, and Surat. One can reach by bus or hire a cab to reach Pachmarhi. Pachmarhi Bus Station is the nearest bus stand that has several buses from all the major cities of Madhya Pradesh including Bhopal, Vidisha, Hosahngad, Raisen, etc.

Ranging from budget to luxury, there are several accommodation options available in Pachmarhi which helps the tourists to stay and explore the nearby places. There are many hotels mostly situated near the market. Only a few cottages, resorts, and MP Tourism hotels are situated in the area of Pachmarhi 2 or 3 km from the bus stand.

Though Pachmarhi can be visited throughout the year, the best time to visit Pachmarhi is from September to March. Summer months are moderately warm and just perfect for heading out to explore the outdoors. Visiting Pachmarhi during the monsoons is awesome, as the beauty of the town is been doubled during the rainy season. However, the heavy rains sometimes interrupt the sightseeing as most of the waterfalls were unable to reach for the tourists. Winter is the longest season here, and sets in from October, going on till March. Be prepared and carry plenty of woolens with you. The hazy atmosphere with a gust of wind and peeping sun highlights the natural beauty of Pachmarhi.

Entry: Rs. 500 for Forest Permit, Rs. 1500 per Jeep for Day Trip
Internet Availability:
Average
Languages Spoken:
Hindi, Urdu, Bhilodi, Nahali, Gondi.& English
Major Festivals:
Pachmarhi Utsava, Nag Panchami & Mahashivratri
Notes/Tips:

For people who are interested in sightseeing around Pachmarhi, the guests are required to take a day visit permit from Bison Lodge Museum. Moreover, the tourists also need to travel by local jeeps as cars brought from outside cannot be used at this place. The entry fee & the permit fee may change.