KHAJURAHO TOURISM | TOURIST PLACES TO VISIT & TEMPLES IN KHAJURAHO

Heritage |
Pilgrimage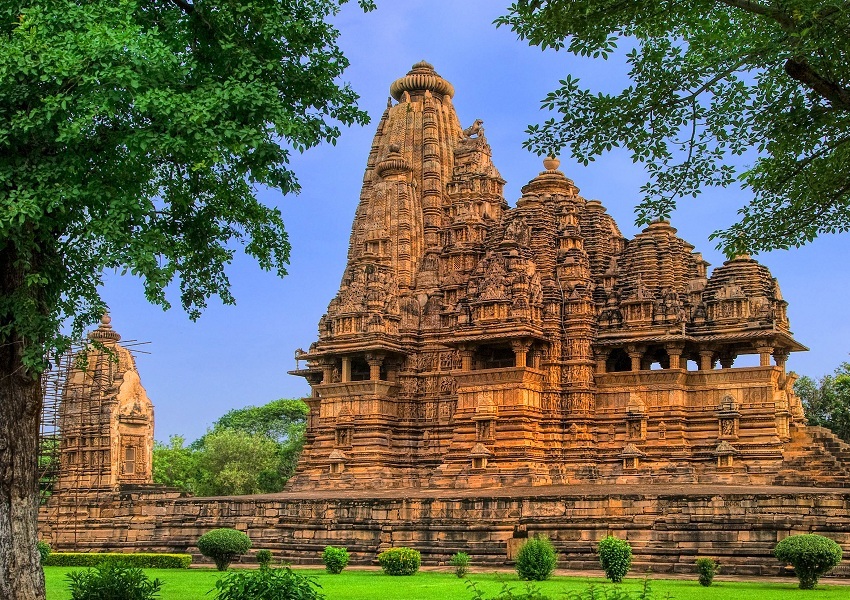 Ideal Trip Duration:
2 Full Days

Nearest City to Khajuraho:
Kanpur (223 Kms), Gwalior (283 Kms)

Best Time to Visit Khajuraho:
September to March

Peak Season:
November to February
At a distance of 47 km from Chhatarpur, 118 km from Satna, 179 km from Jhansi, 223 km from Kanpur, 265 km from Jabalpur, 283 km from Gwalior, 283 km from Allahabad, 388 km from Bhopal and 624 km from Delhi, Khajuraho is a historical town located in Chhatarpur district of Madhya Pradesh. Khajuraho is one of the top places to visit in Madhya Pradesh and among the must include places in your Madhya Pradesh tour packages.

Earlier, Khajuraho was the cultural capital of Chandela Rajputs who ruled this part of India during 10th to 12th centuries AD. Khajuraho Temples were built by the Chandela monarchs over a span of 200 years, from 950 to 1150 AD. After the fall of Chandela rulers, these temples were abandoned and long-forgotten until rediscovered by British Captain T.S. Burt, in 1838 AD. Known around the world for its stunning temples adorned by erotic carvings, the Khajuraho group of monuments has been listed as a UNESCO World Heritage Site, and is considered to be one of the seven wonders of India.

The marvelous architecture and erotic carvings are the best and most notable aspects of Khajuraho temples. There were originally over 80 Hindu temples, of which only 25 now stand in a reasonable state of preservation, scattered over an area of about 8 square miles. The temples also have numerous other sculptures depicting the life of a common man in that era. Khajuraho is now under the protection of the Archaeological Survey of India.

The temples of Khajuraho are divided into three groups - Eastern, Western and Southern wings. The Western Group is considered the finest as it features maximum number of huge and attractive temples. These include Kandariya Mahadev Temple, Devi Jagadambi Temple, Lakshman Temple, Chausath Yogini Temple and Chitragupta Temple. Vishwanath Temple, Nandi Temple and Varaha Temple are the other temples present in the Western Group.

The Eastern Group is dominated by carefully designed Jain Temples, as this was the prime abode of the Jain community during the reign of Chandelas. Parswanath Temple is the largest Jain temple of this group. This temple is noted for its exquisite detailing, sculptures and theme carvings. Other temples that add to the popularity of this group are Adinatha, Ghantai, Brahma, Vamana and Javari temples.

The Southern Group of Temples in Khajuraho comprises three temples, namely Dulhadeo Temple, Chaturbhuj Temple and Beejamandal Temple. Out of these, Dulhadeo Temple is the most popular, while the Chaturbhuj is the only temple in Khajuraho that was built without any erotic sculptures.

Khajuraho Dance Festival is a popular annual event organized in Khajuraho. It is organized in February / March months. The best classical dancers in the country perform in an open-air auditorium, with the temples of Khajuraho as an inspiring and awesome backdrop. Another most important festival of Khajuraho is Mahashivratri.

Khajuraho has its own airport, which is about 5 km from Khajuraho Bus Stand. It is well connected by flight with major Indian cities like Bhopal, Agra, Delhi, and Varanasi. Gwalior Airport is the nearest major airport to Khajuraho. Khajuraho Railway Station is the nearest railhead, about 8 km from Khajuraho. It has trains from Delhi, Jhansi, Kanpur, Jaipur, Ajmer, Udaipur, Mahoba, Agra, Mathura, Gwalior, Varanasi and Allahabad. Mahoba Junction is the major railhead, which is approximately 78 km away from Khajuraho. Tourists can also reach Khajuraho by bus from Jhansi, Bhopal, Chhatarpur, Satna, and nearby areas. Chhatarpur is the nearest town to Khajuraho which is well connected by all the major cities. The best way to explore Khajuraho is by hiring a bicycle.

Khajuraho has plenty of hotels and guest houses ranging from budget to luxury. They are spread across areas near the airport and in the main city like Jain Temple Road. Many of them organised tours around the historic city for their guests. MP Tourism also has a clean guest house with rooms available at affordable rates.

Khajuraho's climate is quite extreme, with wide variation in day and night temperatures along with minimal rainfall. Winter is the best season to visit Khajuraho while summer is the least advisable time for a visit, owing to the scorching heat and the unbearable humidity. So the best time to visit Khajuraho is from September to March.
Internet Availability:
Average
Languages Spoken:
Hindi, Bundeli & English
Major Festivals:
Khajuraho Dance Festival