JAIPUR TOURISM | TOURIST PLACES TO VISIT & TRAVEL GUIDE TO JAIPUR

Heritage |

City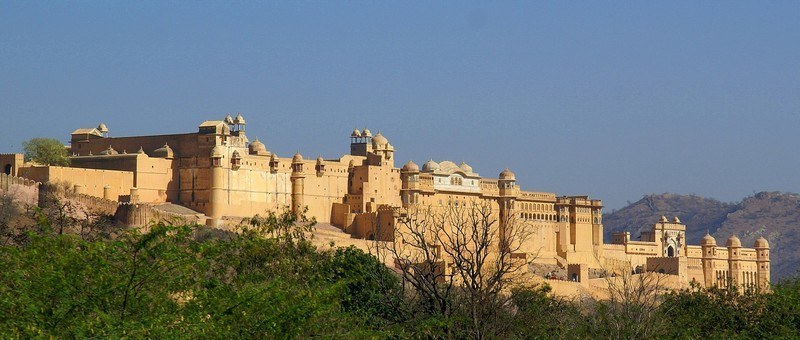 Ideal Trip Duration:
2-3 Days

Nearest City to Jaipur:
Jaipur

Best Time to Visit Jaipur:
November to March

Peak Season:
December to January
At a distance of 268 km from Delhi, 240 km from Agra, 511 km from Chandigarh, 652 km from Ahmedabad, 612 km from Bhopal and 590 km from Lucknow, Jaipur, also known as the Pink City, is the capital of Rajasthan in Northern India. It is the 10th most populous city in India and also one of the top visited tourist places near Delhi. Along with Delhi and Agra, Jaipur forms the Golden Triangle of Indian tourism. It is one of the popular places to visit in India and one among the renowned tourist places in Rajasthan.

Amer Fort, Hawa Mahal and City Palace are among the must include places in your Jaipur tour packages. Jaipur is also among the best 2 day trip near Delhi & Noida. The city of Jaipur was founded on 18th November 1727 by Maharaja Jai Singh II, the ruler of Amer, when he planned to shift his capital from Amer. It is believed that Jaipur was India's first planned city and was planned according to the vastushastra. The architect of Jaipur was Vidyadhar Bhattacharya, an architect from Bengal. The construction of the city began in 1727 and took four years to complete the major roads, offices and palaces. The city was divided into nine blocks, two of which contained the state buildings and palaces, with the remaining seven allotted to residents of the city. Huge ramparts were built around the city, pierced by seven fortified gates.

Jaipur attracts numerous visitors from all over the world due to its rich heritage and culture. Amber Fort, Sheesh Mahal, Ganesh Pol, Hawa Mahal, Jal Mahal, Nahargarh Fort etc. are the important monuments in Jaipur. Adventure activities like paragliding, hot air ballooning, rock climbing, camel riding and others can also be done here. Bairath, Karauli, Ranthambore National Park and Bagru are the nearest attractions.

Jaipur is also famous for its beautiful jewellery, fabrics, shoes also known as mojari and spacious gardens. The city is also well known for its fairs and fests that are held on grand scale. The major festivals include Kite Festival, Camel Festival, Teej, Gangaur and Elephant Festival. The city witnesses large number of tourists during these festivals.

Jaipur is well connected by road, rail and air to major destinations in India. Jaipur International Airport or Sanganer Airport is situated 13 km from the city. The airport is served by flights from Delhi, Mumbai, Hyderabad and Bengaluru. Jaipur Junction Railway Station is well connected by trains with Delhi, Ajmer, Jodhpur, Ahmedabad, Bikaner, Howrah, Gorakhpur, Agra, Patna, Ranchi, Dehradun, Okha, Haridwar, Jaisalmer, Mumbai, Amritsar, Varanasi, Guwahati, Pune, Bhopal, Kochi, Jammu Tawi, Chennai, Kolkata, Allahabad and Vizag. Sindhi Camp Bus Station is the main bus station which has direct buses from Delhi, Agra, Udaipur, Jodhpur, Ajmer, Ahmedabad, Lucknow, and Bhopal.

The best time to visit Jaipur is from October to March.
Internet Availability:
Very Good
Languages Spoken:
Rajasthani, Marwari, Hindi and English
Major Festivals:
Details Not Available