VARANASI TOURISM | TEMPLES, PLACES TO VISIT & TRAVEL GUIDE TO VARANASI
Pilgrimage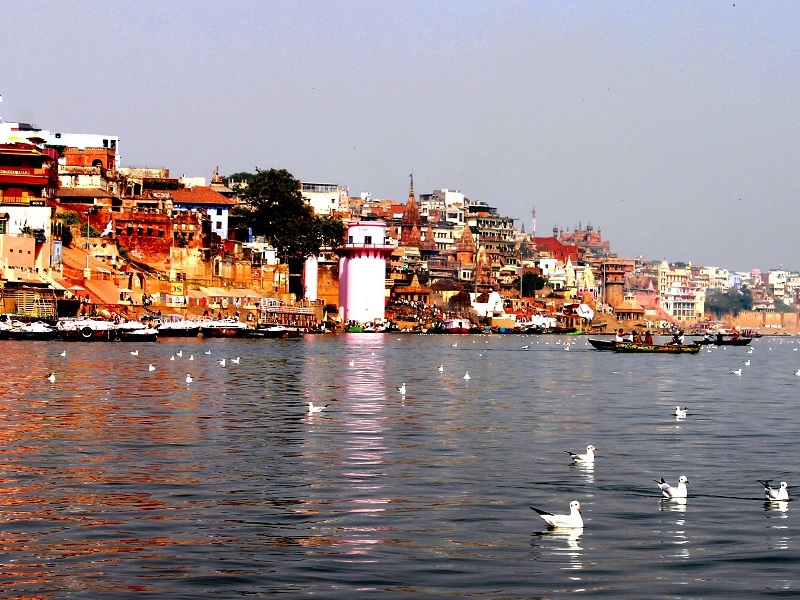 Ideal Trip Duration:
2 Full Days

Nearest City to Varanasi:
Varanasi

Best Time to Visit Varanasi:
October to March

Peak Season:
November to February
At a distance of 125 km from Allahabad, 163 km from Aurangabad, 208 km from Gorakhpur, 239 km from Rewa, 250 km from Patna, 258 km from Gaya, 321 km from Lucknow, and 327 km from Kanpur, Varanasi is an ancient city located on the banks of river Ganga in Uttar Pradesh, India. It is one among the most revered places of Pilgrimage in India and also one of the best places to visit in Uttar Pradesh.

Also known as Kashi and Banaras, the city gets its name from two rivers Varuna and Assi. Nicknamed as the cultural capital of India, Varanasi was the seat of learning in the past. Legend has it that Lord Shiva himself established this holy city as his abode. It is one of the twelve Jyotirlinga sites in India and also one of the Shakti Peethas. Varanasi is an important destination among Hindus as they believe those who die in Varanasi will attain salvation. Varanasi is also a preferred site for immersing ashes of the dead in river Ganga. Performing funeral rites and cremation in the pyres are the common sights here.

The holy city of Varanasi is more than 3000 years old and is one of the oldest living cities of the world. The early settlements around Varanasi began in the 18th century BC according to archaeological evidence. During the time of Gautama Buddha, the city of Varanasi was the capital of the Kashi Kingdom. Lord Buddha is believed to have founded Buddhism here around 528 BCE when he gave his first sermon at nearby Sarnath. Varanasi subsequently declined during three centuries of Muslim occupation, beginning in 1194 AD. Varanasi became an independent kingdom in the 18th century and in 1910 the British made Varanasi a new Indian state. Varanasi became a part of Uttar Pradesh after India got independence in 1947 CE.

Often referred to as the city of temples, Varanasi is a great city in India which attracts millions of tourists every year because of its amazing temples, rituals, and spiritual beliefs. Dashaswamedh Ghat, Assi Ghat, Sarnath, Kashi Vishwanath Temple, Annapurna Temple, Kashi Vishalakshi Temple, Manikarnika Ghat, Ramnagar Fort and Banaras Hindu University are some of the popular places to visit in Varanasi. Synonymous with the majestic river Ganga, the Ganga Aarti held every evening at Dasaswamedh Ghat is a sight to behold. Varanasi is also famous for its production of silks and brocades with gold and silver threadwork.

Lal Bahadur Shastri International Airport, Babatpur is the nearest airport which is about 23 km from Varanasi Junction. Also known Varanasi Airport, it is well connected with flights from New Delhi, Mumbai, Bangalore, Hyderabad, Kolkata and Gaya. Varanasi Junction railway station is well connected by trains with Chhapra, Kanpur, Amritsar, Muzzafarpur, Jammu, Ahmedabad, New Delhi, Kolkata, Hyderabad, Ranchi, Indore, Tatanagar, Chandigarh, Guwahati, Gorakhpur, Lucknow, Patna, Kochi, Jaisalmer, Mumbai, Bangalore, Dehradun, Haridwar, Pune and Chennai. Varanasi is well connected with buses from Agra, Delhi, Allahabad, Kanpur, Gorakhpur and Lucknow.

Varanasi is the center for celebration of many Hindu fairs and festivals. The major festivals celebrated in Varanasi are Dev Deepavali, Hanuman Jayanti, Mahashivaratri, Holi, Bharat Milap, Drupad Mela, Panch Koshi Parikrama, Buddha Mahotsava, and Nakkatayya.

The best time to visit Varanasi is from November to March. Although it gets fairly cold during the winters, this is the best time when you can explore the holy city without getting tired. The summers are dry, sunny and humid and better to avoid traveling to Varanasi around this time.
Internet Availability:
Average
Languages Spoken:
Bhojpuri, Hindi, Bengali and English
Major Festivals:
Dev Deepavali, Hanuman Jayanti, Mahashivaratri, Holi, Ram Leela