ORCHHA TOURISM | TOURIST PLACES TO VISIT & TRAVEL GUIDE TO ORCHHA

Heritage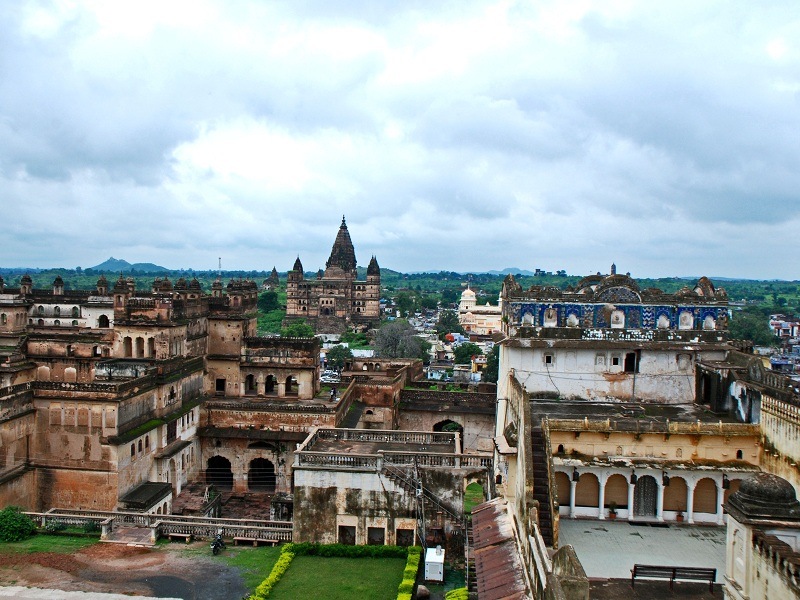 Ideal Trip Duration:
Full Day

Nearest City to Orchha:
Jhansi (16 Kms)

Best Time to Visit Orchha:
October to March

Peak Season:
November to January
At a distance of 16 km from Jhansi, 123 km from Gwalior, 174 km from Khajuraho, 237 km from Kanpur, 253 km from Agra, 326 km from Lucknow, 352 km from Bhopal, 467 km from Jaipur and 456 km from New Delhi, Orchha or Urchha is a small ancient town in Tikamgarh district of Madhya Pradesh, India. It is one of the popular tourist places in Madhya Pradesh, and among the must include places in India tour packages.

Orchha, means a 'hidden place', is situated on the banks of Betwa River and is blessed with an abundance of natural beauty. It is one of the popular heritage places to visit near Kanpur and Gwalior. Orchha was established in 1501 AD by Bundela king Rudra Pratap Singh, who became the first emperor of Orchha, (1501-1531) and also built the Orchha Fort, must visit places as part of Orchha tour packages. Since then the town has witnessed many battles and conflicts. Raja Jujhar Singh was a monarch of Orchha who fought against the Mughal emperor Shah Jahan in the 17th century. After this defeat, the Bundela rulers moved their capital from Orchha to Tikamgarh in 1783 AD. Finally after independence, Orchha became a part of the State of Madhya Pradesh from the year 1956.

The main attraction of Orchha is the Orchha fort complex, located on an island of River Betwa. The fort complex includes Jahangir Mahal, Raj Mahal & Rai Parveen Mahal. Besides Orchha Fort, Chaturbhuj Temple, Chhatris, Lakshmi Narayan Temple and Orchha Wildlife Sanctuary are some of the famous places to visit in Orchha. Rafting and Boating in Betwa River is one of the most popular things to do in Orchha besides sightseeing. There are many fairs and festivals are celebrated in Orchha. Ram Navami, Dussehra and Diwali are some of the festivals in Orchha that are celebrated with lots of enthusiasm.

Rajmata Vijaya Raje Scindia Airport, Gwalior is the nearest airport which is about 175 km from Orchha. It has direct flights from New Delhi. Jhansi Railway Station, about 16 km from Orchha, is the nearest railhead and is well connected by trains with Bangalore, Chennai, Lucknow, Shirdi, Mumbai, Delhi, Bhopal, Allahabad, Hyderabad, Surat, Okha, Ujjain, Indore, Agra, Jammu, Jabalpur, Secunderabad, Trivandrum, Kochi, Nagpur, Haridwar, & Pune. Jhansi is the nearest bus station which is well connected by bus with Jaipur, Kanpur, Bhopal, Lucknow, Gwalior, and Khajuraho. One can hire a taxi or auto to reach Orchha from Jhansi.

The best season to visit Orchha is from October to March while the peak season is from November - January. The temperature remains comfortable and is apt for visiting the tourist places in Orchha.
Internet Availability:
Poor
Languages Spoken:
Hindi, Bundeli, Marathi and Gujarathi
Major Festivals:
Ram Navami, Dussehra and Diwali