THEKKADY TOURISM | PERIYAR SANCTUARY | PLACES TO VISIT & TRAVEL GUIDE TO THEKKADY
Hill Station |

Wildlife |

Backwaters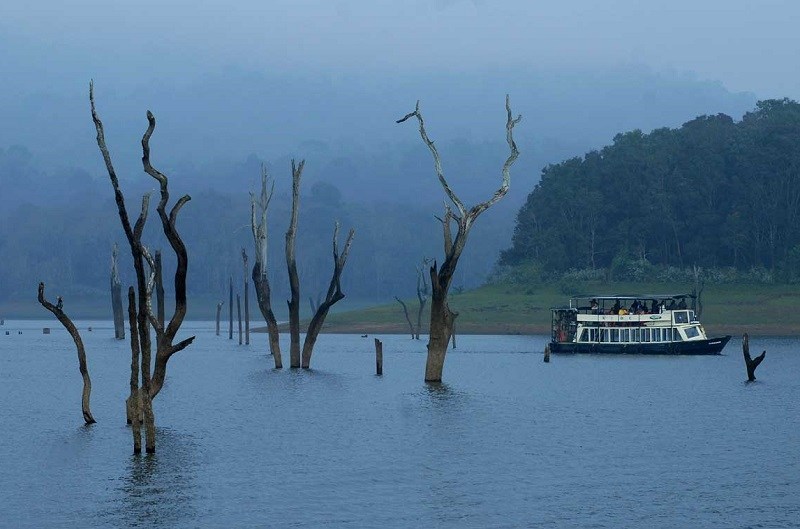 Ideal Trip Duration:
Half Day to Full Day

Nearest City to Thekkady:
Kochi (156 Kms)

Best Time to Visit Thekkady:
October to May

Peak Season:
December to January & May to June
At a distance of 4 km from Kumily, 54 km from Idukki, 82 km from Munnar, 111 km from Kottayam, 136 km from Madurai, 143 km from Kochi, and 211 km from Trivandrum, Periyar Wildlife Sanctuary is located at Thekkady in the Idukki district of Kerala. Located on Kerala - Tamilnadu border, it is one of the best wildlife sanctuaries in India, and also a well-known summer getaway in Kerala.

Thekkady is one of the most famous sanctuaries near Kochi, and also among the most scenic Kerala Backwater destinations. In 1899, the Maharaja of Travancore, Chithira Thirunal Balarama Varma has declared the forests around Periyar Lake as a private game reserve to stop the invasion of tea plantations. Further, in 1934, the lake reserve was converted into a game sanctuary, the Nellikkampatty Game Sanctuary, which covered an area of about 500 sq. km. It was established as Periyar Wildlife Sanctuary in 1950 and named after the Periyar River. The sanctuary is spread across 777 sq. km, of which 360 sq. km is a thick evergreen forest. It was declared as Tiger Reserve in 1978. Thekkady can be visited along with Munnar tour packages.

The splendid artificial lake formed by the Mullaperiyar Dam across the Periyar River adds to the charm of the park. There are a few watch towers inside Periyar Tiger Reserve which are excellent for viewing wildlife. Thekkady is famous for Asian Elephants, Tigers, Gaurs, Sambars, Lion-tailed Macaques, Nilgiri Langurs, Wild Boars, Spotted Deer, Barking Deer, Stripe-necked Mongoose, Wild Dogs, Sloth Bears, Malabar Giant Squirrel, Civet, Nilgiri Tahr, etc. This is the only sanctuary in India where you can watch wildlife at close quarters from the safety of a boat from the lake as part of Thekkady tour packages. The main attraction of the sanctuary is a group of wild elephants that come to play in the lake.

The sanctuary contains 265 species of birds including migratory. Malabar grey hornbill, Indian pied hornbill, White-bellied Treepie, many species of drongos, woodpeckers, flycatchers, babblers, spectacular Malabar trogon, etc can be seen near the boat landing. The sanctuary is also home to a wide variety of reptiles. The Periyar Lake and streams have several species of fish including the masheer, the famous and endangered game fish of India.

The park offers elephant rides, jeep safari, boating in the lake, tiger trails, and forest treks. All cruises, treks start from boathouse in Thekkady. Contact Eco Tourism Center in Kumily for more information on tourism programs and booking (Ph. 04869-224572).

Periyar Wildlife Sanctuary, Thekkady, Kerala also attracts a lot of pilgrims every year who come here to visit the Sabarimala Temple. Murikkady, Chellar Kovil, Anakkara, Mangala Devi Temple, Suruli Falls, and Pullumedu are the popular places to visit in Thekkady.

Madurai (148 km) and Kochi (135 km) are the nearest airports from Thekkady. Kottayam (111 km) is the nearest railhead from Thekkady. Kumily is connected by bus with major towns of Kerala & Tamil Nadu. Thekkady can be reached by public/private vehicle from Kumily. Vagamon can also be visited along with Thekkady

The ideal time to visit Thekkady is between Sep-May while the peak season is from Feb to May. It usually takes half a day to 1 day to visit this sanctuary.

Jeep Safari: 6 AM - 3.30 PM

Jeep Safari: Rs. 5000 per Jeep for Indians, Rs. 7000 for Person

Boating Cost: Rs. 225 for Person

Boating Timings: 7.30 AM, 9.30 AM, 11.15 AM, 1.45 PM, 3.30 PM
Internet Availability:
Internet Not Available
Languages Spoken:
Malayalam, Tamil , Hindi & English
Major Festivals:
Details Not Available
Notes/Tips:

Entry Fee & Safari Charges are subject to change by the management without any prior notice.