ARAKU VALLEY TOURISM | TOURIST PLACES TO VISIT & TRAVEL GUIDE TO ARAKU VALLEY
Hill Station |

Nature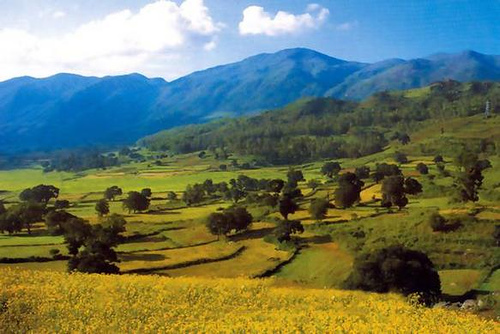 Ideal Trip Duration:
1-2 Days

Nearest City to Araku Valley:
Vizag (112 Kms)

Best Time to Visit Araku Valley:
September to May

Peak Season:
September & March to May
At a distance of 112 km from Vizag, 432 km from Vijayawada, 85 km from Vizianagaram, 26 km from Anantagiri and 635 km from Hyderabad, Araku Valley, popularly known as Araku, is a scenic hill station in the Vishakhapatnam district of Andhra Pradesh. Often referred to as Andhra Ooty, it is one of the most famous places to experince Andhra Pradesh tourism and is one of the top attractions you must include in Vizag tour packages.

Located on the Eastern Ghats at an altitude range of 900 to 1400 meters above sea level, Araku Valley is home to a number of tribal communities. Spread over an area of 36 sq. km, Araku is a perfect tourist destination with pleasant climate, lush greenery, waterfalls and streams. It is popular for its famous coffee plantations.

Araku has some interesting places to visit including Borra caves, Tyda, Katiki Falls, Tribal Museum & Padmapuram Botanical Gardens. Besides, these the coffee plantations are a must visit for those who want to indulge themselves in the flavors of nature. The tourists can see tribal folk dances like Dhimsa and Mayuri. The Araku Tribal Museum houses rich tribal tradition and number of artifacts and displays related to Eastern Ghat Tribal Culture.

The Anantagiri Reserved Forest and Sunkarimetta Reserved Forest are part of the Araku Valley. This valley is surrounded by mountains like Galikonda, Raktakonda, Sunkarimetta and Chitamogondi. Jindhagada Peak, the tallest peak in Eastern Ghats and the tallest in Andhra Pradesh is situated near Araku. The Anantagiri hills on the way to Araku Valley are famous for coffee plantations. The hill is also popular for its forests, lovely orchards and the serene environment. The valley is also a perfect place for trekking and it offers several interesting trails. Most known and popular trekking trails go through dense forests to the summit but a few adventurous trails go through many streams and are ideal to view breathtaking waterfalls like the Katiki waterfall.

The train journey from Vizag to Araku is a memorable experience with 46 tunnels, several bridges through lush green valleys. Araku is famous for the mustard flowers that change the landscape of the valley from green to yellow in the months of November & December. Several accommodation facilities are available here. AP Tourism runs very good resorts in Araku, called Valley Resort (also called Yatri Nivas).

Vizag airport is the nearest airport, which is about 107 km from Araku. Araku valley is connected through both rail and road to the city of Visakhapatnam. There are two railway stations at Araku on the Kothavalasa-Kirandul railway line of Visakhapatnam division of the East Coast Railway. Shimiliguda railway station is located at an altitude of 996 m above mean sea level. It is well connected to Vizag and Kirandul. Araku has frequent buses from Vizag and Vizianagaram.

The best time to visit Araku Valley is from September to May while the peak season is September & March to May. Usually it takes 1-2 days to visit all the places in and around Araku Valley.

Internet Availability:
Average
Languages Spoken:
Telugu, English, Hindi
Major Festivals:
Details Not Available