BODHGAYA TOURISM | TOP PLACES TO VISIT & TRAVEL GUIDE TO BODHGAYA
Pilgrimage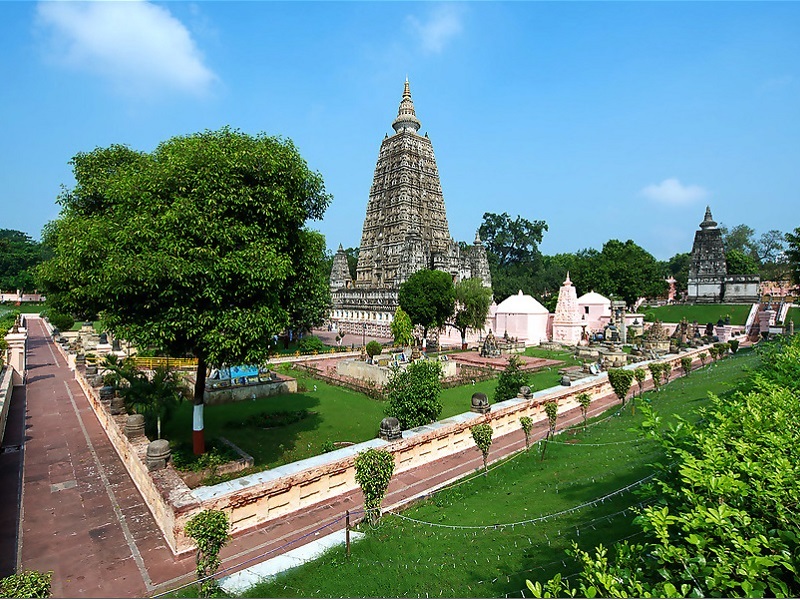 Ideal Trip Duration:
1-2 Days

Nearest City to Bodhgaya:
Gaya (15 Kms), Patna (113 Kms)

Best Time to Visit Bodhgaya:
October to March

Peak Season:
November to January
At a distance of 16 km from Gaya, 85 km from Aurangabad, 113 km from Patna, 182 km from Muzzafarpur, 207 km from Dhanbad, 211 km from Ranchi, 244 km from Darbhanga, 245 km from Varanasi, 305 km from Durgapur, 318 km from Jamshedpur, 365 km from Prayagraj, 373 km from Bankura, and 469 km from Kolkata, Bodh Gaya is a Buddhist pilgrimage site located in the Gaya district of Bihar, India. It is one of the must include places in Buddhist pilgrimage tours in India and among the must-visit places as part of Bihar Tour Packages.

Situated on the banks of the River Niranjana, Bodh Gaya is revered by Buddhists all over the world as it is the place where Gautama Buddha attained enlightenment in 534 BC under the Bodhi Tree. The Mahabodhi Temple which houses the Bodhi Tree attracts hordes of visitors across the world and is now one of the UNESCO World Heritage Sites. Bodh Gaya is one of the four important Buddhist pilgrimage sites of India's Buddhist Circuit, the other three being Kushinagar, Lumbini, and Sarnath.

Formerly known as Uruwela or Sambodhi, the history of this small town is associated with Buddhism when Prince Siddhartha Gautama, after renouncing his family at the age of 29, attained spiritual enlightenment at this holy place. According to legend, after practicing self-mortification for six years at Uruwela (now Bodhgaya), he gave up the practice as it didn't give him Vimukthi. Then he discovered the Eight-fold path which freed him from lust, hatred, and delusion and thus attained enlightenment. The tree under which he gained enlightenment is the renowned Bodhi tree.

King Ashoka was one of the biggest disciples of Lord Buddha and he built the famous Mahabodhi temple. The sacred place gained popularity around the 13th century and plenty of shrines and temples were built. But soon after the area fell into the hands of the Turkish emperors and they ransacked the city. Later, the British restored the city to its pure sacred form. Today, Bodhgaya is a pilgrimage destination for the entire Buddhist world and many others who seek spiritual presence.

The place emanates an aura of enduring serenity, spiritual solitude, and supreme peace. Bodhgaya is mostly known for all the places associated with Buddha's meditation and enlightenment. Mahabodhi Temple is the main attraction of this town. Besides, Great Buddha Statue, Bodhi Tree, Thai Monastery, Muchalinda Lake, Dungeshwari Hills, Wat Thai Buddhagaya, Japanese Temple, Sujatha Temple, Vishnupad Temple, etc., are some of the other prominent places to visit in Bodhgaya.

Buddha Jayanti is one of the biggest and main festivals celebrated in Bodhgaya. Observed on a full moon day in May each year, this festival celebrates the birth anniversary and enlightenment of Lord Buddha. Maha Kala Chakra Puja is the other important annual event here that focuses on performing puja and reciting verses and chants over 7 to 10 days and is believed to remove the obstacles and welcome the coming year on a positive note. Other festivals in Bodhgaya include the annual Buddha Mahotsava, a three-day celebration filled with cultural and religious activities.

Being a pilgrimage site, Bodh Gaya doesn't have any accommodation options. However, one can stay at various monasteries that provide basic rooms for free but one needs to make some donation. Gaya is the best place to stay and explore the site as a day trip as it has several accommodation options ranging from Budget to luxury.

Gaya Airport is the nearest airport which is about 10 km from Bodhgaya. It has direct flights from Delhi and Varanasi. About 15 km from Bodhgaya, Gaya Junction Railway Station is the nearest railhead and has well-connected trains from Howrah, Agra, Islampur, Patna, Mumbai, Ranchi, New Delhi, Kamakhya, Hyderabad, Ajmer, Shalimar, Varanasi, Asansol, Kolkata, Bhubaneswar, Jharkhand, Bhagalpur, Vishakhapatnam, Chennai, Mathura, and Gwalior. Gaya is the nearest bus stand that has well-connected buses from all the major cities of Bihar. From Gaya, one can hire a cab or an auto to reach Bodh Gaya.

October to March is the best time to visit Bodhgaya when the town experiences cool and pleasant weather. Summers, from March to May, are very hot. However, Bodh Gaya still attracts a large number of devotees during this time for Buddha Jayanti when the entire city is decked up for huge celebrations. Avoid the monsoon season between June and September when the weather is quite oppressive, followed by heavy rains.
Internet Availability:
Average
Languages Spoken:
Magadhi, Hindi, Maithili & English
Major Festivals:
Buddha Jayanti, Maha Kala Chakra Puja & Buddha Mahotsava