KOLHAPUR TOURISM | TOURIST PLACES TO VISIT & TRAVEL GUIDE TO KOLHAPUR
Pilgrimage |

City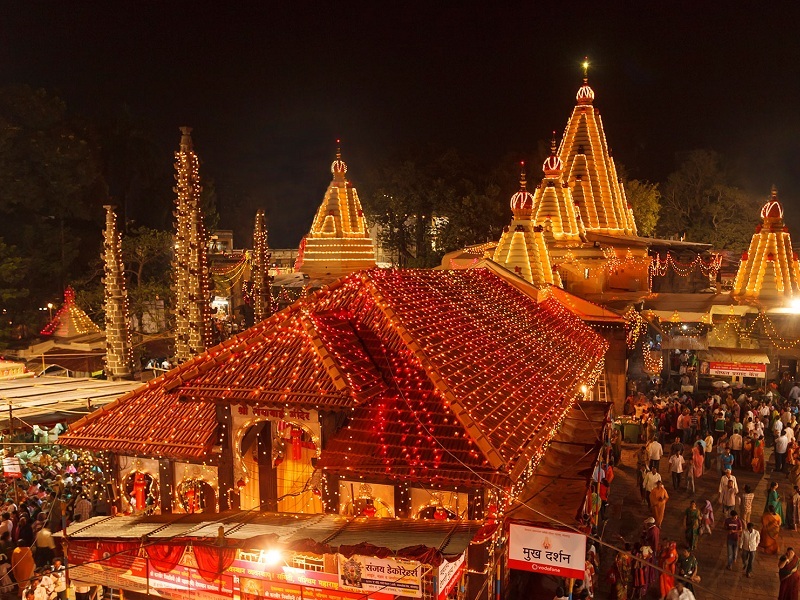 Ideal Trip Duration:
1-2 Days

Nearest City to Kolhapur:
Kolhapur, Pune (237 Kms)

Best Time to Visit Kolhapur:
November to February & June to September

Peak Season:
November to February
At a distance of 48 km from Sangli, 113 km from Belgaum, 125 km from Satara, 188 km from Mahabaleshwar, 209 km from Panjim, 210 km from Hubli, 237 km from Pune, 250 km from Solapur, 388 km from Mumbai, 452 km from Nashik, 584 km from Hyderabad, and 609 km from Bangalore, Kolhapur is a city and the district headquarters of Kolhapur district in the Indian state of Maharashtra. It is one of the popular places of temple towns in India , and among the most famous places to visit in Maharashtra.

Situated on the banks of the Panchganga River, Kolhapur is a beautiful city famed for its religious and historical sites. The ancient city finds its mention in the holy Devi Bhagavata Purana as a place of Kollamma worship. The town derives its name from a mythological story of Kolhasur - a demon who was slain by Goddess Mahalakshmi. The famous Mahalakshmi Temple is situated here in honor of Goddess Mahalakshmi, who is considered the guardian deity of the city, and among the most popular Kolhapur packages. Kolhapur is known worldwide for its Kolhapuri chappals, Kolhapuri jewellery, and Kolhapuri Cuisine. It is also a hub of aspiring wrestlers as it boasts some of the best training centers in the country.

Kolhapur is one of the oldest civilizations in the country. The city was ruled by many Indian dynasties including- the Mauryas, Chalukyas, Rashtrakutas, Chalukyas, Shilahars, and Yadavas. The state of Kolhapur was established by Tarabai in 1707 because of the succession dispute over the Maratha kingship. The Maratha throne was then governed by descendants of Tarabai. One of the prominent Kings was Rajarshi Shahu Maharaj. The city mostly prospered under the rule of the Marathas when it became a cultural hub for various arts, music, dances, and sports. Later, it was annexed by the British during the 19th century and after India's independence, it was merged with Bombay State.

Often referred to as Dakshin Kashi, Kolhapur is an important spiritual center as it houses a significant number of temples from Medieval India, including Mahalakshmi Temple. Temblai Temple, Bhavani Mandap, New Palace Museum, Jyotiba Temple, Sri Binkhambi Ganesh Mandir, Rankala Lake, Kopeshwar Temple, Panhala Fort, Shalini Palace, Siddhagiri Gramjivan Museum, Town Hall Museum, Sagareshwar Wildlife Sanctuary, and Radhanagari Wildlife Sanctuary are among the most prominent Kolhapur tourist places. Besides, Kolhapur is a crucial business center as it deals in the manufacturing of commodities, like Kolhapuri Necklaces and Kolhapuri Leather Slippers, that are sold worldwide. If you are a food lover, this town will not disappoint you as it is the origin of Kolhapuri cuisine, especially noted for its mutton dishes prepared with rare spices.

Kolhapur, the sacred land of Goddess Ambabai celebrates many religious as well as other secular festivals with incomparable pomp and enthusiasm. Some of the most important festivals of the city other than the traditional Indian festivals like Holi, Diwali, Ganeshotsav, Gudi Padwa, etc include, Navratra Mahotsav, Lalita Panchami, Kirnotsav, Rathotsav, Kolhapur Rankala Mahotsav, Jyotiba Yatra, etc.

About 10 km from Kolhapur Railway Station, Chhatrapati Rajaram Maharaj Airport is the nearest airport and is well-connected by flights with cities like Hyderabad, Bengaluru, and Mumbai. The nearest international airports to Kolhapur are Pune International Airport (243 km), and Goa International Airport (246 km). Kolhapur Railway station has direct trains from Mumbai, Pune, Delhi, Tirupati, Hyderabad, Ahmedabad, Nagpur, Bangalore, Gorakhpur, Satara, Sangli, Solapur, Dhanbad, Bidar, and Mangalore. As situated on the NH-4, Kolhapur is well connected by bus with Mumbai, Bangalore, Pune, Belgaum, Solapur, Sangli, Panjim, Satara, Mahabaleshwar, Nashik, Hyderabad, and Hubli.

November to February is the best time to visit Kolhapur as the weather becomes extremely pleasurable at this time. One can also visit Kolhapur during the monsoon as the city receives medium rainfall from June to September. The summers in Kolhapur are incredibly hot, hence it is advisable to avoid the months between March-May.
Internet Availability:
Average
Languages Spoken:
Marathi, Hindi, Konkani & English
Major Festivals:
Navratra Mahotsav, Lalita Panchami, Kirnotsav, Rathotsav, & Jyotiba Yatra