NASHIK TOURISM | TOURIST PLACES TO VISIT & TEMPLES IN NASHIK
Pilgrimage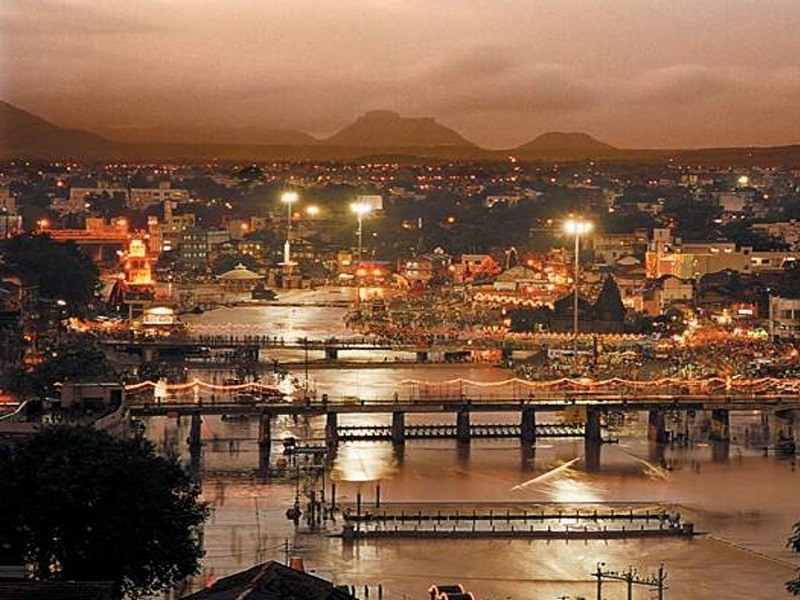 Ideal Trip Duration:
2 Full Days

Nearest City to Nashik:
Nashik, Mumbai (182 Kms)

Best Time to Visit Nashik:
October to March

Peak Season:
December to February
At a distance of 90 km from Shirdi, 180 km from Aurangabad, 182 km from Mumbai, 211 km from Pune and 234 km from Surat, Nashik or Nasik is a religious city located in the northwest region of Maharashtra in India and is the administrative headquarter of the Nashik district. Nashik is the third-largest city by population in Maharashtra and also one of the popular pilgrimage places to visit in Maharashtra.

Nashik is one of famous places to visit near Aurangabad. Situated at an altitude of 700 m, Nasik has been called the Wine Capital of India and is situated on the banks of River Godavari. Nashik is famous for its numerous temples constructed during the reigns of different rulers that can be visited as part of Nashik holiday packages.

According to legend, Lord Rama, along with his wife Sita and brother Lakshmana stayed here for a while during their 14-year exile. It is believed that the name Nashik comes from the episode of the Ramayana where Lakshmana hacked off the nasika (nose) of Shurpanaka, Ravana's sister. Alternatively, the city has also preserved a tradition of a proverb in Marathi which states that it was settled on nine peaks.

Nashik has been the center of commerce and trade in India since the historical past. Nashik became very prosperous during the era of the Satavahanas as it lay on the trade route to Broach (Gujarat). The city was under the ruling of the Mughals in the 16th century and was renamed Gulshanabad. It is also famous for its contribution to the struggle for independence of India. This is the birthplace of well-known independence fighters like Veer Savarkar and Anant Laxman Kanhere.

Panchavati, Someshwar, Ram Kund, Muktidham Temple, Coin Museum, Pandavleni Caves, Sinnar, Anjaneri, and Trimbakeshwar are some of the prominent Nashik places to visit. Apart from its religious importance, Nashik has numerous vineyards that dot the countryside and is known as the wine capital of India. Some of the vineyards allow tours and provide courses on grape cultivation and identification of different wines and how to savor them.

Kumbha Mela, the largest religious gathering held once every 12 years, is one of the most important festivals celebrated in Nasik. A large number of pilgrims, sadhus, and holy men attend this magnificent fair and take bath in the holy river Godavari. Ramnavami Rath Yatra is another famous festival celebrated with great pomp and fervor in Nashik.

Mumbai Airport is the nearest airport which is about 167 km from Nashik. Nashik Road Railway Station is well connected by train with all major towns and cities in India, including Mumbai, Delhi, Kolkata, Chennai, Hyderabad, and Bangalore. Nashik Central Bus Station at Thakkar Bazar is well connected by bus with Indore, Pune, Aurangabad, Shirdi, Mumbai, Nanded, Nagpur, Akola, Hyderabad, Latur, Satara, Kolhapur, Ratnagiri, Ahmednagar, Ahmedabad, Solapur, Surat, Ahmadabad, Vadodara, etc.

The best time to visit Nashik is from October to March while the peak season is from November to February.
Internet Availability:
Good
Languages Spoken:
Marathi, Hindi and English
Major Festivals:
Kumbha Mela & Ramnavami Rath Yatra