KAZIRANGA NATIONAL PARK | WILDLIFE SAFARI & TRAVEL GUIDE TO KAZIRANGA

Wildlife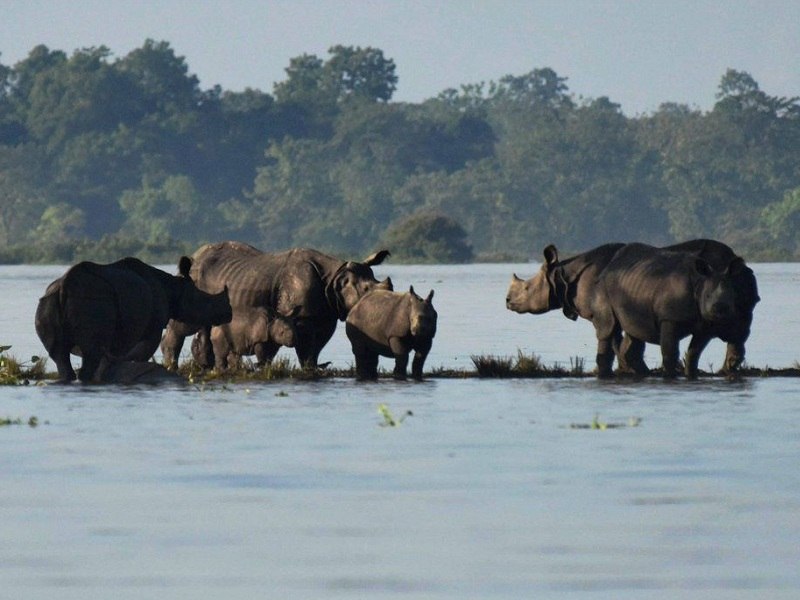 About Kaziranga National Park

Ideal Trip Duration:
1-2 Days

Nearest City to Kaziranga National Park:
Guwahati (217 Kms), Jorhat (88 Kms)

Best Time to Visit Kaziranga National Park:
November to April

Peak Season:
December to January
At a distance of 67 km from Golaghat, 80 km from Tezpur, 88 km from Jorhat, 216 km from Kohima, 217 km from Guwahati, 230 km from Dibrugarh and 277 km from Shillong, Kaziranga is a national park in the Golaghat and Nagaon districts of Assam, India. Known worldwide for its Rhino population, it is one of the most picturesque wildlife sanctuaries in India and among the best places to visit in Assam.

Sprawling over an area of 430 Sq.km, Kaziranga National Park is a wonderful destination to watch the majestic Rhinos as part of India Wildlife tour packages. The vast area of Kaziranga comprises of tall elephant grass, dense tropical broadleaf forests and marshland making it the perfect habitat for the one-horned rhinoceros. Surrounded by Brahmaputra River on the North and the Karbi Anglong mounts in the South, the park presents a massive range of natural beauty.

Kaziranga Proposed Reserve Forest was created with an area of 232 Sq. km in 1905 on the recommendation of Mary Curzon. It was designated as a 'Reserve Forest' in 1908 and redesignated as the 'Kaziranga Game Sanctuary' in 1916 and remained till 1938, when hunting was prohibited and visitors were permitted to enter the park. The park was declared as a Wildlife Sanctuary in 1950 CE while the park got National Park status in 1974. Kaziranga was declared as a UNESCO World Heritage Site in the year 1985 for its unique natural environment. With increase in tiger population every year, the government authorities declared Kaziranga as a 'Tiger Reserve' in the year 2006. The park celebrated its centennial in 2005 after its establishment in 1905 as a reserve forest.

The Park attracts huge number of tourists from all over the world as it is home to 2,413 Indian one-horned rhinoceros as of 2018, approximately 2/3rd of their total world population. It comprises 1,641 adult rhinos, 387 sub-adults and 385 cubs. Besides, The Park is home to large breeding populations of elephants, tigers, wild water buffalo, and swamp deer. Kaziranga is also noted for its bird life as thousands of migratory birds arrive at the park every year, from distant lands as far away as Siberia.

The park is divided into four ranges - Kohora in Central Range, Bagori in Western Range, Agaratoli in Eastern Range and Ghorakati in Burapahar Range. The forest department of Kaziranga offers Jeep Safari in every zone while the Elephant Safari is organized only in the Central Zone and the Western Zone. Other popular activities that you can take up in the national park area are trekking, bird watching, boat riding in Brahmaputra River.

The main entrance to the park is at Kohora on National Highway 37, where there's a Tourist Complex and booking offices. The Western range 25 minutes from Kohora is the shortest circuit but has the highest density of rhinos. It is recommended for seeing rhinos and wild buffaloes. The Eastern range is around 40 minutes from Kohora and offers the longest circuit. Birding and wetlands are the highlights there. Jeep and elephant safaris can be booked at the Tourist Complex or by hotels. No private vehicles are permitted inside the Park. Tourists need to hire authorized Jeeps from the Jeep Safari Associations at Kohora and Bagori.


About 92 km, Jorhat Airport is the nearest airport to Kaziranga which has well connected flights from Guwahati while Guwahati Airport is the nearest international airport. Furkating Railway Station is the nearest rail head which is about 75 km from Kaziranga. It is well connected by trains with Dibrugarh, Chandigarh, Guwahati, Darbhanga, Bangalore, Dimapur, Jorhat, Howrah and Amritsar. Kohora Bus Station, about 2 km from Kaziranga, is the nearest bus station and is well connected with all the major cities of Assam such a Guwahati, Tezpur, Jorhat, Nagaon, Golaghat, Dimapur, Tinisukia, Sivasagar, etc. by the state transport buses or the privately run buses.

There are many hotels and resorts available to stay near Kohora and Bagori zone of the Kaziranga National Park, some of which are government run lodges while other are private owned. Even the outskirts of Kaziranga National Park like Bokakhat and Nagaon has some good number of jungle resorts, camps and luxury hotels.

The best time to visit Kaziranga National Park is from November to April while peak season is from December - January. The Park remains closed from 1st May to 31st October every year as majority of the area of park gets flooded due to heavy flow of Brahmaputra River.

Jeep Safari Timings: 7 AM - 10 AM & 1.30 PM - 3 PM

Elephant Safari Timings: 5.30 AM - 7.30 AM

Park Entry: Rs. 100 for Indians, Rs. 650 for Foreigners, Rs. 300 for Vehicle, Rs. 200 for Camera & Rs. 1500 for Video

Jeep Safari: Rs.1500 - 2500 (Including Entry Fee & Guide Fee)

Elephant Ride: Rs.750 for Indians & Rs.1250 for Foreigners (Including Entry Fee & Guide Fee
Internet Availability:
Average
Languages Spoken:
Assamese, English & Karbi
Major Festivals:
Details Not Available
Notes/Tips:

The Park remains closed from 1st May to 31st October every year. No private vehicles are permitted inside the Park and the park entry fees and safari charges are liable to change without notice. Safari might be cancelled by the park authorities sometimes due to severe weather conditions.