ELLORA CAVES TOURISM | TOURIST PLACES TO VISIT & TRAVEL GUIDE TO ELLORA

Heritage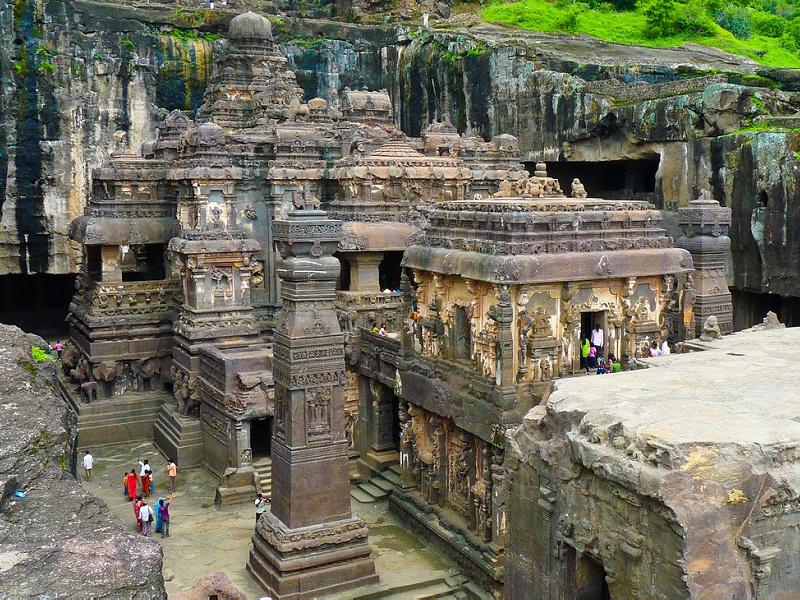 Ideal Trip Duration:
4 Hours/Half Day

Nearest City to Ellora Caves:
Aurangabad (28 Kms), Mumbai (344 Kms)

Best Time to Visit Ellora Caves:
September to March

Peak Season:
December to February
At a distance of 28 km from Aurangabad, 98 km from Ajanta Caves, 104 km from Shirdi, 176 km from Nashik, 253 km from Pune, and 344 km from Mumbai, Ellora Caves are ancient historical caves located at Verul near Aurangabad in Maharashtra. Ellora is the most visited monuments of heritage in India, and among the top tourist places in Maharashtra.

Locally known as 'Verul Leni', these caves are were designated a UNESCO World Heritage Site in 1983. Ellora is one of the top places to visit near Aurangabad. The caves at Ellora were carved out of the vertical face of the Charanandri hills between the 6th and 10th centuries AD. The carving work began around 550 AD, about the same time the Ajanta Caves were abandoned. Kailash Temple (Cave16), which is the most remarkable structure that can be visited as part of Ellora tour packages.

The Ellora Caves were built at a time when Buddhism was declining in India and Hinduism was beginning to reassert itself. The Brahmanical movement was especially powerful under the patronage of the Chalukyas and Rashtrakutas, who oversaw most of the work at Ellora - including the magnificent Kailash Temple built in the 8th century. The last period of building activity took place in the 10th century when the local rulers switched allegiance from Shaivism to the Digambara sect of Jainism.

Ellora Caves are an impressive complex of Buddhist, Hindu, and Jain cave temples. The caves have a slightly less dramatic setting than those at Ajanta, but more exquisite sculptures. The cave complex comprises 34 caves that were hewn out of solid rocks of the Charanandri hills. Of these, 12 caves belong to the Buddhist sect, 17 were Hindu and 5 were Jain Caves. Caves 1 to 12 are Buddhist monasteries, chaityas, and viharas, while caves 13 to 29 are the Hindu temples. Dating back to the 9th and 10th century, Caves 30 to 34 are the Jain shrines. The coexistence of structures from three different religions serves as a splendid visual representation of the prevalent religious tolerance of India. Ellora caves can be visited along with Aurangabad holiday packages.

Kailash Temple (Cave16 is the most remarkable structure of the cave group. Shaped by hand from a single massive rock, it includes a gateway, exhibition area, square, hall, sanctum sanctorum, and a tower that bear testimony to the excellence of Dravidian art. The Kailash Temple is a stupendous piece of architecture, with interesting spatial effects and grand sculptures. It is believed to have been started by the Rashtrakuta king Krishna I (756-773).

Every year Ajanta-Ellora Festival is organized in Aurangabad to pay tribute to the legendary caves of Ellora, Ajanta, and other historical monuments in the region. This grand ceremony is attended by the greatest artists of Indian art and culture. The cultural events include performances in classical and folk dancing, singing, and instrumental music. Earlier the venue for this festival was the Kailasa Temple of Ellora Caves; however, it has now been shifted to Soneri Mahal, which is a historical palace in Aurangabad.

Hotel Kailas which is located just opposite the Ellora Caves is the only accommodation option nearby. It offers cottages and hostel accommodation for the budget traveler. Most tourists prefer to stay in Aurangabad and do a day trip to Ellora which is 28 km away.

The nearest airport is Aurangabad, 35 km away from Ellora Caves. Aurangabad Railway station is the nearest railhead to Ellora Caves. There are public & private buses from Aurangabad to Ellora Caves. Visitors can also hire a private car from Aurangabad city. Aurangabad is well connected by bus with Pune, Mumbai, Shirdi, Nashik, Hyderabad, Bangalore, Goa, and Nagpur.
The best time to visit Ellora Caves is during the months of June to February while the peak season is from October to January. These are the best time to visit Ellora Caves, as the weather is really pleasant during these months.

Cave Timings: 6 AM to 6 PM on all days except Tuesdays.

Entrance Fee: Rs. 10 for Indians and Rs. 250 for Foreigners.
Internet Availability:
Poor
Languages Spoken:
Marathi, Hindi, and English
Major Festivals:
Details Not Available