KAUSANI TOURISM | TOURIST PLACES TO VISIT & TRAVEL GUIDE TO KAUSANI
Hill Station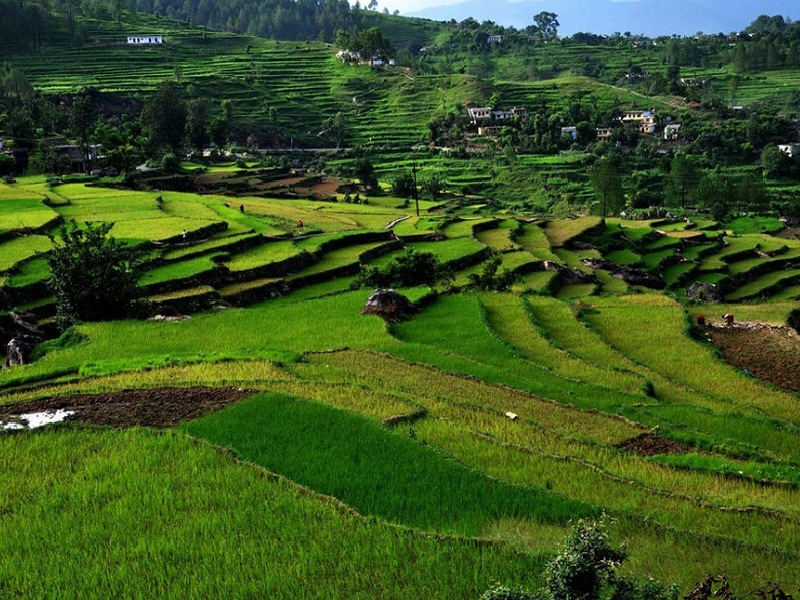 Ideal Trip Duration:
1-2 Days

Nearest City to Kausani:
Dehradun (318 Kms)

Best Time to Visit Kausani:
April to June & November to February

Peak Season:
December to January & May to June
At a distance of 37 km from Bageshwar, 58 km from Almora, 59 km from Ranikhet, 115 km from Nainital, 164 km from Pithoragarh, 241 km from Jim Corbett National Park, 318 km from Dehradun, 401 km from Delhi, Kausani is a small hill station situated in Bageshwar district of Uttarakhand, India. Situated at an altitude of 1890 m, Kausani is one of the top hill stations in Uttarakhand and also one of the prime places to visit in Uttarakhand in summer.

During ancient times, Kausani was under the administrative control of the Katyuri king, Baichaldeo. Later, he donated a large part of this land to a Gujarati Brahmin, Sri Chand Tiwari. During Independence of India in 1947, Kausani was a part of Almora district till 1997 after which Bageshwar district was carved out of Almora district. Kausani is among the must include place in your Nainital tour packages.

Located atop the ridge between dense pine trees, Kausani overlooks the Someshwar valley on one side and Garur and Baijnath Katyuri valley on the other side. Described by Mahatma Gandhi himself as the 'Switzerland of India', Kausani is known for its scenic splendor and its spectacular 300 km wide panoramic view of Himalayan peaks like Trishul, Nanda Devi and Panchchuli.

The town's amazing location among thick pine forests and valleys on both sides attracts large number of domestic and international tourists every year. Baijnath Temple, Kausani Tea Estate, Someshwar, Rudradhari Falls and Caves, Rudrahari Mahadev Temple, Kot Bhramari Temple, Bageshwar and Pinnath are the popular tourist places in Kausani.

Apart from the hills and spectacular views, the place is famous for ashrams. Anashakti Ashram is the most famous place in Kausani. Also known as the Gandhi Ashram, the Anasakti Ashram is the place where Mahatma Gandhi stayed during the time he wrote the Anashakti Yog. The Ashram houses a museum that contains Mahatma Gandhi's photographs and his writings.

Kausani is also as the birthplace of the famous poet Sumitranandan Pant. The Pant Museum is named after him and it contains various awards, drafts and manuscripts written by the legendary poet. Trekking and mountain biking in Kausani are most popular activities for those who like to traverse the hills in an adventurous way. Pindari Glacier Trek, Sunder Dhunga Trek and Milam Glacier Trek are some of the popular trekking areas in Kausani.

Pantnagar Airport is the nearest airport, which is about 168 km from Kausani. It has direct flights from Delhi. The nearest railway station is Kathgodam, approximately 134 km from Kausani. It is connected by train with Delhi, Agra, Lucknow, Jaipur, Patna, Kolkata and Mumbai. Kausani is well connected by road with Almora, Nainital, Ranikhet, Kathgodam, Delhi and Haldwani.

Kausani has become a very popular tourist destination over the last decade and large number of tourists travels from Delhi to Kausani. There are several accommodation options from budget to mid-range hotels and also has a few resorts. The better hotels are situated in the uptown near the Gandhi Ashram and the budget hotels are situated around the local market.

Makar Sankranti at Kausani, usually called Uttarayani, is a huge fair that takes place at Bageshwar which is in the vicinity of the destination.

The best time to visit Kausani is from April to June and again from September to May. The hill station receives snowfall during the winter months from December to February, which receives the maximum number of tourists.
Internet Availability:
Average
Languages Spoken:
Hindi, Sanskrit, Kumaoni & English
Major Festivals:
Uttarayani Festival