AMARKANTAK TOURISM | TOURIST PLACES TO VISIT & TRAVEL GUIDE TO AMARKANTAK
Hill Station |
Pilgrimage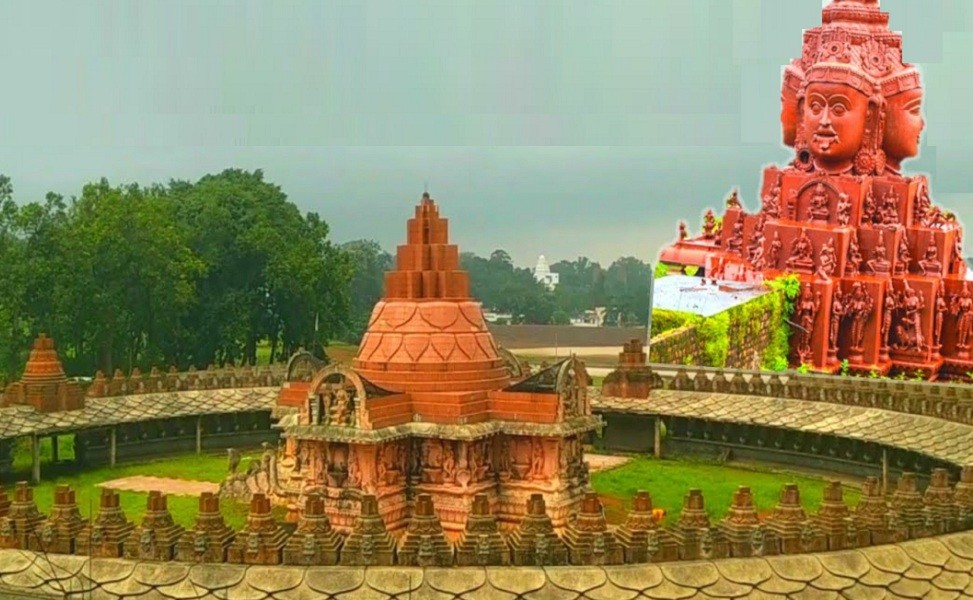 Ideal Trip Duration:
1-2 Days

Nearest City to Amarkantak:
Jabalpur (226 Kms)

Best Time to Visit Amarkantak:
October to March

Peak Season:
November to February
At a distance of 70 km from Annupur, 122 km from Bilaspur, 175 km from Umaria, 190 km from Kanha National Park, 221 km from Raipur, 226 km from Jabalpur, 255 km from Katni, 330 km from Narsinghpur, 374 km from Chhindwara, 387 km from Sambalpur, 435 km from Nagpur, 469 km from Varanasi, 470 km from Rourkela, and 549 km from Bhopal, Amarkantak is a hill station and a pilgrim town located in the Anuppur district of Madhya Pradesh. It is one of the popular places of pilgrimage in India, and among the must-include places in Madhya Pradesh tour packages.

Popularly known as Teerthraj - the king of pilgrimages, Amarkantak is a popular Hindu pilgrimage site that is frequented by a huge number of devotees. It is located at an altitude of 1065 meters amidst the Vindhya and Satpura mountain ranges in Madhya Pradesh. One of India's Holy Rivers, the Narmada river originates from Amarkantak rendering this place special and among the must-visit places as part of Amarkantak tour packages. Besides, Amarkantak also serves as the confluence point for the rivers Narmada, Sone, and Johila. It is believed that the mystic poet, Sant Kabir, meditated here on Kabir Chabutra.

Amarkantak is a combination of two Sanskrit words, Amara (immortal) and Kantaka (obstruction). The poet Kalidas has mentioned it as Amrakuta, which later became Amarkantak. According to the legends, the river Narmada is said to have been blessed by Lord Shiva himself, and devotees strongly believe that a dip in its holy water would absolve them of all sins and provide them with a life blessed with boons. Amarkantak also holds significance in the religious epic Mahabharat and is believed to be the place where the Pandavas spent a significant portion of their exile. Legend says that Amarkantak was once ruled by the Chendi dynasty in the 10th century after the Kalchuris. In the 15th century, the region was ruled by Baghelas and it came under the rule of Bhosle of Nagpur in 1808 and then later passed into foreign hands.

Due to its rich cultural heritage and natural diversity, this offbeat destination serves as a quick hideaway for people looking for respite and seek blessings of Lord Shiva. The forests surrounding Amarkantak have a rich variety of plants with medicinal properties, which make it extremely significant from an ecological point of view. Narmada Udgam Temple, Ancient Temples of Kalachuri, Kapil Dhara Waterfall, Shri Sarvodaya Digamber Jain Temple, Mrityunjay Ashram, Amareshwar Mahadev Temple, Mai ki Bagiya, Jwaleshwar Temple, Bhrigu Kamandal, Sonmuda, etc., are some of the top places to visit in Amarkantak.

Narmada Jayanti is one of the most significant festivals celebrated in Amarkantak. It is celebrated in January around Makar Sankranti, commemorating the birthday or the appearance of the Narmada River (Maa Narmada) on Earth. During this festival, the whole Narmada Complex is decorated with flowers and lights, and also a grand arti takes place in the evening on the bank of the Narmada River. Shiv Chaturdashi is also celebrated in a grand manner where sadhus from all parts of India gather to take part in the festivities. It is a Hindu Holy day which is observed on the 14th Lunar day of the moon fortnight. Maha Shivaratri is another festival celebrated with great pomp and fervor in Amarkantak.

About 217 km from Amarkantak, Jabalpur Airport is the nearest airport that has well-connected flights from Mumbai, Kolkata, New Delhi, and Hyderabad. Pendra Road Railway Station is the nearest railhead which is about 32 km from Amarkantak. It has well-connected trains from Durg, Firozpur, Delhi, Jabalpur, Sarnath, Chirimiri, Bilaspur, Lucknow, Puri, Gondia, Rewa, Raipur, Ajmer, Udaipur, and Katni. Anuppur Junction is the other nearest railhead which is about 70 km from Amarkantak. Amarkantak has well bus connectivity with Shahdol, Umaria, Jabalpur, Rewa, Bilaspur, Anuppur, and Pendra Road. There are many state-run and private buses that commute between Amarkantak and Jabalpur.

Ranging from budget to medium, there are few accommodations available in Amarkantak which helps the tourists to stay and explore the nearby places. There are also several resorts in Amarkantak which are situated amidst beautiful nature and feature lavish outdoor spaces for a peaceful stay.

The best time to visit Amarkantak is from October to March when the weather is pleasant and suitable for sightseeing. Narmada Jayanti, Makar Sankranti, and Shiv Chaturdashi are celebrated during this time with great zeal. Post monsoon, the rain showers also add a certain charm to the flora in the region. Hence, it is the best time for nature lovers and nature photographers. Summers are best avoided due to high temperatures.
Internet Availability:
Poor
Languages Spoken:
Hindi, Bagheli, Gondi
Major Festivals:
Narmada Jayanti & Shiv Chaturdashi