ALWAR TOURISM | TOURIST PLACES TO VISIT & TRAVEL GUIDE TO ALWAR

Heritage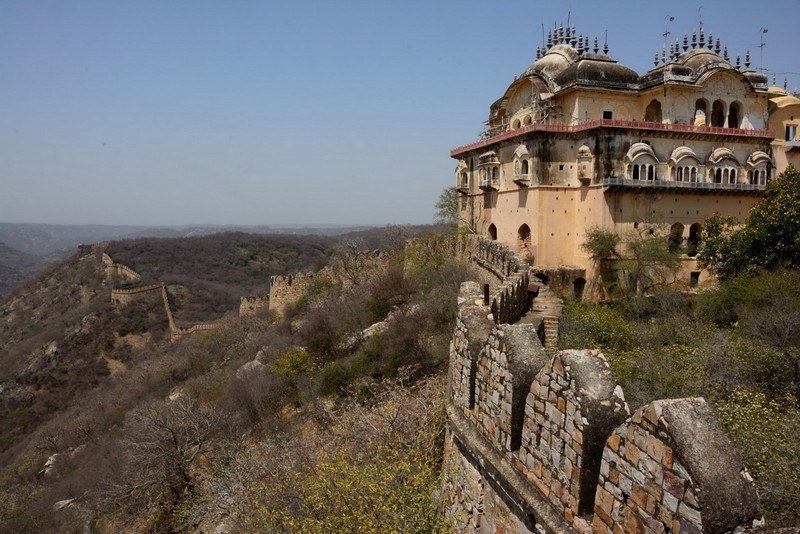 Ideal Trip Duration:
1-2 Days

Nearest City to Alwar:
Jaipur (148 Kms), Delhi City (160 Kms)

Best Time to Visit Alwar:
September to February

Peak Season:
December to January
At a distance of 148 km from Jaipur, 160 km from Delhi, 117 km from Mathura, and 172 km from Agra, Alwar is a city and administrative headquarters of Alwar district in the state of Rajasthan. Alwar is part of the National Capital Region (NCR) and also famous for its Olive plantation in Tinkirudi. It is one of the popular tourist places near Delhi and also one of the best places to visit in Rajasthan.

Alwar is situated between small hills of the Aravali range and has great historical importance. It was founded in 1049 by Maharaja Alaghraj. A Rajput state for a long time, Alwar eventually fell into the hands of Delhi Sultans in the early 13th century. Marathas and Jats of Bharatpur also ruled this region for a very short period. Rao Partap Singh, a Rajput prince took the Alwar Fort from Jat Raja of Bharatpur and laid down the foundation for modern Alwar. Alwar is among the must include places in your Jaipur tour packages.

Maharaja Pratap Singh, a Kachwaha Rajput belonging to the clan of Jaipur's rulers, won Alwar back and founded a state of his own in 1771 AD. Alwar gained the reputation as a remarkable seat of art and culture under the patronage of Maharaja Pratap Singh. In the 18th century, Pratap Singh evicted the rulers of Jaipur to the south and the Jats of Bharatpur to the east, and successfully resisted the invasion of Marathas. Like all the princely states, this stronghold of the Rajputs also came under British rule and remained until India gained independence.

Samrat Hem Chandra Vikramaditya, popularly known as Hemu was born in this district, in a village called Maccheri Devat in 1501. He won 22 battles against the Afghans. The coronation of King Hemu was done at Purana Quila in Delhi. He was killed while fighting with the Mughals in the Second battle of Panipat.

Alwar is famous for beautiful lakes, grand palaces, magnificent temples, and towering forts which are the must-experience things to do as part of Alwar tour packages. Bala Quila or Alwar Fort, City Palace and Vijay Mandir Palace, Siliserh Lake and Palace, Moosi Maharani Ki Chhatri, Tripolia, Moti Doongri, Bhangarh Fort, Company Bagh, Government Museum, Tomb of Fateh Jung, Kalakand Market, Neemrana Fort, and Naldeshwar are the important tourist places in Alwar. The Sariska National Sanctuary is located in the Aravalli hills only a few kilometers away from Alwar, Rajasthan.

Delhi Airport is the nearest airport, which is about 142 km from Alwar. Alwar Railway Station is well connected to Delhi, Jaipur, Ajmer, Haridwar, Jodhpur, Ahmedabad, Amritsar, Chandigarh, Dehradun, Okha, Jammu Tawi, Jaisalmer, Ramnagar, Kathgodam, Mathura, Mumbai, Varanasi, and Allahabad. It is also well connected by road with Jaipur, Agra, Ajmer, Delhi, Mathura, and Vrindavan.

Alwar is one of the most frequented tourist destinations in Rajasthan. The best time to visit Alwar is from September to February.
Internet Availability:
Good
Languages Spoken:
Hindi and English
Major Festivals:
Details Not Available