LACHEN TOURISM | TOURIST PLACES TO VISIT & TRAVEL GUIDE TO LACHEN
Hill Station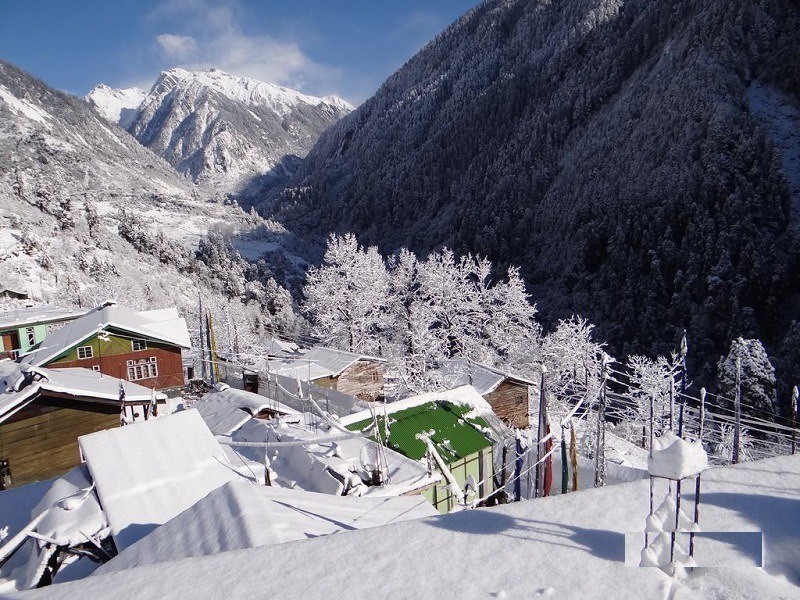 Ideal Trip Duration:
1-2 Days

Nearest City to Lachen:
Gangtok (121 Kms), Guwahati (613 Kms)

Best Time to Visit Lachen:
October to June

Peak Season:
March to May
At a distance of 47 km from Lachung, 121 km from Gangtok, 151 km from Kalimpong, 613 km from Guwahati and 744 km from Kolkata, Lachen is a small quiet hill town located in the North Sikkim district of Indian state of Sikkim. Situated near the Indo-Tibetan Border, it is one of the enchanting places to visit in Sikkim.

The literal meaning of Lachen is 'Big Pass' and the town is being promoted as a tourist destination by the Sikkim Government. Situated at an altitude of 8838 feet, Lachen stands on a grassy and bushy flat land separated by deep gorges of river Lachen-Chu. The village comprises of nearly 250 houses, earlier inhabited only in winters by the owners who spent the summers on the alpine pastures along the Tibet border tending to their herd of yaks. Lachen has its own system of rules and regulations known as Dzumsa and the heads of Dzumsa are known as Pipon and Gyenbos.

Offering panoramic vistas of the stunning landscape and snow-capped peaks, Lachen is a great destination to soak in the hill station's natural beauty. Renowned for its Lachen monastery, Lachen is the famous gateway to the sacred Guru Dongmar and Tso Lhamu Lakes. It also acts as the base camp for the two main trekking camps of Sikkim- Chopta Valley and Muguthang. The Guru Dongmar Lake is open only to Hindus and Buddhists.

Losoong is the major festival celebrated in Lachen every year in the month of December. This Bhutia festival marks the end of the harvest season and also the end of the Tibetan Year. The main attraction of the festival is the Chaam, a religious dance. Villagers adorn themselves with the traditional dresses and perform Kagyed dance. The entire Lachen people gather all together for the grand feast. Losar is another annual festival celebrated in January every year which was organized by the Lachen Dzumsa and Lachen Tourism Development Committee. It is famous for its annual yak race during summer.

Bagdogra International Airport is the nearest airport, which is about 198 km from Lachen. It has direct flights from Kolkata, Mumbai and New Delhi. The Bagdogra Airport also has regular helicopter rides scheduled to Gangtok. New Jalpaiguri is the nearest rail head which is about 196 km from Lachen. It is well connected by trains with Patna, New Delhi, Mumbai, Guwahati, Howrah, Bangalore, Dibrugarh, Puri, Gaya, Indore, Jaipur, Kolkata, Amritsar, Chennai, Chandigarh, Ranchi, Bhubaneswar, Cochin and Agartala. Gangtok SNT Bus Station is the nearest bus station and has well connected buses from Kalimpong, Darjeeling and Siliguri. One can opt for public buses or hire a private taxi to reach Lachen from Gangtok, New Jalpaiguri and Ravangla. Only vehicles from tour operators who are registered with Sikkim tourism are allowed in Lachen.

Accommodation in Lachen is not a problem as it has several options. This scenic village is blessed with a plenty of mid-range and budget hotels, tourist lodges, guesthouses and homestays which provide a comfortable stay with all basic amenities like clean rooms, warm bed linens, heaters and hygienically prepared food.

October to June is the best time while March - May is the peak season to visit Lachen. Lachen experiences mild summers with winters being very cold and monsoon receiving heavy rainfalls. Better to avoid visiting Lachen in the monsoon season.
Internet Availability:
Poor
Languages Spoken:
Nepali, English, Hindi, Bhutia or Sikkimese, and
Major Festivals:
Losoong & Losar
Notes/Tips:

Visitors require Restricted Area Permit (RAP) or Inner Line Permit (ILP) to visit Lachen.