PELLING TOURISM | TOURIST PLACES TO VISIT & TRAVEL GUIDE TO PELLING
Hill Station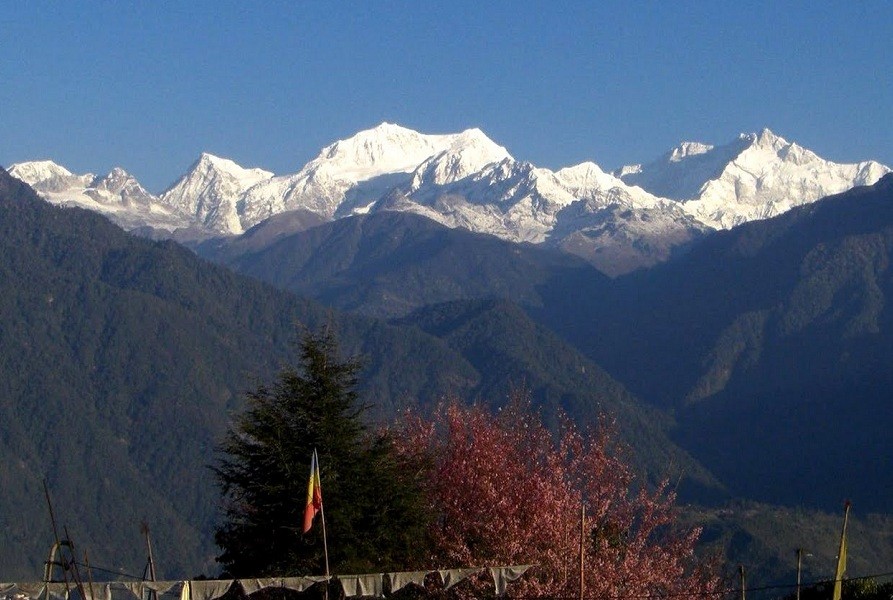 Ideal Trip Duration:
1-2 Days

Nearest City to Pelling:
Guwahati (551 Kms), Kolkata (682 Kms)

Best Time to Visit Pelling:
February to May & September to December

Peak Season:
March to May
At a distance of 7 km from Gyalshing, 45 km from Ravangla, 58 km from Namchi, 69 km from Darjeeling, 88 km from Kalimpong, 113 km from Gangtok, 127 km from Siliguri, 447 km from Darbhanga, 551 km from Guwahati and 682 km from Kolkata, Pelling is a wonderful hill station located in the West Sikkim district of north Indian state of Sikkim. Situated at an altitude of 6,800 feet, Pelling is the second biggest tourist destination in Sikkim after Gangtok.

The name Pelling means 'the seat of the religious body' formed by Pema Linga who was a discoverer of ancient Tibetan texts and also a treasure revealer. Pelling was initially a land filled with jungle which was home to a lot of wildlife. The area developed into a full-fledged village after the construction of two Buddhist monasteries Pemayangtse and Sangacholing. Pelling offers good view of entire Kanchenjunga mountain range including Koktang, Kumbhakaran (Jannu), Rathong, Kabru, Kabru Dome, Kanchenjunga, Pandim, and Siniolchu.

Pelling is mostly known for its mesmerizing views of the snow-capped Kanchenjunga range, several historical sites and monasteries. Kanchenjunga Waterfalls, Pemayangtse Monastery, Khecheopalri Lake, Singshore Bridge, Sanga Choeling Monastery, Tashiding Monastery, Rimbi Falls and Changey Waterfalls are the top places to visit in Pelling. In the months of winter, the town is covered in a blanket of snow and is a perfect holiday destination for all nature lovers.

Pelling's serene environment and picturesque setting is perfect for nature walks and small hikes. It acts as the base camp for some world famous treks such as the one from Yuksom to Dzongri. Village tourism is being largely promoted in Pelling by the Sikkim Tourism Department due to the natural and cultural resources that the town houses. It is also a favorite spot for the trekkers to setup their base before their trek expeditions into the higher altitudes.

Khangchendzonga Festival is the biggest festival celebrated every year in Pelling with loads of activities like white water rafting, kayaking, trekking, mountain biking, sightseeing, bird watching and traditional sports. This festival also exhibits flowers, traditional crafts, ethnic food and costume stalls. Other important festivals in the region are Losar, Guru Dragmar festival, Khecheopalri Fair, Tashiding Bhumchu Fair and Sikkimese Lossong Festival.

The nearest airport to Pelling is Bagdogra International Airport, Siliguri which is about 139 km from Pelling. It is well connected by flights with Kolkata, Mumbai and New Delhi. One can reach Pelling by hiring a cab from the airport or board a shared taxi from Siliguri. New Jalpaiguri is the nearest rail head and has well connected trains from Patna, New Delhi, Mumbai, Guwahati, Howrah, Bangalore, Dibrugarh, Puri, Gaya, Indore, Jaipur, Kolkata, Amritsar, Chennai, Chandigarh, Ranchi, Bhubaneswar, Cochin and Agartala. Pelling is well connected to Gangtok, Siliguri and Darjeeling by road and can be easily reached by state transport buses, private cabs and self-driven cars.

The Darap Eco-Tourism Committee offers several homestay options for tourists. This will not only save you heaps of money but will also allow you to understand the culture and custom of the Sikkimese people. However there are several budget and luxury hotels in the town that suit most types of tourist budgets. Getting around in Pelling is mostly done on foot as heavy vehicles are not much welcome in this quaint village town.

The weather of Pelling is generally pleasant throughout the year but the best time to visit Pelling is from mid-February to May and from September to December.
Internet Availability:
Poor
Languages Spoken:
Nepali, English, Hindi, Bhutia or Sikkimese, and
Major Festivals:
Khangchendzonga Festival, Losar, Khecheopalri Fair & Tashiding Bhumchu Fair
Notes/Tips:

Foreign nationals require Restricted Area Permit (RAP) or Inner Line Permit (ILP) to visit any part of Sikkim including Gangtok and Pelling.