NAMCHI TOURISM | TOURIST PLACES TO VISIT & TRAVEL GUIDE TO NAMCHI
Hill Station |
Pilgrimage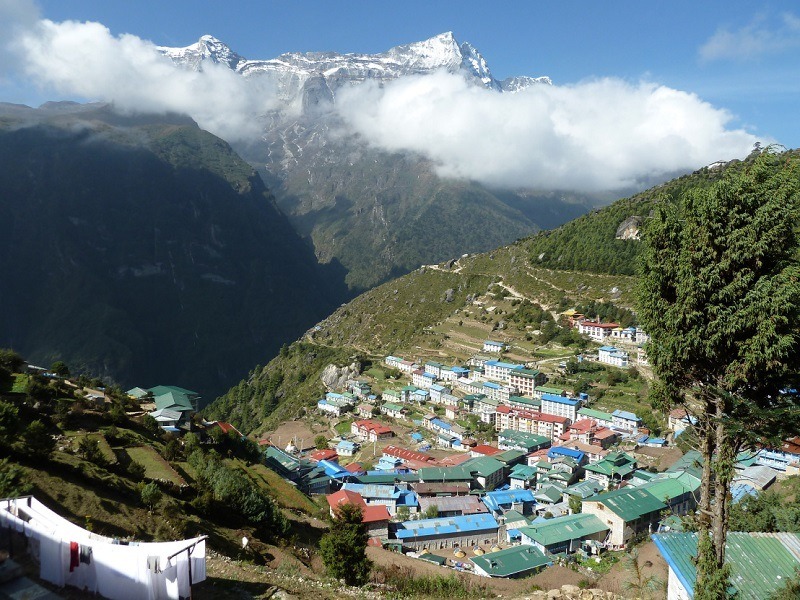 Ideal Trip Duration:
1-2 Days

Nearest City to Namchi:
Guwahati (512 Kms), Kolkata (641 Kms)

Best Time to Visit Namchi:
February to June & September to November

Peak Season:
March to May
At a distance of 45 km from Darjeeling, 49 km from Kalimpong, 65 km from Pelling, 81 km from Gangtok, 88 km from Siliguri, 512 km from Guwahati and 641 km from Kolkata, Namchi is a small town and also the district headquarters of South Sikkim district in the Indian state of Sikkim. Also known as Namtse, it is one of the fast developing tourist destinations in Sikkim and among the popular places to experience Sikkim Tourism.

Literally means ' Top of the Sky', Namchi is situated at an altitude of 5,500 feet and is known for its Buddhist Monasteries and scenic locales. As per the historical facts, once Sikkim was under the reign of the Chogyals. Legends say that one of the Sikkimese princesses, Pende Ongmoo deceived a Sikkimese Chogyal. When people of Sikkim got to know about this, they killed the Sikkimese princess, Pende Ongmoo. The place where the Pend Ongmoo was killed is believed to be the present day Namchi.

Often known as the Cultural Capital of Sikkim, Namchi has been developed as a hub of religious and cultural tourism in Sikkim. The place attracts large number of pilgrims every year due to its religious places, natural wonders and the unmatched views of the Rangeet valley and Kanchenjunga, the third highest mountain in the world. Namchi is home to the World's largest statue of Padmasambhava situated on Samdruptse Hill and replica of all the four dhams of India (char dhams). Tedong Hill, Namchi Rock Garden, Tarey Bhir, Saibaba Temple and Ngadak Monastery are the other popular places to visit in Namchi. Namchi also attracts trekkers as the popular trekking trail Tendong-Ravangla-Maenam-Borong starts from Namchi which spans 5-6 days.

Furthermore, Namchi is the land of celebrations and carnivals. Every year Namchi hosts 'The Gold Cup' football tournament at Baichung stadium. Teams from Nepal, Bangladesh, Bhutan, and all over India participate in the football tourney. In the month of February, Namchi hosts an annual flower show which exhibits rare collection of orchids and is considered as the largest in Sikkim. Additionally, in the month of October, Namchi festival is also celebrated which is hosted by Sikkim Cultural and Food Tourism.

Bagdogra International Airport is the nearest airport, which is about 100 km from Namchi. It has direct flights from Kolkata, Mumbai and New Delhi. Gangtok and Bagdogra are connected through helicopter services. New Jalpaiguri is the nearest rail head and is well connected by trains with Patna, New Delhi, Mumbai, Guwahati, Howrah, Bangalore, Dibrugarh, Puri, Gaya, Indore, Jaipur, Kolkata, Amritsar, Chennai, Chandigarh, Ranchi, Bhubaneswar, Cochin and Agartala. Namchi is well connected by roads with the neighboring cities through NH 31A. Private buses, jeeps and taxis are easily available from places like New Jalpaiguri, Bagdogra, Gangtok and Darjeeling.

There are several accommodation options available in Namchi ranging from budget to luxury hotels. The hotels provide all basic facilities including spas and a 24-hour travel information counter.

Namchi offers a salubrious weather throughout the year. March to May is the good time to visit Namchi when the temperature remains moderate. Another good time is between the months of September and November. If you want to attend the flower festival, then visit during the month of February.
Internet Availability:
Poor
Languages Spoken:
Nepali, English, Hindi, Bhutia or Sikkimese, and
Major Festivals:
Namchi Festival & Namchi Flower Festival
Notes/Tips:

Foreign nationals require Restricted Area Permit (RAP) or Inner Line Permit (ILP) to visit any part of Sikkim including Gangtok.