LACHUNG TOURISM | TOURIST PLACES TO VISIT & TRAVEL GUIDE TO LACHUNG
Hill Station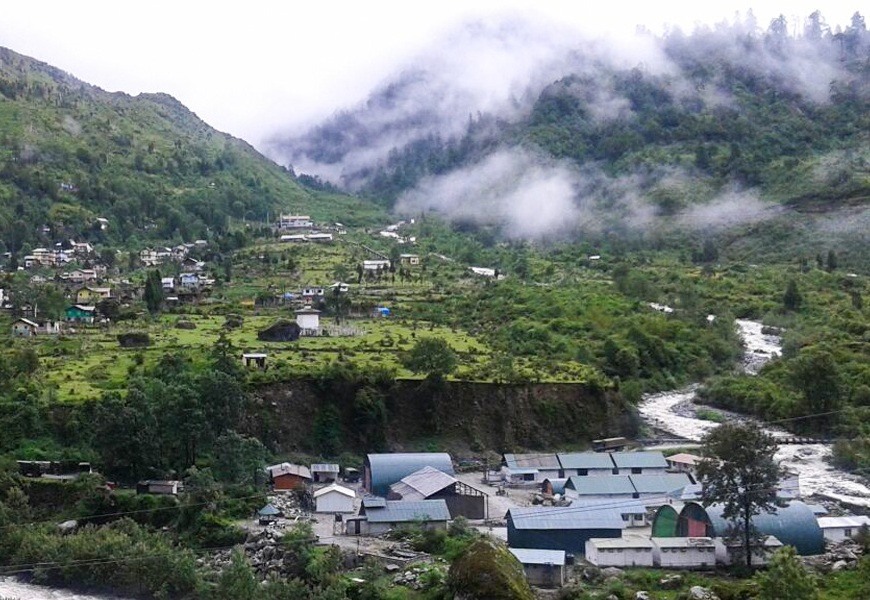 Ideal Trip Duration:
1-2 Days

Nearest City to Lachung:
Guwahati (609 Kms), Kolkata (634 Kms)

Best Time to Visit Lachung:
October to June

Peak Season:
March to May
At a distance of 47 km from Lachen, 112 km from Ravangla, 116 km from Gangtok, 146 km from Kalimpong, 200 km from Pelling, 609 km from Guwahati and 634 km from Kolkata, Lachung is a small hill station located in North Sikkim district of Indian state of Sikkim. Situated near the border with Tibet, it is one of the beautiful places to visit in Sikkim and among the picturesque hill stations in India.

At an altitude of 9,600 feet, Lachung is located at the confluence of River Lachen and River Lachung, the tributaries of Teesta River. The word Lachung means 'small pass'. The Indian Army has a forward base in the town. According to history, Lachung was a trading post between Sikkim and Tibet before the Chinese occupation of Tibet in 1950, after which it was closed down. The town's economy has been boosted by tourism in recent years as the region has been opened up by the Indian government. The town is majorly inhabited by Lepchas and Bhutias who are prime followers of Buddhism.

With its stunning fruit orchards, sparkling streams and gushing rivers flowing against the mesmerizing backdrop of snow-capped Himalayas, Lachung has been described as the 'most picturesque village of Sikkim' by British explorer Joseph Dalton Hooker in his definitive, The Himalayan Journal (1855). Lachung Monastery, Shingba Rhododendron Sanctuary, Yume Samdong (Zero Point), Yumthang Valley, Bhim Nala Falls and Naga Falls are the top places to visit in Lachung. Also, it acts as the base camp for Rhododendron Valley Trek which starts from Yumthang Valley and ends at Lachen Valley.

Lossong is one of the most famous and the major festival, also called as the New Year of the Bhutia people. This festival is celebrated in the month of January every year with great enthusiasm. Saga Dawa is another festival celebrated by the people of Lachung.

Bagdogra International Airport is the nearest airport, which is about 197 km from Lachung. It has direct flights from Kolkata, Mumbai and New Delhi. The Bagdogra Airport also has regular helicopter rides scheduled to Gangtok. New Jalpaiguri is the nearest rail head which is about 191 km from Lachung. It is well connected by trains with Patna, New Delhi, Mumbai, Guwahati, Howrah, Bangalore, Dibrugarh, Puri, Gaya, Indore, Jaipur, Kolkata, Amritsar, Chennai, Chandigarh, Ranchi, Bhubaneswar, Cochin and Agartala. Gangtok SNT Bus Station is the nearest bus station and has well connected buses from Kalimpong, Darjeeling and Siliguri. One can opt for public buses or hire a private taxi to reach Lachung from Gangtok, New Jalpaiguri and Ravangla. Only vehicles from tour operators who are registered with Sikkim tourism are allowed.

Accommodation in Lachung is not a problem as it has several hotels. This scenic village is blessed with a plenty of mid-range and budget hotels, tourist lodges, guesthouses and homestays which provide a comfortable stay with all basic amenities like clean rooms, warm bed linens, heaters and hygienically prepared food.

October to June is the best time to visit Lachung as the weather is pleasant and is suitable for sightseeing. Lachung experiences mild summers with winters being very cold and monsoon receiving heavy rainfalls. Better to avoid visiting Lachung in the monsoon season.

As the international border with China nearby, the whole area is under army control. Visitors require Protected Area Permits to visit Lachung/ Yumthang/ Zero Point. It can be made at Gangtok Tourism Office, District Administrative Center at Mangan, or at Chungthang Sub-Divisional Magistrate's Office. Visitors need to get it done through a registered tour operator of Sikkim and can be done one day before. Foreigners need to be in a group of two or more in order to visit Lachung/Yumthang.
Internet Availability:
Poor
Languages Spoken:
Nepali, English, Hindi, Bhutia or Sikkimese, and
Major Festivals:
Losoong & Saga Dawa
Notes/Tips:

Foreign nationals require Restricted Area Permit (RAP) or Inner Line Permit (ILP) to visit any part of Sikkim including Gangtok.