LUCKNOW TOURISM | TOURIST PLACES TO VISIT & TRAVEL GUIDE TO LUCKNOW

City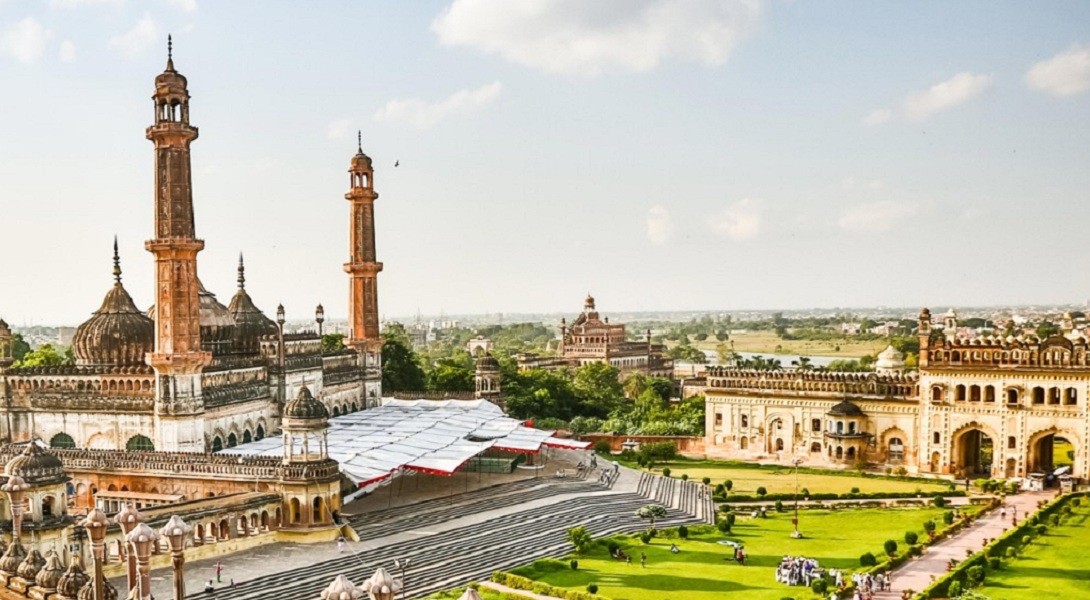 Ideal Trip Duration:
1-2 Days

Nearest City to Lucknow:
Lucknow

Best Time to Visit Lucknow:
October to March

Peak Season:
November to February
At a distance of 82 km from Kanpur, 140 km from Ayodhya, 201 km from Allahabad, 275 km from Gorakhpur, 312 km from Jhansi, 313 km from Varanasi, 330 km from Agra, 333 km from Gwalior, 350 km from Aligarh, 505 km from Patna, and 527 km from New Delhi, Lucknow is the capital and the largest city of Uttar Pradesh. Situated on the banks of river Gomti, it is one of the popular places to visit in India, and among the must include places in Uttar Pradesh tour packages.

Popularly known as the 'City of Nawabs and City of Tehzeeb', Lucknow is the fourteenth-most populous city in India and the second largest city of North India. Overflowing with rich culture and ancient heritage, it is one of the top places to visit near Kanpur. The skyline is crowded with buildings that showcase a fascinating range of ancient styles, most of which date back to Mughal or British rule. From a slice of rich colonial history to modernized museums, Lucknow tour packages beautifully bring together the opulence of a glittering past and the simplicity of a modern city. Lucknow, along with Agra and Varanasi, is in the Uttar Pradesh Heritage Arc. Rumi Darwaza, the Mughal Gateway divides Lucknow into two parts, the more crowded 'Old Lucknow' and the 'New Lucknow' which is urban and one of the most planned cities of Asia.

The history of Lucknow can be traced back to the ancient times of the Suryavanshi dynasty. It is believed that Lord Laxmana, brother of Lord Rama laid the foundation of the city on the banks of river Gomti which was then called Laxmanpur. Earlier, the city was a part of the Awadh region which was ruled by the Sharqi Sultanate of Jaunpur from 1394 to 1478. Emperor Humayun made it a part of the Mughal Empire around 1555. Emperor Jahangir (1569-1627) granted an estate in Awadh to Sheikh Abdul Rahim, who later built Machchi Bhawan on this estate. It later became the seat of power from where his descendants, the Sheikhzadas, controlled the region. Under the rule of the Nawabs, Lucknow flourished like never before and several monuments were constructed. In 1856, the British East India Company abolished local rule and took complete control of the city along with the rest of Awadh and, in 1857, transferred it to the British Raj. Along with the rest of India, Lucknow became independent from Britain on 15 August 1947.

Occupying the central region of the Heritage Arc, Lucknow has been winning the hearts of tourists throughout the world for its Nawabi finesse for ages. Bara Imambara, Chhota Imambara, Rumi Darwaza, Hazratganj, Lucknow Zoo, Lucknow Museum, Dilkusha Garden, Chattra Manzil, Ram Krishna Math, La Martiniere, etc., are some of the major and top places to visit in Lucknow. The city is famous for its Adab and Tehzeeb (manners and hospitality), intricate embroidery, and dance forms such as Kathak. Besides, this historical city is also known for its elaborate Nawabi-style cuisine which includes biryanis, kebabs, and bread. The reputation of Lucknow's kebabs is not limited to the local population and the dish attracts people from other cities as well as other countries. The city of Nawabs is also known for its chaats, street food, kulfi, paan, and sweets.

Known for its rich cultural heritage, festivals are celebrated with much enthusiasm and fanfare in Lucknow. Eid, Christmas, Diwali, Holi, Lucknow Festival, Vrindavan Sharadotsav, Muharram, and Deva Mela are some of the popular festivals celebrated here. Organized jointly by UP Tourism and Lucknow district administration, Lucknow Festival is a ten-day-long festival that showcases the rich and unique culture, arts and crafts, and the finer aspects of the lifestyle of Lucknow. Colorful processions, traditional dramas, Kathak dances in the style of Lucknow Gharana, Sarangi and sitar recitals, Ghazals, Qawalis, and Thumri produce a cheerful atmosphere during the festival.

Chaudhary Charan Singh International Airport, Lucknow is the nearest airport which is 12 km from Lucknow Junction. It has well-connected flights from New Delhi, Bangalore, Chennai, Hyderabad, Pune, Ahmedabad, and Jaipur. Lucknow Junction Railway Station is the nearest railhead that has well-connected trains from Bareilly, Sultanpur, Ahmedabad, Howrah, Varanasi, Kamakya, Haridwar, Danapur, Dibrugarh, Chhapra, Gorakhpur, Sealdah, Muzzafarpur, Bhopal, Indore, Kolkata, Patliputra, Prayag, Amritsar, Dehradun, Chandigarh, Udaipur, and Jhansi. Lucknow is well-connected by buses with all the major cities of Uttar Pradesh, New Delhi, Jaipur, Patna, and Agra.

With pleasant and cool weather, October to March is the best time to visit Lucknow for sightseeing. Summers are extremely hot and monsoons are humid.

Internet Availability:
Good
Languages Spoken:
Hindi, Urdu, Awadhi & English
Major Festivals:
Eid, Christmas, Diwali, Holi, Lucknow Festival, Vrindavan Sharadotsav, Muharram, and Deva Mela