KANPUR TOURISM | TOURIST PLACES TO VISIT & TRAVEL GUIDE TO KANPUR

City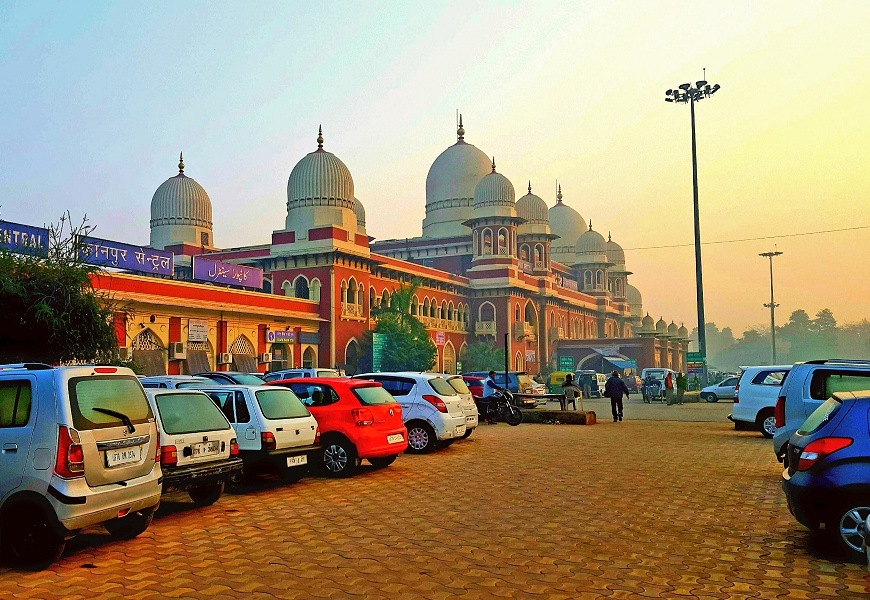 Ideal Trip Duration:
1-2 Days

Nearest City to Kanpur:
Kanpur

Best Time to Visit Kanpur:
October to March

Peak Season:
November to February
At a distance of 78 km from Fatehpur, 82 km from Lucknow, 196 km from Allahabad, 198 km from Sultanpur, 223 km from Ayodhya, 223 km from Jhansi, 270 km from Gwalior, 272 km from Bareilly, 281 km from Agra, 320 km from Fatehpur Sikri, 329 km from Varanasi, 358 km from Gorakhpur, 362 km from Aligarh, 480 km from Delhi, 520 km from Jaipur, and 586 km from Patna, Kanpur is a bustling city located in the Indian state of Uttar Pradesh. Formerly Called 'Cawnpore', it is one of the popular tourist places in India and among the must-include places in Uttar Pradesh tour packages.

Situated on the banks of the holy Ganges, Kanpur is the largest city in Uttar Pradesh, and one of North India's major industrial centers with its own historical, religious and commercial importance. Known for its immense human resource, the city has also earned a reputation as the eleventh most populous agglomeration in India. The city is a perfect blend of history, architecture, commerce, and culture with authentic cuisines, traditional theatrical art. Having played a significant role in the first Indian war of Independence, Kanpur houses several historical places. One can also visit several pilgrimage places on the banks of the Ganges as part of Kanpur tour packages.

Kanpur was believed to have been established by king Hindu Singh Chandel of Sachendi, initially naming it as 'Kanhiyapur' because it was said to be founded on the birthday of the Hindu god, Lord Krishna. Later on, in its way to acquire the name 'Kanpur', it was known as Kanhapur, Caunpoore, and Cawnpore. Many old texts suggest that it derived its name from the legendary character of Mahabharata, Karna, as it was called Karnapur too. The prominence of Kanpur has grown over the years as it had been a major city of the Panchala, the Slave dynasty, the Mughals, the Marathas, and finally the British in 1801 AD which it acquired from Peshwa Baji Rao.

Up to the 1st half of the 18th century, Kanpur continued to survive as an insignificant village. In May 1765, Shuja-ud-daula, the Nawab Wazir of Awadh, was defeated by the British near Jajmau. It was probably at this time that the strategic importance of the site of Kanpur was realized by the British. Kanpur passed into British hands under the treaty of 1801 with Nawab Saadat Ali Khan of Awadh. This forms a turning point in the history of Kanpur. In the 19th century, Cawnpore was an important British garrison with barracks for 7,000 soldiers. The city witnessed the Massacre of Kanpur during the Indian Independence struggle.

Formerly known as Manchester of the country, it is now also called the commercial capital of the state. Famous for leather and textile goods of fine quality, it is now one of the major industrial cities with aviation, wool and leather industries, cotton, flour and vegetable oil mills, sugar refineries, and chemical works. The first cotton textile mills, the Elgin Mills were started in 1862 and Muir Mills in 1882.

A gorgeous city of gardens, temples, and colonial-era regal buildings, Kanpur is undoubtedly one of the most culturally rich places to visit in India. ISKCON Temple, Shri Radhakrishna Temple, Allen Forest Zoo, Kanpur Museum, Jain Glass Temple, Nana Rao Park, Kamla Retreat, Kanpur Memorial Church, Phool Bagh, etc. are some of the major and the top places to visit in Kanpur. Besides, Kanpur is a proud center of learning in India and has many reputed institutions to its credit including the much-revered Indian Institute of Technology.

Blessed with a rich cultural heritage, the festivals in Kanpur are celebrated with much fervor that attracts a huge number of tourists from far-off places. Holi is one of the popular and main festivals in Kanpur as a mark of the beginning of the spring season. Ganga Mela is the other major local festival celebrated in Kanpur.

About 14 km away, Kanpur Airport is the nearest airport and has well-connected flights from Mumbai and New Delhi. Kanpur Central Railway Station is well-connected by trains with Lucknow, Prayagraj, New Delhi, Gorakhpur, Allahabad, Howrah, Bandra, Bhubaneswar, Pune, Darbhanga, Varanasi, Agra, Patna, Bhagalpur, Raipur, Ghazipur, Haldia, Gaya, Kolkata, Santragachi, Bhopal, Indore, and Sultanpur. Kanpur Bus Station is the nearest bus stand that has well-connected buses from all the major cities of Uttar Pradesh, New Delhi, Agra, and Jaipur.

With pleasant and cool weather, October to March is the best time to visit Kanpur for sightseeing. The summers are scorching in Kanpur, with uncomfortably high temperatures while the city experiences heavy showers during the monsoon season that renders most of the tourist attractions inaccessible at times.
Internet Availability:
Good
Languages Spoken:
Hindi, Kanauji, Urdu, Awadhi, Bihari,& English
Major Festivals:
Holi & Ganga Mela