GWALIOR TOURISM | TOURIST PLACES TO VISIT & FORTS IN GWALIOR

Heritage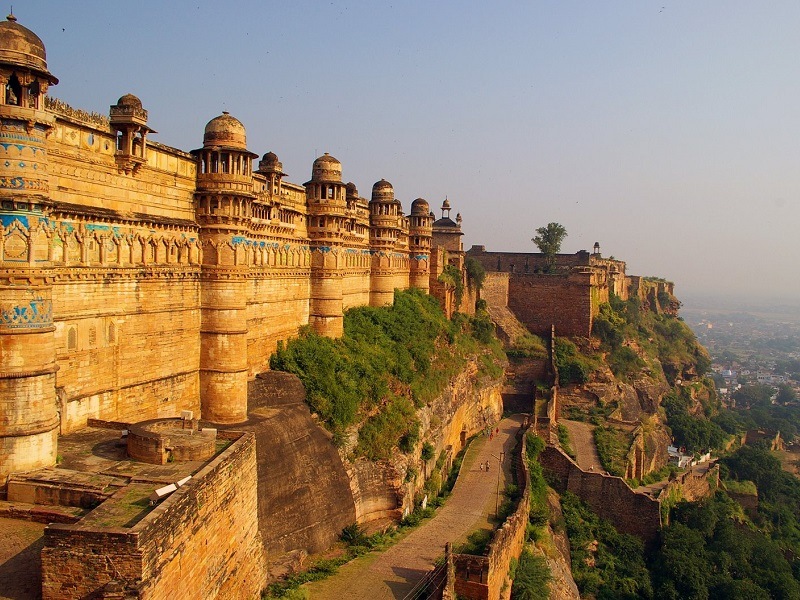 Ideal Trip Duration:
1-2 Days

Nearest City to Gwalior:
Gwalior

Best Time to Visit Gwalior:
October to March

Peak Season:
November to February
At a distance of 121 km from Agra, 174 km from Mathura, 268 km from Kanpur, 330 km from New Delhi, 334 km from Lucknow, 346 km from Jaipur, 448 km from Bhopal and 459 km from Allahabad, Gwalior is a historical city situated in the central Indian state of Madhya Pradesh. It is one of the important tourist places near Agra and also one of the top tourist destinations in Madhya Pradesh.

One of the most beautiful cities of Madhya Pradesh, Gwalior is very famous for its glorious history and rich cultural heritage. After being founded by Maharaja Suraj Sen in 8th century AD, Gwalior Fort was described as the pearl amongst fortresses in India. The city and its fortress have been ruled by several historic northern Indian kingdoms. From the Tomars in the 13th century, it was passed on to the Mughal Empire, then to the Maratha in 1754, followed by the Scindias in 18th century AD.

Well-known for its ancient temples, marvelous palaces and alluring monuments, Gwalior is the tourist capital of Madhya Pradesh. Gwalior is best known for being the birthplace of the great musician, Tansen. And apart from all this, Gwalior was also one among the five princely states that got the honor of 21 gun salute during the British rule. Gwalior Fort, Jai Vilas Mahal, Teli ka Mandir, Sun Temple, Gujari Mahal, Sas Bahu Temple, Man Mandir Palace are some of the popular places to visit in Gwalior. Gwalior is also known to be an educational hub owing to the Scindia School that is situated right inside the Gwalior Fort. This school was built in 1897 and today is considered to be one among the many important boarding schools of India.

Tansen Music Festival is considered as the main festival in Gwalior. It is a five day festival celebrated in the month of November / December to honor the immense talent and achievements of Tansen and also to encourage the new talent. Rang Panchami, Navratri, Bhavbhuti Samaroh, Baba Hira Bhumia's Fair, Ramleela Festival, and Gwalior International Trade Fair are the other fairs and festivals celebrated with lot of enthusiasm.

Rajmata Vijaya Raje Scindia Airport, Gwalior is the nearest airport which is about13 km from the Gwalior Junction. It is well connected by flights with Mumbai. Gwalior Railway Junction is the nearest railhead, is well connected with trains from Agra, Jabalpur, Bhopal, Okha, Goa, Hubballi, Nanded, Amritsar, Indore, Pune, Hyderabad, Ujjaini, Surat, Mumbai, Shirdi, Bilaspur, Jammu, Chennai, Mathura and Raigarh. Gwalior is well connected with buses from Agra, Kanpur, Bhopal, Delhi, Mathura, Jaipur, and Indore.

The climate of Gwalior is extreme with hot summers and cold winters. The best time to visit Gwalior is from October to March while the peak season is from November to February.
Internet Availability:
Good
Languages Spoken:
Hindi, Marathi, Sindhi & English
Major Festivals:
Tansen Music Festival, Bhavbhuti Samaroh, Navratri, Ramleela Festival, Baba Hira Bhumia's Fair, Gwalior Trade Fair