SARNATH TOURISM | TOP PLACES TO VISIT & TRAVEL GUIDE TO SARNATH

Heritage |
Pilgrimage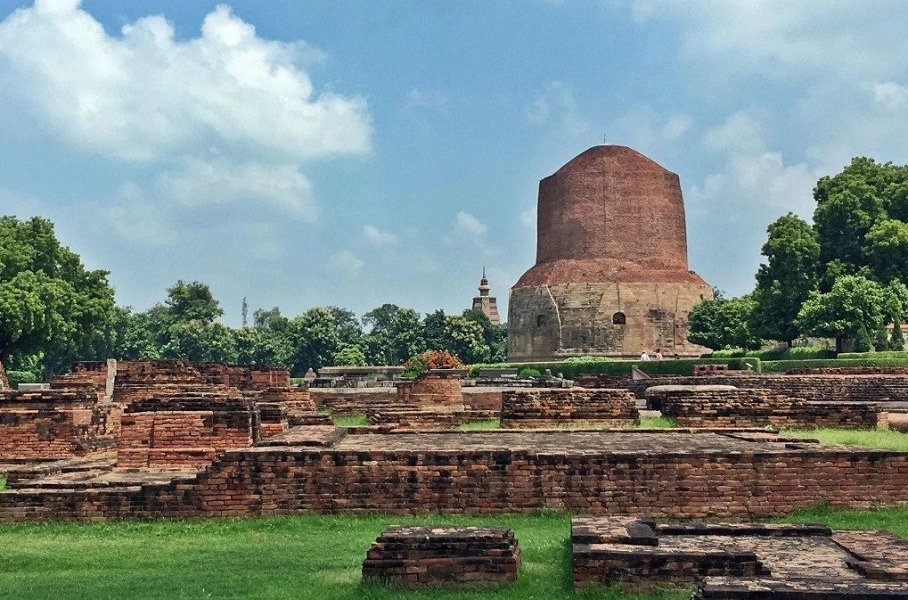 Ideal Trip Duration:
1-2 Days

Nearest City to Sarnath:
Varanasi (10 Kms)

Best Time to Visit Sarnath:
October to March

Peak Season:
November to February
At a distance of 10 km from Varanasi, 135 km from Allahabad, 163 km from Aurangabad, 191 km from Gorakhpur, 233 km from Rewa, 244 km from Patna, 248 km from Gaya, 306 km from Lucknow, and 338 km from Kanpur, Sarnath is a revered Buddhist pilgrimage center located in the Varanasi district of Uttar Pradesh. Situated at the confluence of Ganga and Varuna Rivers, it is one of the sacred Buddhist pilgrimage sites in India and also one of the must include places in Varanasi Tour Packages.

Also known as Ishipatna, and Mrigadaya, Sarnath is one of the four most important Buddhist pilgrimage centers of India, the other three being Lumbini, Bodh Gaya, and Kushinagar. According to the legend, Lord Buddha after attaining enlightenment at Bodh Gaya came to Sarnath and delivered his first sermon to his five disciples. Deer Park is the place where Buddha came to give his first sermon. Sarnath is also the place where the original Sangha was formed and a new order of religious doctrine (Dhamma) was laid. Sarnath is also sacred to the Jains as it is the site of asceticism and death of Shreyamshanath, the 11th Tirthankara.

After Lord Buddha, Sarnath went through a series of historical upheavals, right from 3rd Century BC to approximately 10th to 12th Century BC. The great emperor Ashoka visited the holy land around 234 BC and constructed a stupa. During the Golden Age of Gupta King Chandragupta II (376-414 AD), Sarnath developed as a flourishing center of art and culture. This prosperity continued till 1017 AD when Mahmood Gajni began to plunder and destruction of all monuments in Sarnath. These monuments were extensively plundered for building materials and have been in ruins since then, until 1815, when Colonel Colin Mackenzie, the first Surveyor General of India, started the first systematic excavation of the site of Sarnath. He was followed by Alexander Cunningham, founder of the Archaeological Survey of India, while the last major excavation at Sarnath was conducted by Daya Ram Sahni in 1921-22.

A quiet and spiritual town, Sarnath is a city of historical marvel with numerous Buddhist stupas, museums, excavated ancient sites, and beautiful temples that prove to be a source of immense wonder and astonishment to tourists due to their mystical and serene setting. Being proximity to Varanasi, Sarnath is often flocked with devotees from the Hindu religion along with Buddhists, and Jains. Dhamek Stupa, the Chaukhandi Stupa, Ashoka Pillar, Mulagandha Kuti Vihar, Deer Park, Archaeological Museum, Tibetan Temple, Thai Monastery, Japanese Temple, and Chinese Temple are some of the prominent places to visit in Sarnath.

Being an important Buddhist pilgrimage spot, Sarnath celebrates Buddha Purnima with a lot of enthusiasm. It is the most important festival of the year at Sarnath that falls on the full moon day in the month of Baisakh and usually falls in April / May. Pilgrims gather at Sarnath from across the world. Another popular festival of Sarnath is the founding day of the Mulagandha Kuti Vihara which is celebrated on the first full moon of November.

About 25 km from Sarnath, Lal Bahadur Shastri International Airport, Varanasi is the nearest airport that has well-connected flights from New Delhi, Mumbai, Bangalore, Hyderabad, Kolkata, and Gaya. Sarnath has its own railway station but very few trains are running through. Varanasi Junction Railway Station is the nearest major railhead and is about 10 km from Sarnath. It is well connected by trains with Chhapra, Kanpur, Amritsar, Muzzafarpur, Jammu, Ahmedabad, New Delhi, Kolkata, Hyderabad, Ranchi, Indore, Tatanagar, Chandigarh, Guwahati, Gorakhpur, Lucknow, Patna, Kochi, Jaisalmer, Mumbai, Bangalore, Dehradun, Haridwar, Pune, and Chennai. Varanasi is well connected with buses from Agra, Delhi, Allahabad, Kanpur, Gorakhpur, and Lucknow. From Varanasi, one can reach Sarnath by bus or by hiring a taxi, or auto.

Since Sarnath is a small place, it does not have too many options to stay and eat, but some monasteries offer a free stay for monks. Varanasi is the right place to stay as it has many accommodation options right from budget to luxury and 5-star properties. One can visit Sarnath as a day trip from Varanasi while holidaying in Uttar Pradesh. There some eateries in Sarnath that offer north Indian food along with Chinese and Tibetan dishes.

The best time to visit Sarnath is from October to March when the weather is pleasant and suitable for sightseeing. One can also prefer to visit the place during monsoon as the rains bring down the scorching heat that making the climate pleasant and cold. Better to avoid visiting Sarnath during the summer months as the place experiences scorching heat and it becomes difficult for sightseeing. However, a lot of devotees visit Saranath during the festivals of Buddha Poornima (May) and Maha Shivaratri.
Internet Availability:
Average
Languages Spoken:
Bhojpuri, Hindi, Bengali and English
Major Festivals:
Buddha Purnima