THANJAVUR | BRIHADEESWARAR TEMPLE | PLACES TO VISIT & TRAVEL GUIDE TO THANJAVUR

Heritage |
Pilgrimage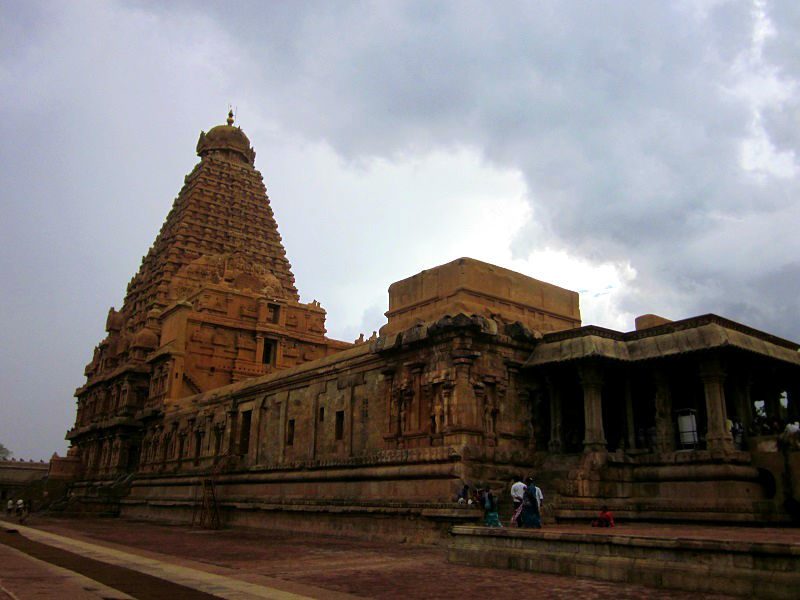 Ideal Trip Duration:
1-2 Days

Nearest City to Thanjavur:
Tiruchirappalli (55 Kms)

Best Time to Visit Thanjavur:
November to March

Peak Season:
December to February & May to June
At a distance of 56 km from Trichy, 112 km from Chidambaram, 86 km from Nagapattinam, 170 km from Madurai, 326 km from Chennai, Thanjavur, also known as Tanjore, is a city and district headquarters in the state of Tamil Nadu. Thanjavur is famous for the Brihadeeswarar Temple built by Rajaraja Chola in the year 1010 AD. Also known as the Big Temple, it is one of UNESCO World Heritage Sites in India and also one of the popular places to experince Tamilnadu Tourism.

Situated on the banks of River Cauvery, Thanjavur has a rich historical heritage and is a must visit place in Thanjavur as part of Tamilnadu tour. The city was once the stronghold of the historic Cholas and at one time was also the capital of the Cholas, Mutharayars and Marathas when they were at the peak of their power. Since then, Thanjavur has been one of the chief political, cultural and religious centers of South India.

Thanjavur became the most important city in the Chola Empire and remained its capital till the emergence of Gangaikonda Cholapuram in about 1025. During the first decade of the eleventh century, the Chola king Raja Raja Chola I (985-1014) constructed the Brihadeeswarar Temple. The temple is considered to be one of the best specimens of South Indian temple architecture.

Thanjavur is one of the older cities in Tamil Nadu and has a lot of significance in Dravidian history. Thanjavur was eventually annexed along with the rest of the Chola kingdom by the Pandya king Maravarman Kulasekara Pandyan I in 1279. Later it went into the hands of Delhi Sultanate from whom Vijayanagara rulers have conquered. It was governed by Thanjavur Nayaks under Vijayanagara suzerainty. Thanjavur was successfully conquered by Ekoji I in 1674, the Maratha feudatory of the Nawab of Bijapur and half-brother of Shivaji. Ekoji founded the Thanjavur Maratha kingdom which ruled Thanjavur till 1855. The kingdom was eventually absorbed into British India in 1855 by the Doctrine of Lapse when Shivaji II (1832-55), the last Thanjavur Maratha ruler, died without a male heir.

Apart from Brihadeeswarar Temple, Thanjavur and the surrounding areas have several important tourist attractions like Thanjavur Palace, Kumbakonam, Darasuram, Gangaikonda Cholapuram, Thiruvaiyaru, Thirubuvanam, etc.

It usually takes a full day to visit the places within Thanjavur town. Thanjavur is also famous for metal sculptures moulded with great facial expressions and beautiful finish.
Internet Availability:
Good
Languages Spoken:
Tamil, Hindi, Marathi & English
Major Festivals:
Maha Sivaratri (Feb/Mar),
Annual Festival (May)