JUNAGADH TOURISM | TOURIST PLACES TO VISIT & TRAVEL GUIDE TO JUNAGADH

Heritage |
Pilgrimage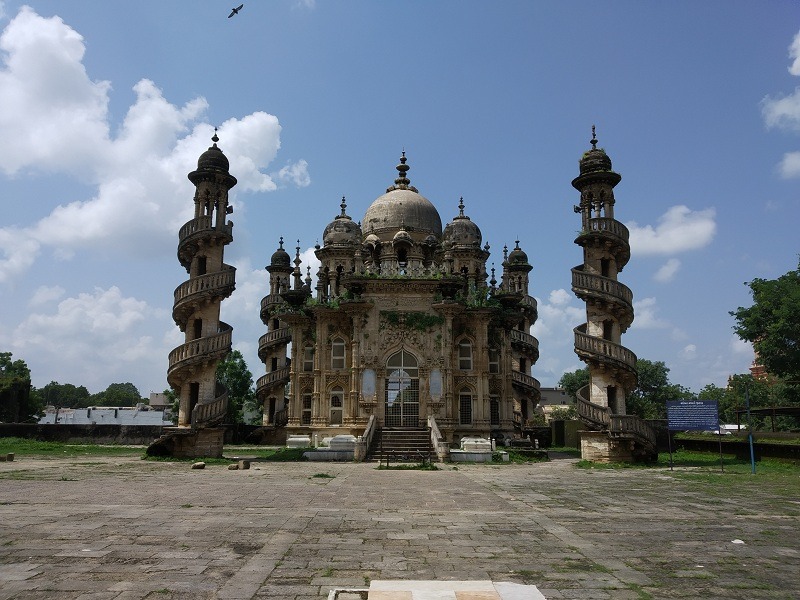 Ideal Trip Duration:
1-2 Days

Nearest City to Junagadh:
Junagadh

Best Time to Visit Junagadh:
October to March

Peak Season:
December to February
At a distance of 54 km from Gir National Park, 91 km from Somnath, 99 km from Amreli, 103 km from Rajkot, 107 km from Porbandar, 139 km from Jamnagar, 147 km from Diu, 209 km from Dwarka, 289 km from Gandhidham, 319 km from Ahmedabad, 333 km from Bhuj and 388 km from Vadodara, Junagadh is a historical city located in the western Indian state of Gujarat. It is the seventh largest city in Gujarat and among the popular places of heritage in Gujarat.

Located in the foothills of the Mount Girnar, the literal meaning of the term 'Junagadh' is 'old fort' which derives from Uparkot, an ancient fort built in the 4th century CE on a plateau in the middle of the town. It was also termed as 'Yonagadh,' which means 'City of the Greeks,' as it was once ruled by the Greeks. Junagadh is also known as 'Sorath', the name of the princely state that existed before the partition of India and Pakistan in the year 1947.

Steeped in the history, Junagadh is quite ancient, as it existed during the reigns of Chandragupta Maurya and King Ashoka. After that it was ruled by several dynasties including Chudasama Dynasty, Chalukays and Mughals before it came under the rule of the Babi dynasty in 1730, who ruled the city with an iron hand until 1946. In 1807, the princely state of Junagadh became a tributary state of the British Empire. During the period between the independence and partition of India and Pakistan in 1947, the 565 princely states that existed under British rule were given a choice to join either India or Pakistan. The last Babi Nawab named Mahabatkhanji III, decided to join Pakistan but the majority of Hindu people resorted to revolt against his decision. After a brief struggle, Junagadh joined India on 9th November 1947 as a part of Saurashtra state and later Bombay state. After the Maha Gujarat movement, it became part of the newly formed Gujarat state in 1960.

The ancient city of Junagadh is a famous tourism and pilgrimage center in Gujarat as it has an interesting mix of Buddhist monuments, mosques, Hindu temples, elaborate mansions and Gothic archways. The attraction that tops the list of must-visit places in Junagadh is the Uperkot Fort, originally built by Chandragupta Maurya in 319 BCE. The fort was sieged 16 times over an 800-year period. Besides, Mahabat Maqbara, Durbar Hall Museum, Mount Girnar, Sakkarbaug Zoological Garden, Ashoka's Rock Edicts and Buddhist Caves are some of the best Junagadh tourist places.

Influenced by four major religions like Hinduism, Buddhism, Jainism and Islam, the city is home to many festivals that are celebrated throughout the year. The major festival celebrated in Junagadh is Bhavnath Fair held on Mahashivratri and is celebrated with much fanfare all over the city. A great mahapuja is performed at the midnight of Mahashivratri, when naga bavas, or naked sages, seated on elephants and decked in ornaments, arrive holding flags and blowing conch shells. Besides, Parikrama in October / November and Navratri are the other festivals celebrated in Junagadh with great enthusiasm.

Porbandar Airport (102 km) and Rajkot Airport (103 km) are the nearest airports to Junagadh. Both are well connected by flights with Mumbai, Delhi and Ahmedabad. Junagadh Junction has well connected rail network with Somnath, Mumbai, Okha, Rajkot, Porbandar, Amreli, Jhansi, Trivandrum, Pune, Mumbai, Jabalpur, Vadodara, Mangalore, Kochi, Indore, and Ahmedabad. Junagadh is well connected by bus with all major cities and towns of Gujarat like Ahmedabad, Bhuj, Bhavnagar, Surat, Gandhidham, Vadodara, Dwarka, Somnath and Rajkot along with Mumbai, Indore, and Nashik.

The best time to visit Junagadh is in the winter months between October to March when the weather is pleasant and is suitable for sightseeing. Better to avoid summer months as the weather is very hot and dry in Junagadh.
Internet Availability:
Average
Languages Spoken:
Gujarati, Hindi & English
Major Festivals:
Bhavnath Fair & Girnar Parikrama