DANDELI TOURISM | WILDLIFE SAFARI, RIVER RAFTING & PLACES TO VISIT IN DANDELI

Adventure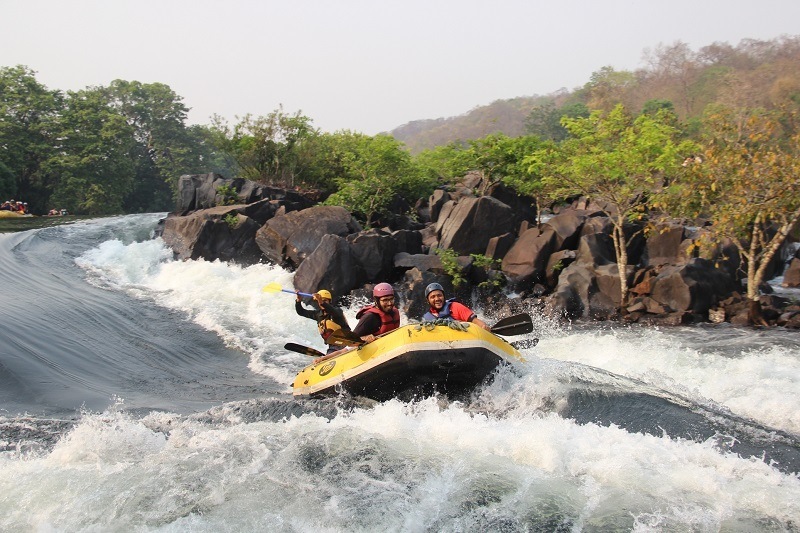 Ideal Trip Duration:
2 Full Days

Nearest City to Dandeli:
Hubli (73 Kms)

Best Time to Visit Dandeli:
October to March

Peak Season:
December to February
At a distance of 55 km from Dharwad, 73 km from Hubli, 89 km from Belgaum, 106 km from Karwar, 130 km from Panjim, 240 km from Shimoga, and 462 km from Bangalore, Dandeli is a picturesque town on the banks of the River Kali in Uttara Kannada district of Karnataka. It is one of the top places to visit near Hubli, and among the must include places in Karnataka tour packages.

Dandeli is quite famous for its gorgeous natural backdrop, wildlife, and adventure activities. It has a dense forest cover and is one of the best natural habitats in the world. Dandeli Wildlife Sanctuary is the second largest wildlife sanctuary in Karnataka. The sanctuary is crisscrossed by River Kaneri and River Nagajhari, tributaries of River Kali. The sanctuary is the natural habitat for several wildlife species such as tigers, leopards, black panthers, elephants, gaur, and languor. It can be visited along with Goa packages.

Dandeli is one of the top white-water rafting destinations in India. Kayaking, canyoning, water rafting, overnight rafting, or canoeing trips on the Kali River along with other adventure sports like cycling and mountain biking are some of the things one can indulge in here as part of Dandeli holiday packages. Dandeli also offers crocodile spotting, nature walks, treks, boating, bird watching, and angling trips. Ulavi Temple, Syntheri Rocks, Kavala Caves, Molangi, Syke's Point, Nagajhari Viewpoint, and Supa Dam are other tourist places in Dandeli.

Hubli Airport is the nearest airport, which is about 66 km from Dandeli. The nearest railway station is Alnawar, which is 33 km from Dandeli. It has trains from Bangalore, Vasco Da Gama, Hubli, Delhi, Pune, Tirupati, Pondicherry, Hyderabad, Mysore, Mumbai, Mangalore, and Tirunelveli. Dandeli is also well connected by bus with Bangalore, Hubli, Karwar, Davanagere, and Udipi.

Dandeli has hotels for all budgets ranges from resorts, guest houses to lodges, camps, and tents. Dandeli Jungle Inn, Kulgi Nature Camp, Pansoli Guest House, Hornbill River Resort, Vacation on White Water Resort, Old Magazine House, Bison Resort, and Kali River Resort are the few accommodation options.

The best time to visit Dandeli is from October to March.
Internet Availability:
Average
Languages Spoken:
Kannada, Konkani and English
Major Festivals:
Details Not Available