KEDARNATH TOURISM | YATRA, TEMPLES, PLACES TO VISIT & TRAVEL GUIDE TO KEDARNATH
Pilgrimage |

Adventure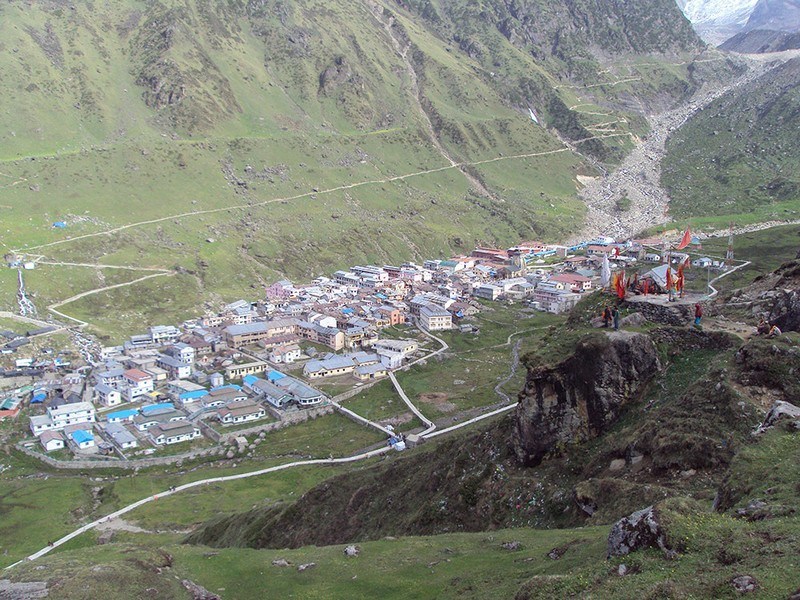 Ideal Trip Duration:
3 Full Days

Nearest City to Kedarnath:
Dehradun (264 Kms)

Best Time to Visit Kedarnath:
May to October

Peak Season:
May to June & September to October
At a distance of 224 km from Rishikesh, 264 km from Dehradun and 439 km from Delhi, Kedarnath is a town and a famous center of pilgrimage in Uttarakhand situated in Rudraprayag district.

Kedarnath is a popular pilgrimage destination for Hindus and is one of the four major Places to visit in Uttarakhand known as Chota Char Dham pilgrimage that also includes Badrinath, Gangotri and Yamunotri. It lies at an altitude of 3584 m near Chorabari Glacier, the head of river Mandakini. It is the most remote of the four Char Dham sites and is flanked by breathtaking snow-clad peaks.

Kedarnath is named after King Kedar. According to a mythology, King Kedar ruled Kedarnath during the Satya Yuga. It is believed that the temple existed even during the time of Mahabharata. It is the place where Lord Shiva absolved Pandavas from the sin of killing their own cousins Kauravas in the battle of Kurukshetra. The famous Kedarnath temple is one of the twelve Jyotirlingas and is thronged by thousands of tourists each year. Other than Kedarnath temple, Bhairavnath temple, Chorabari Tal, Shankaracharya Samadhi and Hans Kund are the some other religious places near Kedarnath.

Kedarnath temple is a major tourist attraction and pilgrims book their hotels way in advance. Rooms in budget hotels and dharamshalas are available under Rs 500 and provide comfortable accommodation with basic amenities. The state-run guest houses are also available.

The nearest airport to Kedarnath is the Jolly Grant airport of Dehradun, which is just 239 km away. It is well connected by flight with Delhi. Rishikesh railway station is the nearest railhead to Kedarnath, which is situated at a distance of 224 km. It is well connected by train with Delhi, Haridwar, Bandikudi and Mata Vaishni Devi Katra. Gaurikund is the nearest road point, which is 14 km from Kedarnath and is well connected by motorable roads with Rishikesh, Srinagar, Haridwar and Dehradun. The Helicopter service is also available from various places in Uttarakhand to reach Kedarnath. A helicopter can be hired from Dehradun, Gauchar, Agastyamuni, Phata or Sitapur.

Kedarnath can be reached by 14 km steep climb from Gaurikund to the temple of Kedarnath and can be done on foot or on ponies. Ponies or horses are available on rent from Gaurikund. After the flash floods of 2013 which greatly affected the Kedarnath region, the route has been modified. The 14 km trek is now of 21 km which starts from Sonprayag. A general health check-up is done to ensure the safety of the tourists before allowing them to go further after registration. From here a trek of 7 km takes place up to Bhim Bali, while the next halt is at Linchauli at another 7 km. The last halt is the Kedarnath temple after a trek of another 7 km. The original route from Gaurikund runs through Rambara (7 km) - Linchauli (4 km) - Kedarnath (3 km).

The extreme weather condition of Kedarnath prompts the temple to be open only for 6 months from the end of April to the beginning of November. The town receives heavy snowfall during the winter months which makes it uninhabitable. The residents of Kedarnath shift to villages lying at lower altitudes during the winter months while Lord Kedarnath's Palki is transferred to Ukhimath.
Internet Availability:
Internet Not Available
Languages Spoken:
Hindi and English
Major Festivals:
Badri - Kedar Festival (June)
Notes/Tips:

Kedarnath is open only for six month every year between May and October. It is closed from November to April due to harsh winter weather conditions.