MANDU TOURISM | TOURIST PLACES TO VISIT & TRAVEL GUIDE TO MANDU

Heritage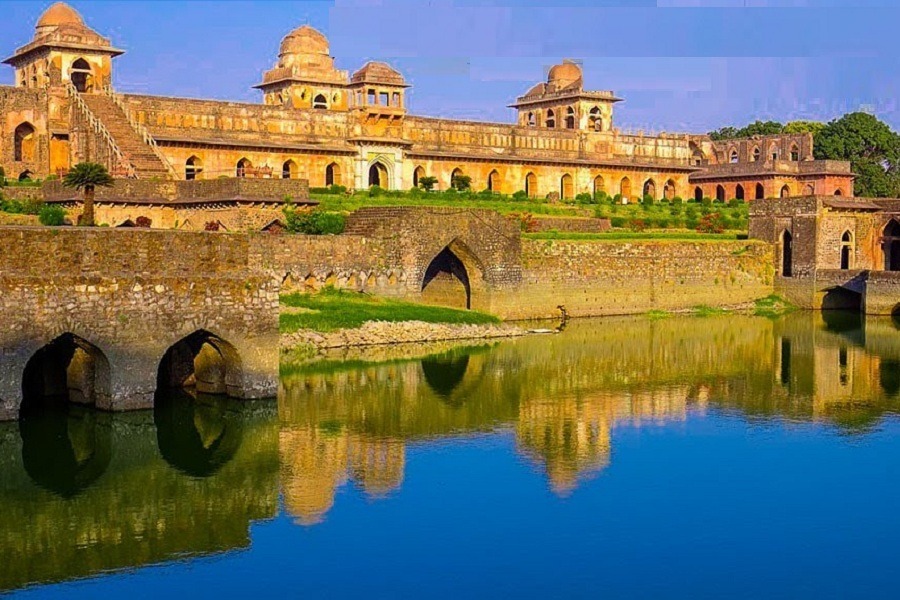 Ideal Trip Duration:
1-2 Days

Nearest City to Mandu:
Indore (98 Kms)

Best Time to Visit Mandu:
October to March

Peak Season:
November to February
At a distance of 35 km from Dhar, 40 km from Maheshwar, 98 km from Indore, 102 km from Omkareshwar, 150 km from Ujjain, 157 km from Khandwa, 241 km from Jalgoan, 286 km from Bhopal, 296 Vadodara, 335 km from Bharuch, 358 km from Saputara, 361 km from Nashik, and 392 km from Surat, Mandu is an ancient fort city located in the present-day Mandav area of the Dhar district, Madhya Pradesh. Also called Mandavgad, it is one of the popular places of heritage in India and among the must-include places in Madhya Pradesh tour packages.

Located in the Malwa and Nimar region of western Madhya Pradesh, Mandu or Mandavgad is the epitome of architectural excellence. The city sits over a plateau and is surrounded by walls of stones and dotted with 12 gateways. Declared as a World Heritage Site by UNESCO, the beauty of Mandu is visible in its palaces, monuments, and widespread lawns, among the prime attractions of Mandu tour packages. Mandu was a pleasure resort under the Mughal empire and is a testament to the romance between Baz Bahadur and Rani Roopmati. With a perimeter of 82 km, the Mandu fort is considered the biggest fort in India. Mandu can be visited along with Indore tour packages.

The history of Mandu goes back to the 6th century when it was a fortified city. Later, it was named Mandhavgarh in the 10th or 11th century, by the rulers of the Parmara kingdom. In the year 1261, even the capital of the Parmaras was transferred from Dhar to Mandu. Later, the Parmars were captured by the Khiljis in 1305. It was in the hands of Hoshang Shah (1405-35) that Mandu has reached its highest glory. Under his rule, came up the magnificent buildings and structures of Mandu. Subsequently, it was then occupied by Muslim rulers from 1401 to 1561. Later, Mandu was invaded and captured by Mughal emperor Akbar in 1561, and then taken over by the Marathas in 1732. At this point, the capital city was reassigned to Dhar and Mandu almost remained uninhabited.

Dotted with palaces, mosques, tombs, and gardens, Mandu is a fine example of the rich heritage of India. The city of Mandu is adorned with spell-binding Afghan architecture surrounded by baobab trees, native to Africa. The grand palaces are still alive with royal romance while the gateways speak of a history of imperial conquests. Mandu's architectural heritage is so huge its sites need to be classified into 5 broad groups. Some of these groups include the Central Group or Village Group, the Royal Group, Sagar Talao Group, Rewa-Kund Group, and Darya Khan Group. Jahaz Mahal, Rani Roopmati Pavillion, Hindola Mahal, Hoshang Shah's Tomb, Baz Bahadur's Palace, Hathi Mahal, Bagh Caves, Jami Masjid, Rewa Kund, etc., are some of the top places to visit in Mandu. Besides, many other architectural sites are scattered all over Mandu.

With a blend of Hindu and tribal culture, Mandu Festival is an annual festival celebrated in September/October at Mandu. The 3-day festival is organized by the state government of Madhya Pradesh to showcase every aspect of the ancient city of Mandu. The Mandu festival will showcase live concerts, adventure sports, cycling expeditions, and much more. Relive the art, culture, heritage, and cuisines of Mandu.

About 94 km away, Devi Ahilya Bai Holkar International Airport, Indore is the nearest airport that has well-connected direct flights from Mumbai, Bangalore, Delhi, Hyderabad, Kolkata, Ahmedabad, Goa, Nagpur, and Raipur. Indore Junction Railway Station is the nearest railhead which has well-connected trains from Jodhpur, Bangalore, Bhopal, Ratlam, Allahabad, Gwalior, Jhansi, Bhind, Chandigarh, Pune, Bikaner, Puri, Dehradun, Rewa, New Delhi, Amritsar, Khajuraho, Bareilly, Jaipur, Jabalpur, Nagpur, Kochuveli, and Gandhidham. Mandu has well-maintained roads which are connected with some of the major cities of Madhya Pradesh like Indore, Bhopal, and Ratlam. From Indore, one can hire a cab or bus to reach Mandu.

There are few accommodations available for tourists to stay and explore the places of Mandu. For better accommodation, one can stay in Indore which has several hotels to stay ranging from budget to luxury. From there, you can have a day trip to Mandu.

The best time to visit Mandu is from October-March when the town experiences moderate weather that is suitable for sightseeing. The summers are quite hot from March to May, just like the other parts of Madhya Pradesh. Monsoons, on the other hand, are also enjoyable, with occasional rainfall which keeps the temperature on the lower side compared to summers.
Internet Availability:
Poor
Languages Spoken:
Hindi,Urdu, Malwi, Nimadi & English
Major Festivals:
Mandu Festival