OMKARESHWAR | JYOTIRLINGA TEMPLE & TRAVEL GUIDE TO OMKARESHWAR
Pilgrimage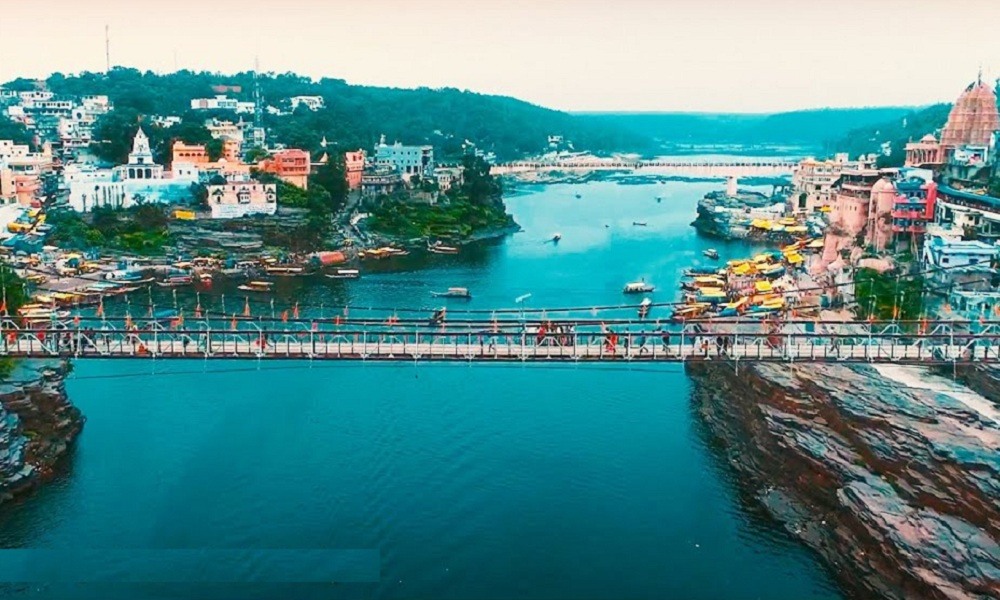 Ideal Trip Duration:
1-2 Days

Nearest City to Omkareshwar:
Indore (76 Kms)

Best Time to Visit Omkareshwar:
October to March

Peak Season:
November to February
At a distance of 69 km from Khandwa, 76 km from Indore, 102 km from Mandu, 137 km from Ujjain, 256 km from Bhopal, 313 km from Pipariya, 390 km from Chhindwara, 399 km from Vadodara, 416 km from Narsinghpur, 446 km Ahmedabad, and 508 km from Jabalpur, Omkareshwar is a famous pilgrimage center located on the island of Mandhata in Khandwa district of Madhya Pradesh. It is one of the top places of pilgrimage in India, and among the must include places in Madhya Pradesh tour packages.

Omkareshwar is one of the top places to visit near Indore as it is home to one of the 12 revered Jyotirlinga shrines of Shiva. The holy town of Omkareshwar is situated on an island called Mandhata or Shivapuri in the Narmada River. The shape of the island is said to be like the Hindu symbol 'OM', due to the merging of two valleys and a central pool of Narmada waters, hence the name Omkara, the other name of Lord Shiva. It is also a hill that is surrounded by waters of the Narmada on all sides. Omkareshar Temple is one of the must-visit places as part of Omkareshwar tour packages.

According to Mythology, King Mandhata worshipped Lord Shiva here. Pleased by his devotion, Lord Shiva gave him a darshan, conferred his eternal light, and remain here as Omkareshwar. Subsequently, the mountain is named as Omkar-Mandhata. Another legend has it that Vindhya, the deity controlling the Vindhyachal mountain ranges was worshipping Lord Shiva to cleanse his soul of the sins committed by him. He created a sacred Lingam with sand and clay. Impressed by the worship, Lord Shiva appeared before him in two forms- Omkareshwar and Amareshwar. The third story from Hindu scriptures says that once upon a time there was a great war between gods and demons, in which demons won. This was a major setback for gods and hence gods prayed to Lord Shiva. Pleased with their prayer, Lord Shiva emerged in the form of Omkareshwar Jyotirlinga and defeated danavas or demons.

The holy town of Omkareshwar consists of two ancient shrines- one is Omkareshwar and the other is Amareshwar or Mamleshwar. Dedicated to Lord Shiva, the Omkareshwar Temple is considered to be fourth among the 12 revered Jyotirlinga shrines of Shiva. The Mamleshwar or Amareshwar, whose name means 'Immortal lord' or 'lord of the Immortals or Devas' is also dedicated to Lord Shiva. Besides, Kedareshwar Temple, Siddhanath Temple, Gauri Somnath Temple, Omkar Ghat, Nagar Ghat, and Abhay Ghat are some of the prominent places to visit in Omkareshwar.

Being one of the major pilgrimage centers in Madhya Pradesh, Omkareshwar celebrates a few festivals with great enthusiasm. Maha Shivratri is one of the most important festivals celebrated in Omkareshwar when the whole island is decorated with lights and many pilgrims make it a point to visit the Omkareshwar temple. Kartik Poornima is another important festival celebrated here. A huge mela or fair is held in Omkareshwar throughout the day and Omkareshwar Puja is carried on with full zest. Besides, Omkar Mahotsav is another popular event, held in December every year that attracts a huge number of devotees and tourists.

Devi Ahilyabhai Holkar Airport, Indore is the nearest airport which is about 82 km from Omkareshwar. It has well-connected direct flights from Mumbai, Bangalore, Delhi, Hyderabad, Kolkata, Ahmedabad, Goa, Nagpur, and Raipur. Omkareshwar Road (Mortakka) Railway Station is connected with only a few trains. About 69 km, Khandwa Junction is the major railway station which has well-connected trains from Bhusaval, Rajendra Nagar, Howrah, Mumbai, Varanasi, Itarsi, Mysore, Kolhapur, Pune, Ranchi, Jabalpur, Ahmedabad, Rewa, Vadodara, Rajkot, Udhna, Coimbatore, Gorakhpur, Hyderabad, Bareilly, Bhagalpur, Guwahati, Jaipur, Allahabad, Katni, and Amritsar. One can hire a cab or bus to reach Omkareshwar. Omkareshwar has well-connected government and private buses from the major cities of Madhya Pradesh like Ujjain, Khandwa, Khargone, and Indore.

Ranging from budget to medium, there are several accommodations available in Omkareshwar which helps the tourists to stay and explore the nearby places. The town is also home to several ashrams where one can stay by donating money.

With a pleasant and cool climate, October to March is the best time to visit Omkareshwar for sightseeing. However, one can also visit the town during the monsoons as rains are mostly average here. The town is also very attractive during the festive season of Maha Shivratri. The summer days are hot and tough so it is hard for the visitors to explore the city.
Internet Availability:
Average
Languages Spoken:
Hindi, Malwi, Nimadi, Bundeli & English
Major Festivals:
Mahashivratri, Kartik Poornima & Omkar Mahotsav