GANDIKOTA TOURISM | PLACES TO VISIT IN & TRAVEL GUIDE TO GANDIKOTA

Heritage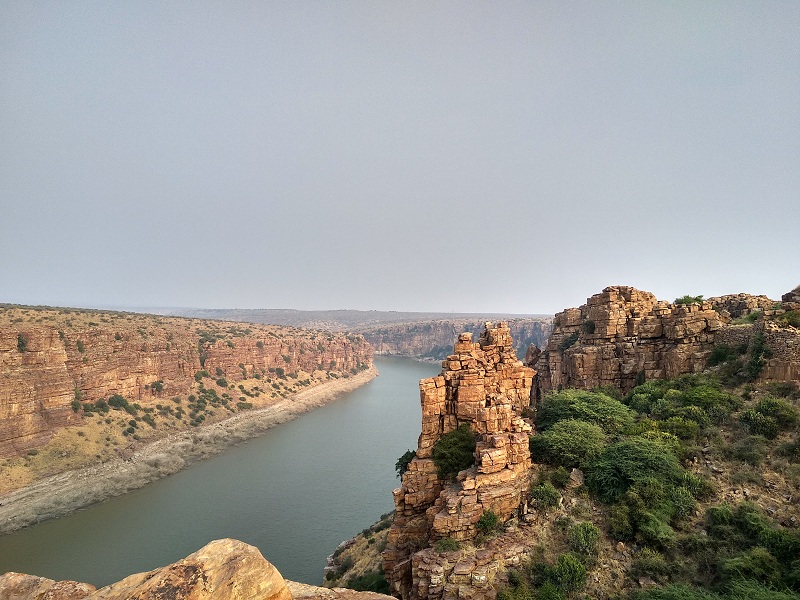 Ideal Trip Duration:
1-2 Days

Nearest City to Gandikota:
Bangalore (280 Kms), Tirupati (225 Kms)

Best Time to Visit Gandikota:
September to March

Peak Season:
November to February
At a distance of 15 km from Jammalamadugu, 94 km from Kadapa, 155 km from Kurnool, 233 km from Tirupati, 280 km from Bangalore, 386 km from Hyderabad and 391 km from Chennai, Gandikota is a small village in Kadapa district of Andhra Pradesh. Situated on the banks of Pennar River, it is one of the popular historical places to visit in Andhra Pradesh and among the weekend gateways from Hyderabad as well as from Bangalore.

Gandikota is a small village spread in and around the historical Gandikota Fort. According to history, Gandikota area was first identified and made Sand fort in 1123 CE by Kapa Raja of nearby Bommanapalle village and a subordinate of Ahavamalla Someswara I, the Western Chalukyan king of Kalyana. The village transformed into major fort after the emergence of the Kamma kings, who ruled Gandikota more than 200 years. The fort fell into hands of Qutub Shahis of Golconda in 1650 CE. The medieval fort of Gandikota is named after the adjoining gorge which means gandi in Telugu. It is also believed that Vemana, the Telugu poet lived in Gandikota area for a short period.

Known to few ardent travelers, Gandikota is not the usual tourist hub as it is neither a world heritage site, nor is it marketed well by state tourism agencies. This untouched and unexplored place is worth a visit for history buffs as well as nature lovers. A frozen in time village in the middle of centuries old structures such as forts and temples is known for its spectacular gorge formed by river Pennar that cuts through the Erramala hills, also known as Gandikota hills. This stunning piece of Nature's architecture has come to be known as the Hidden Grand Canyon of India by travelers who visit and get bewitched by its beauty.

Apart from the unparalleled beauty of the gorge, there are several other attractions in and around the village that allure visitors, the most special being the ancient Gandikota Fort. The magnificent Gandikota Fort, one of the most impregnable strongholds of its time, has remains of temples, a granary, a royal pond and a mosque and is today scattered with ruins. The fort is built in such a way that the gorge provides a natural defence on its west and north sides. One can also visit Mylavaram Dam nearby and do some boating in the serene waters of the reservoir. The sight of distant windmills with small stretches of visible roads along with pretty hues painted in the sky during the sunset is worth experience during your Gandikota trip. One can also visit Belum Caves, Owk Reservoir, Lepakshi and Banaganapalle along with Gandikota.

The government run Haritha Resort is the only option for overnight stay in Gandikota. It has just 10 rooms so better to book in advance on weekends. There are multiple camping areas outside the Fort and on the banks of the Pennar River for those who are looking for quirky stay options and wish to sleep under the stars with the river gushing beside you.

Tirupati Airport at Renigunta (226 km) and Bengaluru International Airport (255 km) are the nearest airports to Gandikota. Jammalamadugu Railway Station is the nearest railhead which is about 17 km from Gandikota and is well connected by trains with Kadapa, Nandyal, Dharmavaram and Vijayawada while Kadapa is the nearest major railway station to Gandikota. Jammalamadugu Bus Stand (15 km) is the nearest bus station to Gandikota and has well bus connectivity with Kadapa, Kurnool, Hyderabad, Bangalore, Proddatur, Tadipatri, Anantapur, Vijayawada, and Tirupati. There are buses available from Jammalamadugu Old Bus Stand (Gandhi Statue Junction) to Gandikota.

September to March is the best time to visit Gandikota as the weather is pleasant and comfortable for sightseeing while the summer months are hot and humid with soaring temperatures.
Internet Availability:
Poor
Languages Spoken:
Telugu & English
Major Festivals:
Details Not Available