SATPURA NATIONAL PARK | WILDLIFE SAFARI & TRAVEL GUIDE TO SATPURA

Wildlife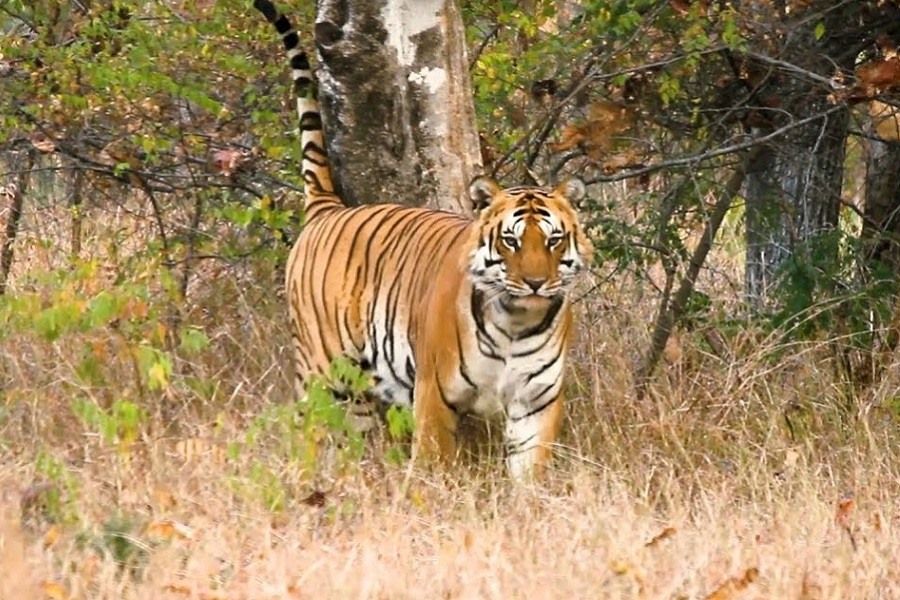 About Satpura National Park

Ideal Trip Duration:
Not Available

Nearest City to Satpura National Park:
Bhopal (140 Kms)

Best Time to Visit Satpura National Park:
October to June

Peak Season:
November to March
At a distance of 17 km from Sohagpur, 42 km from Pipariya, 64 km from Hoshangabad, 65 km from Itarsi, 93 km from Pachmarhi, 140 km from Bhopal, Satpura National Park, also known as Satpura Tiger Reserve, is located in the Hoshangabad district of Madhya Pradesh, India. Cradled in the Satpura Range, it is one of the popular national parks in Madhya Pradesh, and among the popular places to visit near Bhopal.

Covering an area of about 524 sq. km, Satpura National Park was established in 1981. It was first explored by Captain James Forsyth of Bengal Lancers in 1862 while he was searching for Indian Freedom Fighter Tantya Tope. The park holds the pride of being the first declared Reserved Forest Area of India due to its ecological and commercial importance. Later in the year 1999, this national park comes under Satpura Tiger Reserve along with Bori Sanctuary and Pachmarhi Sanctuary. The park won the TOFT Wildlife Tourism Award in the year 2010 for the Most Visitor Friendly wildlife destinations.

The name of the national park is derived from the Satpura Range. Satpura is a Sanskrit word, that means seven mountains. The terrain of the national park is extremely rugged and consists of sandstone peaks, narrow gorges, ravines, and dense forests. The altitude ranges from 300 to 1,352 m. Denwa river is the main water source of the park and the Tawa dam has been built on this river. Satpura National Park, along with the adjoining Bori and Pachmarhi wildlife sanctuaries, provides 2,200 sq. km of unique central Indian highland ecosystem.

Satpura National Park has a large and diversified population of wildlife due to its unique ecosystem and a long history of wildlife conservation. One can spot Indian Bison, Spotted Dear, Leopards, Tigers, Wild boar, Sloth bear, Blackbuck, Four Horned antelopes, Porcupine, Sambhar, Langurs, and Malabar squirrels as part of Satpura National Park tour packages. Beautiful bird species including Malabar whistling Thrush, Paradise Flycatcher, Honey Buzzard, Malabar pied Hornbill, etc. are present in large numbers.

The park is divided into 4 zones. Out of them Madhai &, Pannarpani (Pachachi) are core areas while Jamani Dev & Parsapani are buffer areas. In 2019, the Forest Department of Madhya Pradesh introduced one new core zone in Satpura Tiger Reserve - Panaarpani. Panaarpani zone will have a separate entrance gate and is close to Pachmarhi. The park can be entered via 5 routes - Madhai Gate from Madhai village, Jamani Dev Gate for Jamani Dev Buffer zone, Parsapani entrance gate, Churna Gate, and Panaarpani Gate. Madhai gate is the main entry point from which all safari activities are operated.

Jeep safari is the must experience things to do in Satpura. The park authorities offered two types of safaris to its visitors - Jeep Safari, and Elephant Safari. Permits for day visits to these zones are available online on the Park website. There are 2 jeep safaris conducted per day one is early in the morning and the other one is in the late afternoon. Besides, full-day safaris are allowed in Satpura where one can see all zones in a single day. The Jungle Safari is done only with vehicles registered with the park administration. Apart from the jeep safari, one can indulge in activities like Elephant Joy Rides, nature walks, cycling & night Safari, canoeing & boat safaris here.

The Forest Department provides basic accommodations at forest rest houses - 2 at Pachmarhi, 2 at Churna, and 1 at Madhai each with double bedrooms. These rooms can be booked in advance through the Satpura Tiger Reserve office (+917574-254394). There is also a wide range of private accommodations available in the vicinity of Madhai, Churna, and Pachmarhi gates of Satpura National Park.

Madhai is the gateway to Satpura National Park and the nearest airport is at Bhopal, 149 km away. About 42 km from Madhai, Pipariya Railway Station is the nearest railhead which has well train connectivity with Rewa, Indore, Jabalpur, Gorakhpur, Pune, Bangalore, Mumbai, Puri, Katni, Bhagalpur, Guwahati, Itarsi, Allahabad, Amarkantak, Varanasi, Rajkot, Coimbatore, Patna, Darbhanga, Agartala, Secunderabad, Bandra, Satna, Howrah, and Surat. Sohagpur Bus Stand, about 17 km from Madhai, is the nearest bus stand and is well connected by bus with Jabalpur, Bhopal, Hoshangabad, Pipariya, Itarsi.

Satpura National Park remains open every year from 1st October to 30th June and closed during the monsoon season from 1st July to 30th September. The peak season to visit the park is from October to February.

Safari Timings: 6 AM - 11 AM & 3 PM - 6 PM, Closed on every Wednesday evening, on Holi, Diwali & during Monsoon
Internet Availability:
Average
Languages Spoken:
Hindi, Urdu, Bhilodi, Nahali, Gondi.& English
Major Festivals:
Details Not Available
Notes/Tips:

The Satpura National Park remains closed from 1st July to 30th September every year. It is also closed on Holi, Diwali festivals, and every Wednesday afternoon safari. The park management may also cancel the safaris due to floods and forest fires and no refund is provided to tourists. Permit fees for both Indian and Foreign tourists are the same.