HOGENAKKAL FALLS | TOURIST PLACES TO VISIT & TRAVEL GUIDE TO HOGENAKKAL

Waterfall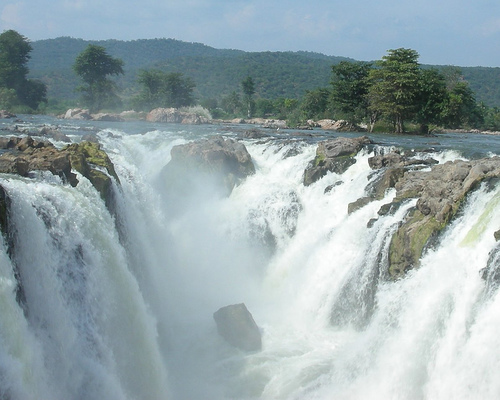 Ideal Trip Duration:
4 Hours/Half Day

Nearest City to Hogenakkal:
Bangalore (146 Kms)

Best Time to Visit Hogenakkal:
August to December

Peak Season:
August to October
At a distance of 47 km from Dharmapuri, 88 km from Hosur, 85 km from Salem, 146 km from Bangalore, 345 km from Chennai, 180 km from Mysore, 114 km from Yercaud and 217 km from Coimbatore, Hogenakkal Falls is a waterfall in on the Kaveri (or Cauvery) River located in Dharmapuri district of Tamil Nadu. It is a major waterfalls near Bangalore and also one of the best waterfalls in India, sometimes referred to as the 'Niagara of India'.

Hogenakkal is also one of the best waterfalls and one of the wonderful tourist places to visit near Bangalore & Chennai. When the River Kaveri enters the Tamil Nadu border after winding its way through the state of Karnataka, it descends down the lofty landscape forming the Hogenakkal Waterfalls. The Carbonatite rocks found near the waterfall are one of the oldest in the world. The two Kannada words 'Hoge' means 'Smoke' and 'Kal' means 'Rocks' give meaning to the word Hogenakkal as Smoky Rocks. It is also called as Marikottayam by the people of Tamil Nadu.

The falls has about 14 channels with drops varying between 15 & 65 ft. To reach the surroundings of waterfalls one needs to take a boat-ride (there is no land access). Coracle riding is one of the main attractions here which is allowed during the monsoon and winter season. Boating is usually stopped in peak monsoons.
Hogenakkal is also the good place to try out your swimming skills. The water is quite challenging. Tourists can also go for trekking on the nearby surrounding hills. The water from the fall flows towards the Mettur Dam which is also known as the Stanley Reservoir.

The falls are less than 1 km from Hogenakkal Bus Station. There are no good food points near the falls, except simple snacks, soft drinks & fish fry. If possible, try to pack your food near Hogenakkal Bus Station or Dharmapuri. There are many lodges and mid-range options of accommodation in Dharmapuri.

The Nearest airport is Bangalore International Airport about 216 km from Hogenakal Falls. Dharmapuri is the nearest railway station, which is about 47 km from Hogenakal. It is connected by rail with Bangalore, Mumbai, Trivandrum, Tuticorin, Coimbatore, Salem, Nagarcoil, Mysore, Pondicherry, Tirunelveli and Ernakulum. Dharmapuri is the nearest major Bus station to Hogenakkal. It has buses from Bangalore, Mysore, Salem, Coimbatore, Chennai, Trivandrum, Kochi, Ooty, Madurai and Hyderabad.

The best time to visit Hogenakkal Falls is from July to October while the peak season is from August to October. Usually it takes one half day to visit Hogenakkal Falls.
Internet Availability:
Internet Not Available
Languages Spoken:
Tamil, Kannada, Hindi, English
Major Festivals:
Details Not Available