MCLEOD GANJ TOURISM | TOURIST PLACES TO VISIT & TRAVEL GUIDE TO MCLEOD GANJ
Hill Station |

Heritage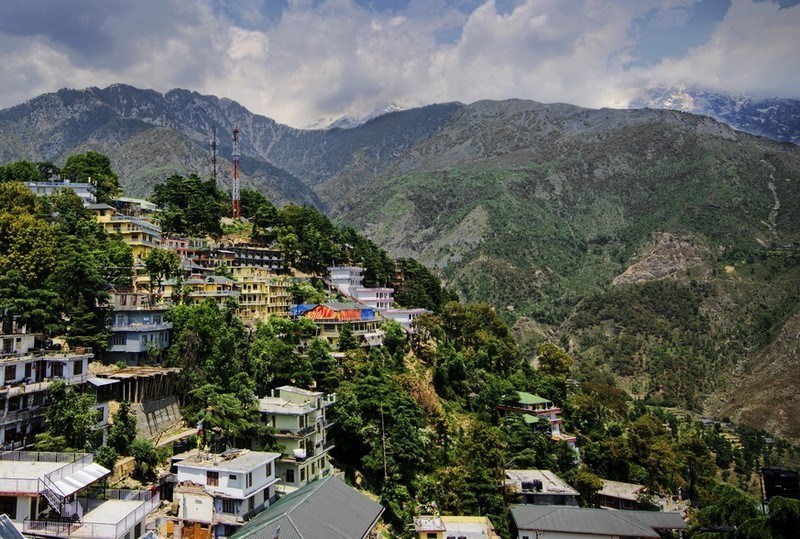 Ideal Trip Duration:
1-2 Days

Nearest City to Mcleod Ganj:
Shimla (240 Kms)

Best Time to Visit Mcleod Ganj:
April to June & September to November

Peak Season:
December to January & May to June
At a distance of 9 km from Dharamshala, 20 km from Kangra, 92 km from Pathankot, 122 km from Dalhousie, 198 km from Kullu, 238 km from Manali, 240 km from Shimla, and 490 km from Delhi, McLeod Ganj, also spelt McLeodGanj, is a town situated in the Upper Dharamshala region of Kangra district, Himachal Pradesh. Surrounded by the Dhauladhar ranges, McLeodGanj lies at an altitude of 2082 m. Considered as a twin city of Dharamshala, McLeodGanj is one of the popular places to visit in Himachal Pradesh.

Earlier, McLeodGanj was inhabited by the indigenous Gaddi tribes and dominated by one of the world's earliest royal clans; the Katoch Dynasty. Later, it came under the rule of the British after Second Anglo-Sikh War in 1849 AD and was named after Sir Donald Friell McLeod, a Lieutenant Governor of Punjab. Initially, it was a summer resort for the British during the 1840s and became a garrison town in the 1850s. It was transformed into a prominent commercial and political center, by the 1900s. McLeod Ganj can be visited along with Manali tour packages.

McLeodganj was destroyed by the devastating Kangra earthquake in 1905. The earthquake destroyed most buildings in Kangra, Dharamshala, and McLeod Ganj which were rebuilt in the following decades. After Independence, McLeodganj served as a flourishing health resort till the 1950s. In the early 1960s, it became the official residence of the 14th Dalai Lama, Tenzin Gyatso. It also became the headquarters of the Tibetan Government in Exile. Today, it is known as Little Lhasa or Dhasa, because of its large Tibetan population.

Mcleodganj tour packages are a mix of Tibetan institutions, Buddhist monasteries, culture, art, and crafts. Dharamkot, Bhagsu, Triund, Dal Lake, Gaggal, Lower Dharamshala, Namgyal Monastery, Tsuglagkhang, and Tsechokling Gompa are the top places to visit in Mcleodganj. It is also a major shopping center famous for souvenirs like Tibetan handicrafts, carpets, garments, wooden masks, paper drawings, beads, baubles, etc. McLeodganj also serves as a base camp for various trekking expeditions that cover Kangra and Chamba Valleys and Dhauladhar ranges.

Gaggal Airport at Dharamshala is the nearest airport, which is about 20 km from McLeod Ganj. It is well connected by flights with Delhi. The nearest major railway station is at Pathankot, 90 km away. It has trains from Ahmedabad, Vaishno Devi Katra, Jammu Tawi, Delhi, Mumbai, Amritsar, Tata Nagar, Rourkela, Haridwar, Jalandhar, and Chandigarh. There is also a smaller railway station, Kangra Mandir, just 37 km from McLeod Ganj but none of the important trains halt here. This station has train connectivity with Pathankot, Baijnath, and Joginder Nagar. McLeod Ganj is well connected by bus with Delhi, Pathankot, Kangra, Dalhousie, Chamba, Manali, Kullu, and Shimla.

McLeod Ganj has many accommodation options in the form of private hotels and tourist lodges. McLeod Ganj can be visited throughout the year, though it is best to avoid winter between December and January.
Internet Availability:
Good
Languages Spoken:
Hindi, Tibetan, Pahari and English
Major Festivals:
Details Not Available