YAMUNOTRI TOURISM | YATRA, TEMPLES, PLACES TO VISIT & TRAVEL GUIDE TO YAMUNOTRI
Pilgrimage |

Adventure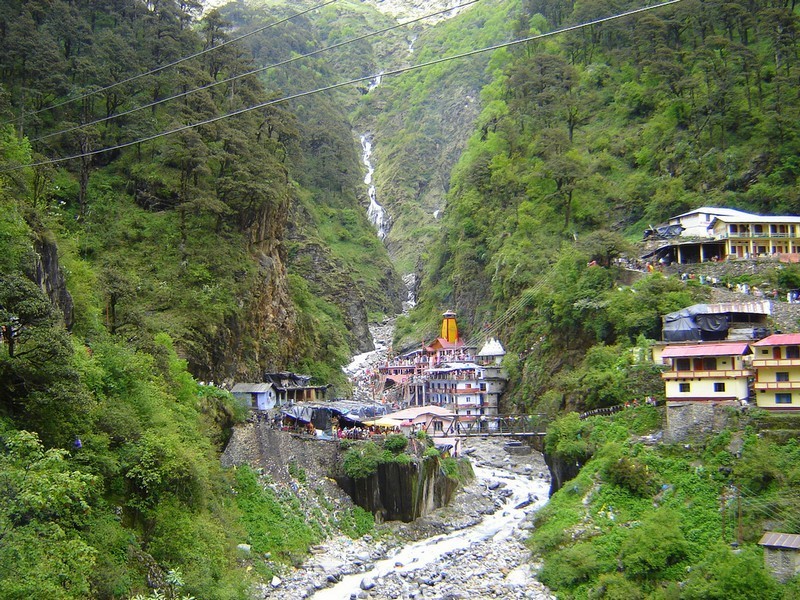 Ideal Trip Duration:
2 Full Days

Nearest City to Yamunotri:
Dehradun (176 Kms)

Best Time to Visit Yamunotri:
May to October

Peak Season:
May to June & September to October
At a distance of 46 km from Uttarkashi, 134 km from Gangotri, 138 km from Mussoorie, 176 km from Dehradun, 209 km from Rishikesh, 224 km from Haridwar and 415 km from Delhi, Yamunotri is one of the four sites of Chota Char Dham pilgrimage situated in Uttarkashi district of Uttarakhand. It is one of the best sacred pilgrimage sites in India and also one of the most wellknown Places to visit in Uttarakhand.

Yamunotri is the source of River Yamuna and is regarded as the seat of Goddess Yamuna. This is the western most shrine in the Garhwal Himalayas, situated at an altitude of 3293 m atop Bandarpunch parvat. Geologically, River Yamuna originates from the Champasar Glacier, which is located below Bandarpunch Mountain at an altitude of 4421 m. Champasar Glacier is about 1 km upstream from the riverbed near Yamunotri Temple but in order to reach the glacier one has to trek for 10 km from the temple. Yamunotri Temple can be reached by 5 km trek from Janki Chatti which is the nearest road point.

According to the ancient legend, Yamunotri is also believed to be the residence of sage Asit, who used to bath in the Ganges and Yamuna each day. Unable to go to Gangotri during his old age, a stream of the Ganges appeared opposite Yamunotri for him. According to mythology, Goddess Yamuna is the daughter of Lord Surya (Sun God) and Devi Sandhya and is the sister of Lord Yama. Pilgrims believe that performing holy ablutions in Yamuna offers a painless death in old age.

The chief attraction at Yamunotri is the temple devoted to the Goddess Yamuna. It is surrounded by mountains on all sides. The temple was first built by Maharani Gularia of Jaipur in the early 19th century. The temple was damaged in the earth quakes of 1923 and 1982. But it was subsequently rebuilt by Maharaja Pratap Shah of Tehri Garhwal, who was the ruler of this region. Janki Chatti, Kharsali, Saptarishi Kund, Barkot and Hanuman Chatti are the other attractions in Yamunotri. Yamunotri also has famous trekking routes, such as Hanuman Chatti - Yamunotri route, Dodi Tal, Phul Chatti route and Janki Chatti.

Jolly Grant Airport is the nearest Airport to Yamunotri situated at a distance of 193 km. The nearest railway stations to Yamunotri is Dehradun (176 km). Yamunotri is does not have direct road access and the trek commences from Janki Chatti (5 km). Janki Chatti is well connected by motorable roads with Uttarkashi, Rishikesh, Barkot and Dehradun. Visitors can avail ponies or small palanquins for trek up to the Yamunotri temple from Janki Chatti.

Numerous dharamshalas and hotels are available in Yamunotri. Dharamshalas are the best options to stay here which provides comfortable stay with best services. Some of the hotels in this town are Himalayan Guest House, Hotel Kalindi, Chauhan Tourist Lodge and Chauhan Annaxe. Making prior booking for hotels in peak season is recommended.

The temple opens every year on the auspicious day of the Akshaya Tritiya, which generally falls during the last week of April, or early May. The temple always closes on the sacred day of Diwali in October / November. Kharsali is the winter home to the idol of goddess Yamuna. The best time to visit Yamunotri is from May to June and September to October.
Internet Availability:
Internet Not Available
Languages Spoken:
Hindi and English
Major Festivals:
Details Not Available