THRISSUR TOURISM | TOURIST PLACES TO VISIT & TRAVEL GUIDE TO THRISSUR

Heritage |
Pilgrimage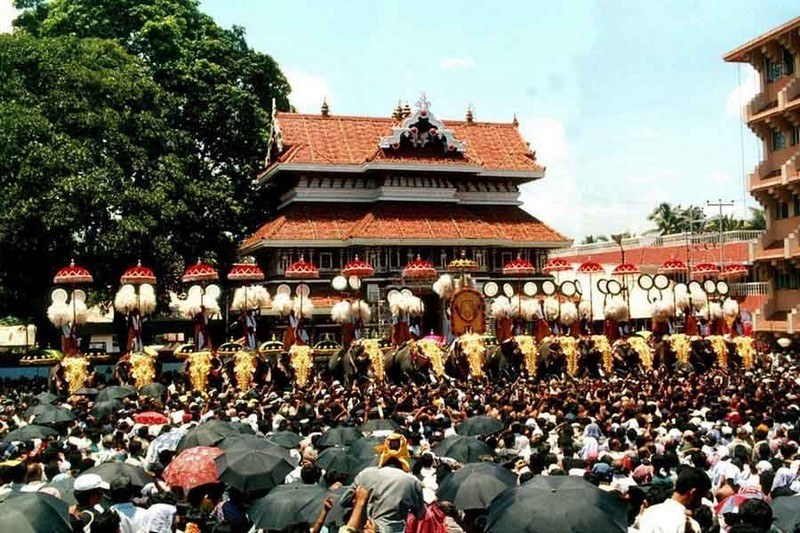 Ideal Trip Duration:
Half Day to Full Day

Nearest City to Thrissur:
Kochi (68 Kms)

Best Time to Visit Thrissur:
October to March

Peak Season:
December to January & May to June
At a distance of 55 km from Athirapally, 69 km from Palakkad, 81 km from Kochi, 113 km from Kozhikode, 114 km from Coimbatore, 279 km from Trivandrum and 280 km from Madurai, Thrissur (also known as Trichur) is a city situated in central Kerala. It is one of the most popular places to visit in Kerala, and among the famous places to visit near Coimbatore & Kochi as well.

The name Thrissur was derived from Tiru-Shiva-Peru which means the big town of Lord Shiva. The name owes itself to the most famous Vadakkunathan Temple, among the must-visit places as part of Thrissur tour packages. Thrissur is also known as the Cultural Capital of Kerala because of its cultural, spiritual, and religious leanings throughout history.

Thrissur had witnessed the rise and fall of various dynasties that include the Chera and Kulasekharas in the 12th century, Zamorins in the 14th and 15th century followed by Tipu Sultan, Portuguese, Dutch and British. In the 18th century, Raja Rama Varma, popularly known as Sakthan Thampuran, re-built Thrissur after attacks from Tipu Sultan. Thrissur is also the hometown of the great Hindu Saint, Adi Shankara.

The city of Thrissur is home to several atractions such as temples, churches, and wildlife sanctuaries. The Vadakkumnathan temple, Thiruvambadi Sri Krishna Temple, Paramekkavu temple, Guruvayur Temple, Our Lady of Lourdes Syro-Malabar Catholic Metropolitan Cathedral, Our Lady of Dolours Syro-Malabar Catholic Basilica, Athirapally Falls, Elephant Sanctuary near Guruvayur, Peechi Dam & Sanctuary, Chimmony Wildlife Sanctuary, Chettuva Backwaters, Thrissur Zoo, Vilangankunnu, and Shakthan Thampuran Palace, and Kerala Kalamandalam are some important places to visit in Thrissur.

Thrissur hosts the world-famous Thrissur Pooram festival in April / May. This festival is the most colorful and spectacular temple festival in Kerala held at the Thekkinkadu Maidan. It is a festival that continues non-stop for 36 hrs with over 100 elephants, accompanied by the Panchavadyam playing till the final fireworks mark the end of the festival. UNESCO has awarded Thrissur Pooram as the most spectacular festival event on the planet. Thrissur is also known for its Onam celebrations in August / September every year.

Cochin Airport is the nearest airport which is about 51 km away from Thrissur. Thrissur Railway Station is an important railhead of the Southern Railways, which has trains from Alleppey, Mangalore, New Delhi, Trivandrum, Kochi, Mumbai, Patna, Guwahati, Chennai, and Bangalore. Thrissur is well connected to all major towns in Kerala. KSRTC Bus Station operates long-distance and inter-state services. Sakthan Thampuran Bus Stand is 1 km away from town and The North Bus Stand is in the heart of the town. There are several buses from Thrissur to Bangalore, Kochi, Coimbatore, Trivandrum, Kozhikode, Mysore, and Palani.

The best time to visit Thrissur is from Oct to May while the peak season is from Nov to Jan and Mar to May. It usually takes 2 full days to explore Thrissur.
Internet Availability:
Good
Languages Spoken:
Malayalam, Hindi & English
Major Festivals:
Thrissur Pooram (Apr/May),
Arattupuzha Pooram (Mar/Apr),
Kodungalloor Bharani (Mar/Apr),
Machattu Mamangam
Wadakkancherry (Feb)
Notes/Tips:

Thrissur Pooram (Apr/May) in one of the most celebrated events in Kerala.