GANGOTRI TOURISM | YATRA, TEMPLES, PLACES TO VISIT & TRAVEL GUIDE TO GANGOTRI
Pilgrimage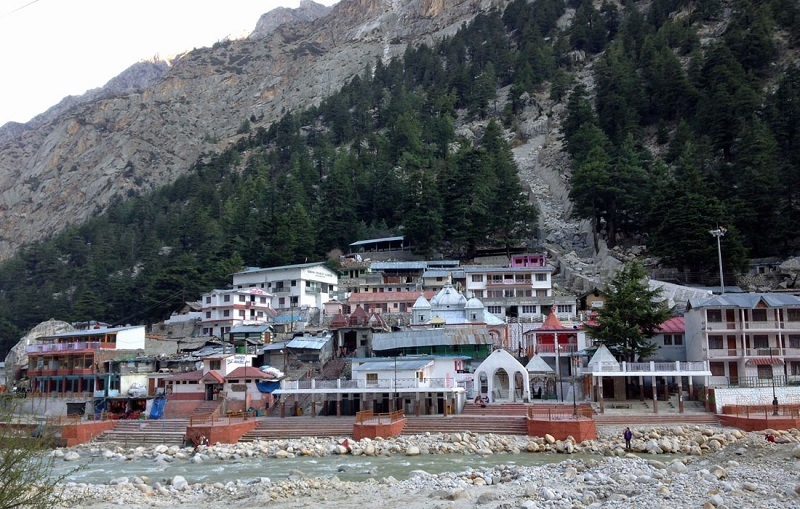 Ideal Trip Duration:
1-2 Hours

Nearest City to Gangotri:
Dehradun (242 Kms)

Best Time to Visit Gangotri:
May to October

Peak Season:
May to June & September to October
At a distance of 98 km from Uttarkashi, 242 km from Dehradun, 264 km from Rishikesh, 288 km from Haridwar and 483 km from Delhi, Gangotri is a popular pilgrimage town in Uttarkashi district of Uttarakhand. It is situated at an altitude of 3100 m in the Garhwal Himalayan Range on the banks of the holy Bhagirathi River. It is one of the best pilgrimage sites in India and also one of the most popular Places to visit in Uttarakhand.

Gangotri, the origin of the River Ganges, is one of the four sites in the Chota Char Dham pilgrimage circuit along with Badrinath, Kedarnath and Yamunotri. River Ganges originates at Gaumukh in Gangotri Glacier, which is located about 19 km away from Gangotri town. As per legends, Goddess Ganges took the form of a river in order to absolve the sins of King Bhagiratha's ancestors, after his severe penance. Lord Shiva received River Ganges in his thick hair locks, to reduce the impact of her fierce flow.

Gangotri is famous for its ancient temples and religious significance. The present Ganga Temple at Gangotri was built by a Gorkha General Amar Singh Thapa in the early 18th century. It is one of the most important temples of River Ganga. The river is called Bhagirathi at the source and acquires the name Ganga from Devprayag onwards where it meets the Alaknanda. Near the temple is located a sacred stone where King Bhagiratha is said to have worshipped Lord Shiva. Jalamagna Shivalinga, Bhavishya Badri Temple, Bhairavnath Temple and Gaumukh are the other religious attractions in Gangotri.

Gangotri is a popular destination for pilgrims and adventure tourists. Activities such as river rafting, camping, trekking and skiing on Garhwal Himalayas are very popular among adventure enthusiasts. Gangotri town is the starting point of the Gaumukh, Tapovan, Nandanvan, Vasuki Tal and Gangotri-Kedartal trekking. Dayara Bugyal is the popular skiing destination near Gangotri.

The nearest airport is Jolly Grant in Dehradun, which is about 277 km from Gangotri. Dehradun is the nearest railheads at a distance of 242 km. The best option to reach Gangotri is by road from Rishikesh, Haridwar or Dehradun.

Gangotri has several government-managed dharamshalas are plenty and provide good accommodation. Most of the hotels in Gangotri offer decent facilities for a pleasant stay but it is advisable to book accommodation in advance.

Gangotri temple is opened from May and gets closed on the occasion of Diwali festival in Oct / Nov. Gangotri temple remains closed during winters as the region is prone to heavy snowfall. The idol is shifted to Mukhyamath Temple in Mukhba village, 20 km downstream.
Internet Availability:
Poor
Languages Spoken:
Hindi and English
Major Festivals:
Details Not Available