MAHANANDI TOURISM | TOURIST PLACES TO VISIT & TRAVEL GUIDE TO MAHANANDI
Pilgrimage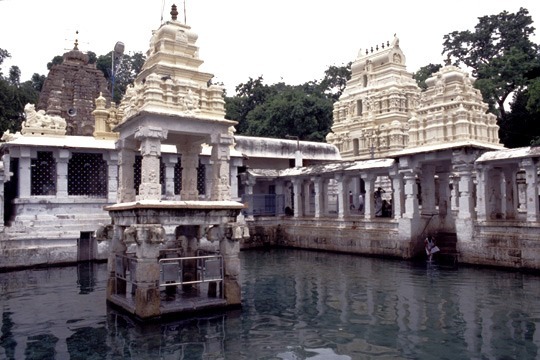 Ideal Trip Duration:
4 Hours/Half Day

Nearest City to Mahanandi:
Kurnool (93 Kms), Hyderabad (306 Kms)

Best Time to Visit Mahanandi:
November to March

Peak Season:
February to March
At a distance of 19 km from Nandyal, 93 km from Kurnool, 135 km from Kadapa, 306 km from Hyderabad, 316 km from Vijayawada and 360 km from Bangalore, Mahanandi is a holy Shivaite pilgrimage center located in Kurnool District of Andhra Pradesh. This is also one of the famous Andhra Pradesh places to visit.

Located to the east of Nallamala Hills, Mahanandi is a picturesque village surrounded by thick forest. Within 15 km radius from Mahanandi, there are nine Nandis (Bulls) known as Nava Nandis. Mahanandi is famous for the Mahanandiswara Temple and foremost shrines of Nava Nandis. The nine Nandi temples are Mahanandi, Shivanandi, Vinayakanandi, Somanandi, Prathamanandi, Garudanandi, Suryanandi, Krishnanandi and Naganandi.

The 7th century Mahanandiswara Temple dedicated to Lord Shiva is very famous and sacred place. Though the initial structure was built by Chalukyas in 7th century, several additions were done in 10th and 15th centuries. The gopuram over central sanctum is built in Badami Chalukyan style of architecture and other structures in the temple are in Vijayanagara style. According to the legend, the local kings known as Nandas ruled here in the 10th century AD and they built a number of temples and worshipped their ancestral deity the Nandi, hence the name Mahanandi.

The remarkable feature here is the crystal clear water in Pushkarini which flows throughout the year. The water is so clear and pure that even a needle at the bottom can be seen clearly. There are nearly three pools in Mahanandi Temple. Two pools lie outside the temple. The third pool which lies within temple premises has uninterrupted water flow which originates from the basement of Garbha Gruha where main deity (Shiva Ling) is placed. This 60 square feet tank has a Mandapam at its middle and the inlet and outlets of tank are built in such away, the water level always remains at five feet high. Thus devotees can have a dip in this holy tank. Here devotees are allowed to offer prayers to Shiva Ling and touch the water underneath the Lingam in the main Sanctum Sanctorum. There is a huge Nandi statue outside the Mahanandiswara Temple.

Other places of interest include Kodanda Ramalayam and the Kameswari Devi Temple. Maha Shivaratri in February / March is the main festival celebrated here. Near the temple many lodges and Hotels are available along with AP Tourism Haritha Hotel.

Hyderabad Airport is the nearest airport, 290 km from Mahanandi. Nandyal Railway Station is the nearest railway station, located 19 km away from Mahanandi. It is connected to major cities like Howrah, Hyderabad, Bangalore, Goa, Machilipatnam, Vijayawada, Hubli, Puri, Vizag and Bhubaneswar. Mahanandi is very well connected by bus with Nandyal and Srisailam. Nandyal has several state buses from Cuddapah, Hyderabad, Tirupati, Nellore, Chennai and Kurnool.

The best time to visit Mahanandi is from Nov to Mar while the peak season is from Feb to Mar. Usually it takes half day to visit Mahanandi.

Temple Timings: 5.30 am to 8.30 pm.
Internet Availability:
Poor
Major Festivals:
Maha Shiva Ratri (Feb/Mar)
Notes/Tips:

Mahanandi is 19 km from Nandyal. If you are visiting Ahobilam or Srisailam from Kurnool town, this place can be visited with 1-2 hours effort.