KHAMMAM TOURISM | TOURIST PLACES TO VISIT & TRAVEL GUIDE TO KHAMMAM

Heritage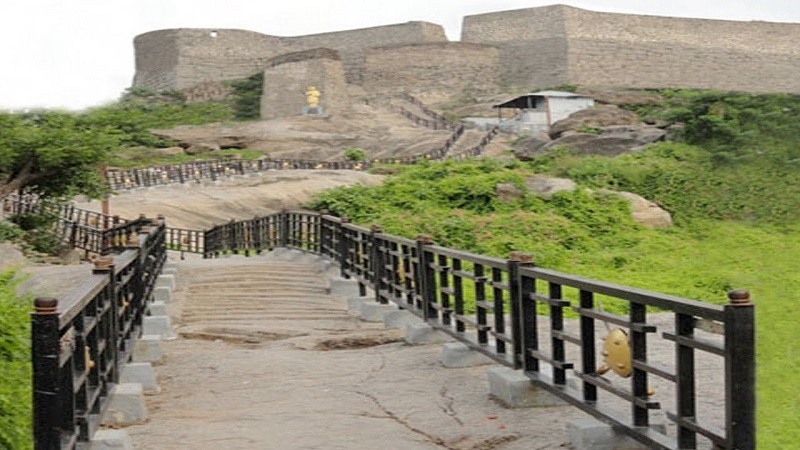 Ideal Trip Duration:
Full Day

Nearest City to Khammam:
Hyderabad (198 Kms)

Best Time to Visit Khammam:
October to March

Peak Season:
October to March
At a distance of 198 km from Hyderabad, 128 km from Vijayawada and 119 km from Warangal, Khammam is a town and headquarters of Khammam district. Situated on the banks of Munneru River, a tributary of Krishna River, Khammam is one of the top Telangana tourist places.

Khammam derived its name from Stambadri, a hill on which an ancient Narasimha temple is built. Stambadri was called Kambam Mettu, which later changed to Kammamet and finally Khammam. Khammam district is known for its natural resources like coal and iron ore. It is also famous for its natural beauty. Godavari River flows through Khammam district touching Bhadrachalam. Khammam district is bordered with Bastar region of Chattisghar state which is core Dandakaranya forest area.

Khammam was ruled by several dynasties including Kakatiyas, Musunuri Nayaks and Velama kings, Reddy kings, Qutb Shahi and Nizams of Hyderabad. Khammam district has several tourist attractions like Bhadrachalam, Kinnerasani Dam & Sanctuary, Khammam Fort, Kusumanchi Temples, Nelakondaalli, etc.

Khammam is well connected by Road and Train from Hyderabad and Vijayawada. It is hardly 2 hours drive from Vijayawada and 3 hours from Hyderabad. Khammam also has excellent public transportation facility. The Khammam railway station lies between Hyderabad - Vijayawada line and has frequent train connections.

Internet Availability:
Good
Languages Spoken:
Telugu, Hindi, English
Major Festivals:
Details Not Available