TIRUCHIRAPPALLI (TRICHY) | TOURIST PLACES TO VISIT & TRAVEL GUIDE TO TRICHY

Heritage |

City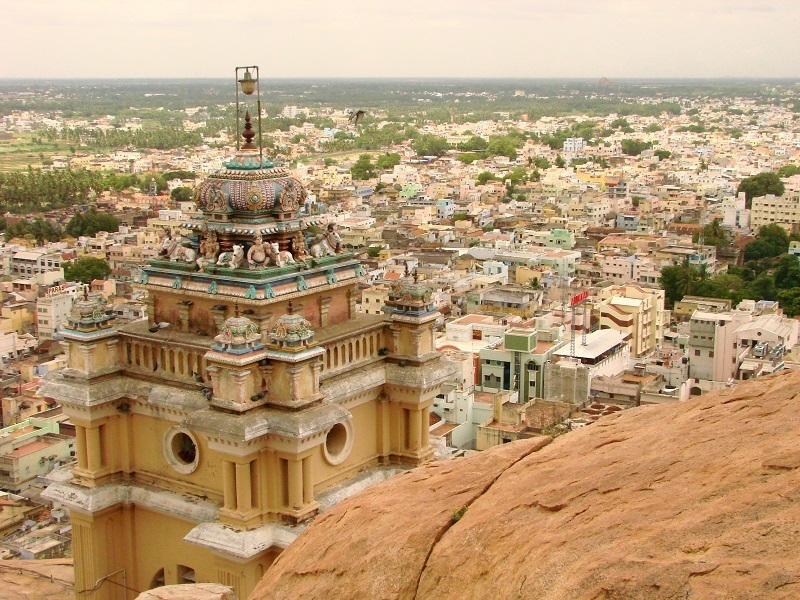 Ideal Trip Duration:
1-2 Days

Nearest City to Tiruchirappalli:
Tiruchirappalli

Best Time to Visit Tiruchirappalli:
October to March

Peak Season:
December to January & May to June
At a distance of 334 km from Chennai, 133 km from Madurai, 57 km from Thanjavur and 212 km from Coimbatore, Tiruchirappalli, also called Tiruchi or Trichy is the 4th largest city and administrative headquarters of Tiruchirappalli District in Tamilnadu. Situated on the banks of the Cauvery River, Trichy is one of the famous Tourist places in Tamilnadu.

The history of Tiruchirappalli begins in the 3rd century BC, when it was under the rule of the Cholas. It was a stronghold of the early Cholas which later fell to the Pallavas. But the Pallavas never really managed to retain control of this strategic city and lost it to the Pandyas several times. Trichy continued to be in the possession of Cholas until the decline of the empire after which it became a Vijayanagara stronghold. Trichy came under the rule of Nayaks of Madurai after the collapse of Vijayanagara, later to the Marathas of Tanjore, the Nawabs of Carnatic, the French and finally the British. Trichy flourished under Madurai Nayaks and prospered to be the city that it is today. The city played a critical role in the Carnatic Wars (1746-1763) between the British and the French East India companies.

Tiruchirappalli is home to numerous historical monuments and temples that attract tourist and pilgrims from all parts of the country throughout the year. Ranganathaswamy temple at Srirangam, one of the most famous pilgrimage centers in South India is situated near Trichy. Rockfort Temple, a spectacular monument perched on a massive rock is another important monument in old city of Trichy. The Rockfort, Jambukeswarar temple at Thiruvanaikaval, Uraiyur, Maariamman Temple, Government Museum and the St John's Church are other attractions in Trichy.

Tiruchirappalli is internationally known for a brand of cheroot known as the Trichinopoly cigar. The city is very popular for its cigars, handloom saris and stone-studded jewelry, Pith models and cheroots. According to the National Urban Sanitation Policy (2010), Tiruchirappalli was one of the ten cleanest cities in India.

Trichy is well connected by flight, train and bus with major cities of India and Tamilnadu. Trichy has two major bus stations called Central Bus Station (750m from Trichy Jn Station) and Chathiram Bus Station (6 km from Trichy Jn Station & 2 km from Trichy Town Station). The Central Bus Station handles long distance and inter-state buses like Bangalore, Chennai, Tirupathi, Coimbatore, Mysore, Vellore, Madurai, Thanjavur, etc. While the Chathiram Bus Station handles buses to nearby destinations like Lalgudi, Samayapuram, Navalpattu, etc and local destinations like Srirangam, Railway Junction, Rockfort, etc.

The best time to visit Trichy is during the months of November to March. It usually takes two full days to explore all the important places in Trichy.

Internet Availability:
Very Good
Languages Spoken:
Tamil, Hindi, English
Major Festivals:
Srirangam Annual Festival (Dec / Jan), Chittirai Festival (April - May)