TIRUMALA TIRUPATI BALAJI TEMPLE | TEMPLES & TRAVEL GUIDE TO TIRUMALA
Pilgrimage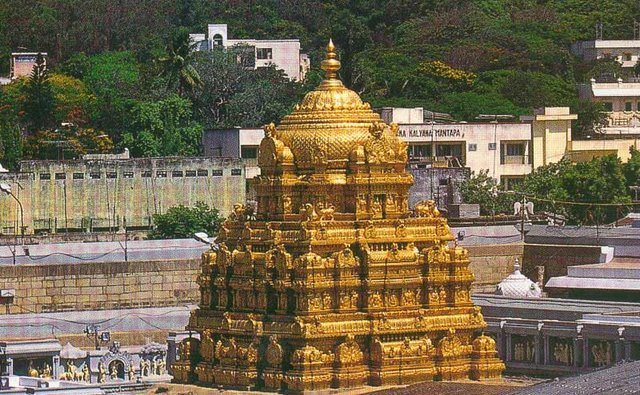 Ideal Trip Duration:
1-2 Days

Nearest City to Tirumala:
Tirupati (22 Kms), Chennai (155 Kms)

Best Time to Visit Tirumala:
January to December

Peak Season:
January to December
At a distance of 22 km from Tirupati, 87 km from Chittoor, 435 km from Vijayawada, 574 km from Hyderabad, 785 km from Vizag, 155 km from Chennai and 271 km from Bangalore, Tirumala, located in the Chittoor district of Andhra Pradesh, is one of the most famous pilgrimage centers in India and also one of the top places to experince Andhra Pradesh tourism. Tirumala is commonly referred as Tirupati by devotees, but they are 22 km apart and the sacred Balaji Temple is situated in Tirumala.

Tirumala, adobe of Sri Venkateswara (also known as Balaji - an incarnation of Lord Vishnu) is one of the most celebrated pilgrimage centers in India and it attracts millions of devotees every year. The Tirumala Temple is situated atop the Tirumala Hills which consists of seven peaks known as Sapthagiri at an altitude of 3,200 feet. The seven peaks represent the seven hoods of Adishesha, the serpent on whom lies Lord Vishnu.

The temple of Lord Venkateswara was built by the Tamil king Thondaimaan. The Pallavas of Kanchipuram (9th century), Cholas of Tanjore (10th century), Pandyas of Madurai and Vijayanagara Kings (14th & 15th centuries) regularly visited the temple and made large contributions towards its development. Especially, Sri Krishna Devaraya of Vijayanagara Empire contributed a lot to the temple. The statues of Sri Krishna Devaraya and his spouse stand in the premises of the temple.

The Tirumala shrine is a masterpiece of Dravidian architecture. The main sanctum contains 2 m high standing idol of Venkateswara on a lotus flanked by his consorts Bhudevi and Sridevi. The most striking feature of the awe-inspiring black idol is its fabulous diamond crown, which is said to be the most precious single ornament in the world. The Sanctorum 'Ananda Nilayam' has a glittering gold covered Vimana and gold covered gates.

Apart from the main temple, other tourist places on Tirumala hills include Akasa Ganga, Srivari Padalu, Chakra Theertham, Papavinasam, Shilatoranam, etc. There are several attractions in Tirupati town along with Kanipakam, Srinivasa Mangapuram, Tiruchanur, Talakona Falls, Srikalahasti, etc.

Accommodation is provided by TTD near the temple, which is always crowded. No private accommodation is available here. So piligrims need to book the accommodation in advance. Several devotees walk to Tirumala from Tirupati through 3500 well laid steps with roof that runs through forest (4 hours one way).

Renigunta is the nearest airport (38 km from Tirumala) which serves direct flights from Delhi, Hyderabad, Chennai and Bangalore. Tirupati Railway Station is well connected with Hyderabad, Chennai, Trivandrum, Kanyakumari, Kakinada, Nagercoil, Kolkata, Pondicherry, Jammu, Bangalore, Mumbai, Bhubaneswar, New Delhi, Vizag, Mangalore, Gujarat, Kochi, etc. Buses are available from Tirupati as well Tirumala Hills to the adjacent cities like Chennai, Kanchipuram, Vellore, Vizag, Bangalore and Hyderabad.

Usually it takes 1-2 days to visit major places in Tirumala.

Temple Timings: 5 AM to 11 PM (till 1 AM in peak season)
Internet Availability:
Poor
Languages Spoken:
Telugu, English, Hindi, Tamil
Major Festivals:
Brahmotsavam (Sep/Oct)
Notes/Tips:
Different darshan methods are available in Tirumala. There is always a huge queue for darshan which can be done through the paid darshan or through the free darshan. Special Sevas and paid darshans are a little faster than the free queue. The waiting time in the queue is typically 4-5 hours. Around 50,000 people are believed to visit the temple every day. Faster Darshan is available for elders (>65 years), parents with infants (<1 year) and physically handicapped. Please check TTD website http://www.tirumala.org/ for more details.

Eating non-vegetarian food and consuming alcohol are strictly prohibited here. Cell phones, cameras and any type of gadgets are not allowed inside the temple premises.

Tirumala wears a festive look virtually round the year and crowed all the time. Sri Venkateswara Brahmotsavams, a nine-day event, which is celebrated every year in the month of Sep/Oct is the major event. If you are planning a casual visit, avoid Brahmotsavam time & summer holidays.