CHANDERI TOURISM | TOURIST PLACES TO VISIT & TRAVEL GUIDE TO CHANDERI

Heritage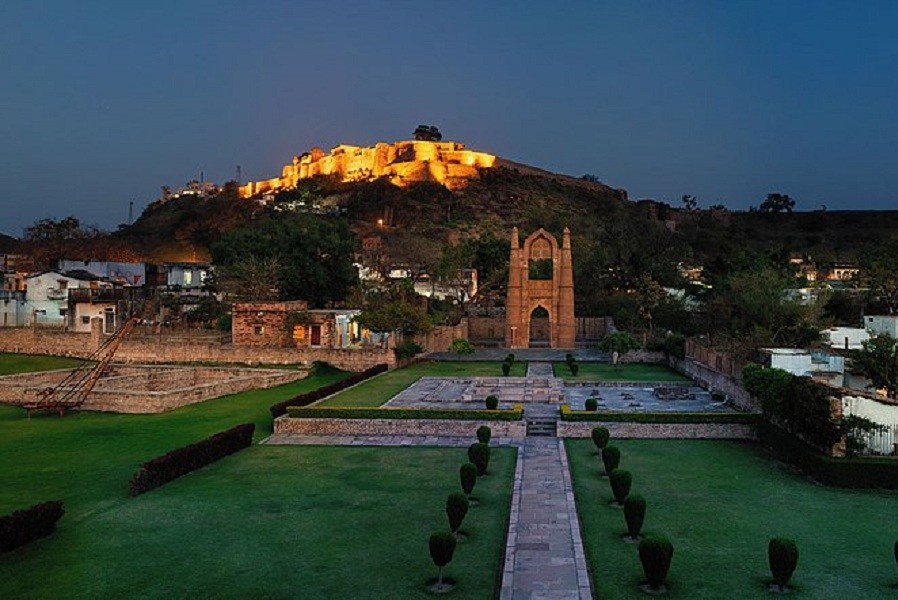 Ideal Trip Duration:
1-2 Days

Nearest City to Chanderi:
Gwalior (207 Kms)

Best Time to Visit Chanderi:
October to February

Peak Season:
November to February
At a distance of 40 km from Lalitpur, 103 km from Orchha, 105 km from Jhansi, 207 km from Gwalior, 218 km from Bhopal, 227 km from Khajuraho, 293 km from Narsinghpur, 309 km from Jabalpur,334 km from Kanpur, 337 km from Satna, 389 km from Indore, 415 km from Lucknow, and 540 km from Nagpur, Chanderi is a historical town located in the Ashoknagar district of Madhya Pradesh. Positioned beautifully along the River Betwa, it is one of the popular tourist places in India and among the must-include places in Madhya Pradesh tour packages.

Chanderi is a small 11th-century town nestled between Malwa and Bundelkhand in Madhya Pradesh. Surrounded by magnificent hills, forests, and beautiful lakes, Chanderi boasts of a kind of scenic beauty that should be experienced by travellers of all sorts as part of Chanderi tour packages. This small town is located along the Betwa river, further, making it an amazing option to explore. Chanderi is also famous for its vibrant weaving industry and one can find a variety of weaves right from Chanderi cotton-silk to pure Chanderi silk here and every weave is exemplary in itself. It can be visited along with Bhopal tour packages.

Chanderi is also featured in the Hindu epic Mahabharata. According to folklore, King Shishupal of Chedi, the cousin of Lord Krishna, had established this town. Later in current history, Chanderi has been mentioned by the Persian scholar Alberuni in his writings in 1030. Chanderi was well known for being on the trade route that passed through Central India. The history of Chanderi started when the Ghyasuddin Balban captured the city in 1251 for Nasiruddin Mahmud, Sultan of Delhi. Later, Chanderi was ruled by many rulers like Khilji's, Mamluk's & Tugluk's, Bundela Rajputs, and Sindhias of Gwalior. The city was transferred to the British in 1844. However, the British lost control of the city during the Revolt of 1857, and the city was transferred back to the Sindhias of Gwalior in 1861 and became part of Isagarh District of Gwalior state. After India's independence in 1947, Gwalior became part of the new state of Madhya Bharat, which was merged into Madhya Pradesh on 1st November 1956.

Tourism in Chanderi consists of a mix of forts, monuments, lakes, and temples. Chanderi Fort, Koshak Mahal, Badal Mahal Gate, Kati Ghati Gateway, Chanderi Museum, Rajghat Dam, Jauhar Monument, Shri Chaubisi Jain Temple, etc. are some of the prominent places to visit in Chanderi. Besides, Chanderi is also famous for its Chanderi saris, salwar suits, and other dress material.

Jageshwari Devi Fair is one of the major fairs celebrated in Chanderi in March or April that commemorates the events when the ruler of Chanderi was cured of leprosy. Holi, Eid, Diwali, Dussehra are the other festivals celebrated in Chanderi with much fervor.

About 217 km from Chanderi, Rajmata Vijaya Raje Scindia Airport, Gwalior is the nearest airport that has well-connected flights from Bangalore, Hyderabad, Kolkata, Mumbai, and Delhi. Lalitpur Junction Railway Station is the nearest railhead which is about 40 km from Chanderi. It has well-connected trains from Kanpur, Ujjain, Indore, Khajuraho, Allahabad, Jabalpur, Gorakhpur, Thiruvananthapuram, Ernakulam, Secunderabad, Bangalore, Lucknow, Itarsi, Amritsar, Varanasi, Mumbai, Darbhanga, Jhansi, Ahmedabad, Chhattisgarh, and Bhopal. Chanderi has good road connectivity with all major towns and cities in Madhya Pradesh. Regular bus service to Chanderi is available from Gwalior, Indore, Guna, Shivpuri, Ashok Nagar, Jhansi, Lalitpur, Tikamgarh, Vidisha, Sanchi, and Bhopal.

Ranging from budget to medium, there are many lodges, guest houses, and hotels in Chanderi which helps the tourists to stay and explore the nearby places.

The best time to visit Chanderi is from October to February when the weather is pleasant and suitable for sightseeing. The summer months are extremely hot, which makes it a little difficult for travellers to roam around the city so better to avoid visiting Chanderi during these months. The monsoon in Chanderi is refreshing and cool with the season starting in July and lasting till September. The entire countryside turns green and lush.
Internet Availability:
Average
Languages Spoken:
Bundelkhandi, Hindi, English
Major Festivals:
Jageshwari Devi Fair, Holi, Eid