SIRSI TOURISM | TOURIST PLACES TO VISIT & TRAVEL GUIDE TO SIRSI
Hill Station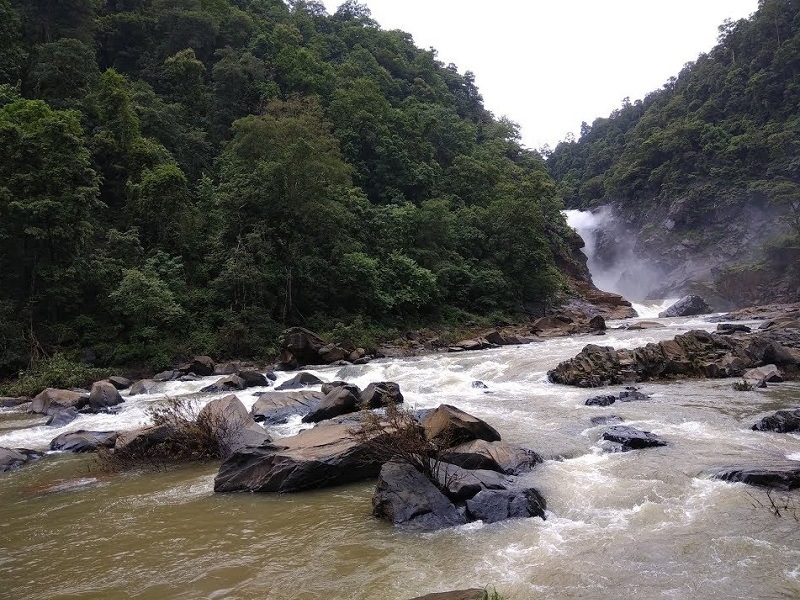 Ideal Trip Duration:
1-2 Days

Nearest City to Sirsi:
Hubli (102 Kms)

Best Time to Visit Sirsi:
October to March

Peak Season:
October to November & January to March
At a distance of 84 km from Gokarna, 99 km from Shimoga, 100 km from Dandeli, 102 km from Hubli, 115 km from Karwar, 125 km from Murudeshwar, 196 km from Belgaum, 202 km from Panjim, 277 km from Mangalore, 376 km from Mysore, 395 km from Bangalore, and 588 km from Hyderabad, Sirsi is a small hill station located in the Uttara Kannada district of Karnataka. It is the main commercial center and a business hub in the Malnadu region, and among the must include places in Karnataka tour packages.

Situated at an altitude of 2000 feet, Sirsi is a tourist destination that is surrounded by thick forests and towering hills. It is one of the most popular places to visit near Hubli. Sirsi is a place full of surprises and one can visit numerous religious spots, waterfalls, and forests replete with rich flora and fauna as part of Sirsi holiday packages. In the old times, Sirsi was ruled by the Sonda Dynasty and was known by the name of Kalyanapattana. Sirsi is one of the major trading centers for areca nut. The region is also known for spices such as cardamom, pepper, betel leaves, and vanilla.

This pristine hill station is also known as 'Gateway of Malenadu' or 'Gateway of Western Ghats'. This beautiful hill town is a popular weekend destination amongst locals. Unchalli Falls, Vibhuthi Falls, Marikamba Temple, Sri Mahaganapathi Temple, Magod Falls, Benne Hole Falls, Shivaganga Falls, Muregar Falls, Burude Falls, Mattighatta Falls, Manjuguni, Sahashralinga, Sodhe / Sonda, Devimane Ghat, Banavasi, and Gudavi Bird Sanctuary are some of the important tourist places in Sirsi.

Sirsi provides ample opportunities to trek on the many hills and mountains that surround the town. All the treks are rewarding with scenic beauty or mesmerizing waterfalls. Besides, the lush green forests of the Western Ghats that surround the city are home to a rich variety of flora and fauna. Dhole, Gaur, Slender Loris, Bonnet macaque, langur, are some of the rare species that can be seen along with a variety of frogs and snakes in the forest. Birds like Ruby-throated Bulbul, Indian Peafowl, owls, doves can be seen perched on trees chirping and making the place lively.

Sri Marikamba Jatra is the main festival held every alternate year in March at Sirsi. The fair attracts nearly 5 lakh devotees, tourists, and pilgrims from throughout Karnataka, Kerala, Tamil Nadu, Goa, and Maharashtra. It is said to be the most famous and biggest fair in the state of Karnataka. Amusements for children, a variety of shops, dramas and plays and many such things are set up for the people.

About 106 km from Sirsi, Hubli Airport is the nearest airport that has direct flights from Bangalore, and Mumbai. Goa Airport, about 200 km, is the nearest international airport to Sirsi. The nearest railway station is Hubli Junction which is about 102 km away from Sirsi and has trains from Goa, Hyderabad, Bangalore, Kolhapur, Manuguru, Bijapur, Belgaum, Mysore, New Delhi, Mumbai, Gandhidham, Tirupati, Solapur, Udaipur, Ajmer, Ballari, Chennai, Tirunelveli, Pondicherry, Vijayawada, and Ernakulam. One can rent a car from there to reach Sirsi. Regular buses are run by KSRTC that will take you to Sirsi from Gokarna, Hubli, Shimoga, Talguppa, Bangalore, and Mysore.

The hill station of Sirsi offers all kinds of accommodation options right from budget hotels, resorts to luxury hotels. However, you can book your stay at Shimoga or Hubli that are home to numerous accommodation options for all budget sizes.

The best time to visit Sirsi is from January to March when the temperature is moderate making it easy for travelers to visit different attractions in and around Sirsi without any hassle. If you want to see most of the waterfalls in full glory, then the best time to visit Sirsi will be immediately after the rainy season that is from October to November. Do not plan your vacation during monsoon season because the roads get muddy and the trekking paths become slippery. Summer will be hot and humid.
Internet Availability:
Average
Languages Spoken:
Hindi, Kannada & English
Major Festivals:
Sri Marikamba Jatra