JAISALMER TOURISM | TOURIST PLACES TO VISIT & TRAVEL GUIDE TO JAISALMER

Heritage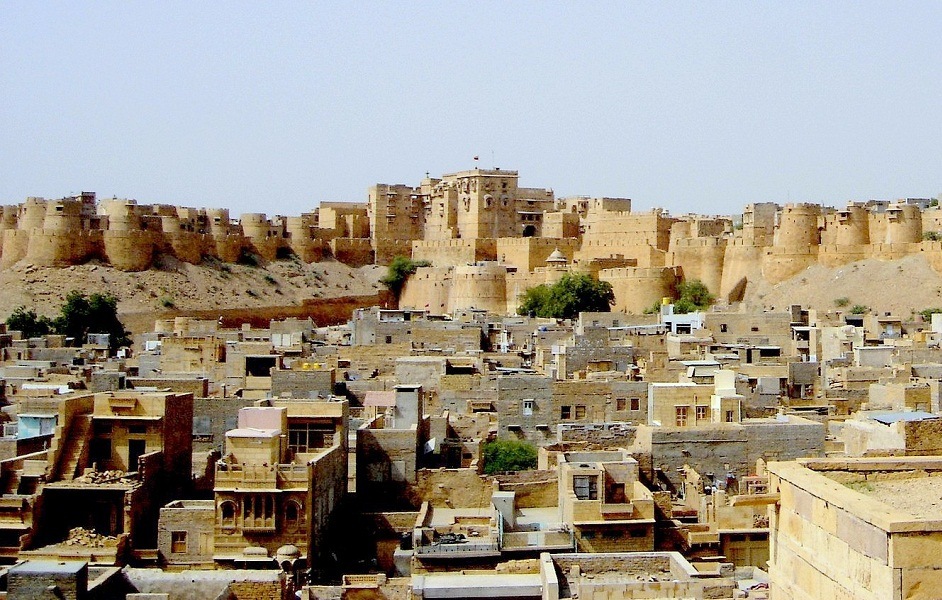 Ideal Trip Duration:
2 Full Days

Nearest City to Jaisalmer:
Jaisalmer

Best Time to Visit Jaisalmer:
October to March

Peak Season:
December to February
At a distance of 278 km from Jodhpur, 329 km from Bikaner, 493 km from Udaipur, 538 km from Ahmedabad, 555 km from Jaipur, and 762 km from Delhi, Jaisalmer is a city in the Indian state of Rajasthan. Lies in the heart of Thar Desert, it is one of the most visited Rajasthan tourist places, and among the prominent heritage destinations in India.

Jaisalmer is the largest district in Rajasthan and shares an international border with Pakistan. Jaisalmer is popularly called the 'Golden City of India' because the yellow sand and the yellow sandstone used in the architecture of the city provide a golden glow to the city. Jaisalmer is named after Maharawal Jaisal Singh, a Rajput king who founded the city in 1156 AD. The ruling dynasty is believed to have descended from the Yadava Prince Lord Krishna. Jaisalmer is one of the top heritage sites near Delhi.

Jaisalmer is also quite famous for royal forts, havelis, palaces, museums, and temples that can be visited as part of Jaisalmer tour packages. The Pride of Jaisalmer, the Jaisalmer Fort or Sonar Quila is the most famous tourist attraction of Jaisalmer and is a World Heritage Site. Nathmalji ki Haveli, Salim Singh ki Haveli, Patwon ki Haveli, Manak Chowk, Jaisalmer Folklore Museum, Tazia Tower, Gadisagar Lake, Bada Bagh, Khuri Sand Dunes, Sam Sand Dunes, and Kuldhara are some of the popular places to visit in Jaisalmer.

Jaisalmer attracts a lot of tourists for its desert camel safari. A bumpy ride on a camel in the Thar Desert is one of the exciting things to do in Jaisalmer. Sam Sand Dunes and Khuri Sand Dunes are the popular dunes in Jaisalmer. Jaisalmer Desert Festival, a music festival typically held in the 2nd week of February is also hosted near Sam Sand Dunes. Jaisalmer is also known for various crafts such as silver jewellery, embroidery, stone, work, leather products, and printing work.

Jaisalmer Airport is a military airport and supports only chartered flights, hence is sparingly used by travellers. Jodhpur Airport is the closest domestic airport which is about 281 km from Jaisalmer. Jaisalmer Railway Station is well connected by train with Jodhpur, Kathgodam, Ramnagar, Howrah, Delhi, Mumbai, and Jaipur. Jaisalmer Bus Stand, about 1.5 km from Railway Station, has frequent bus connectivity with Jodhpur, Bikaner, Ahmedabad, Jaipur, Udaipur, and Ajmer.

The best time to visit Jaisalmer is from October to February while the peak season is from December to February. Summers are hot & dry and monsoon & winter offer pleasant weather to enjoy the golden city.
Internet Availability:
Good
Languages Spoken:
Rajasthani, Hindi, Mewari, and English
Major Festivals:
Jaisalmer Desert Festival