JODHPUR TOURISM | TOURIST PLACES TO VISIT & TRAVEL GUIDE TO JODHPUR

Heritage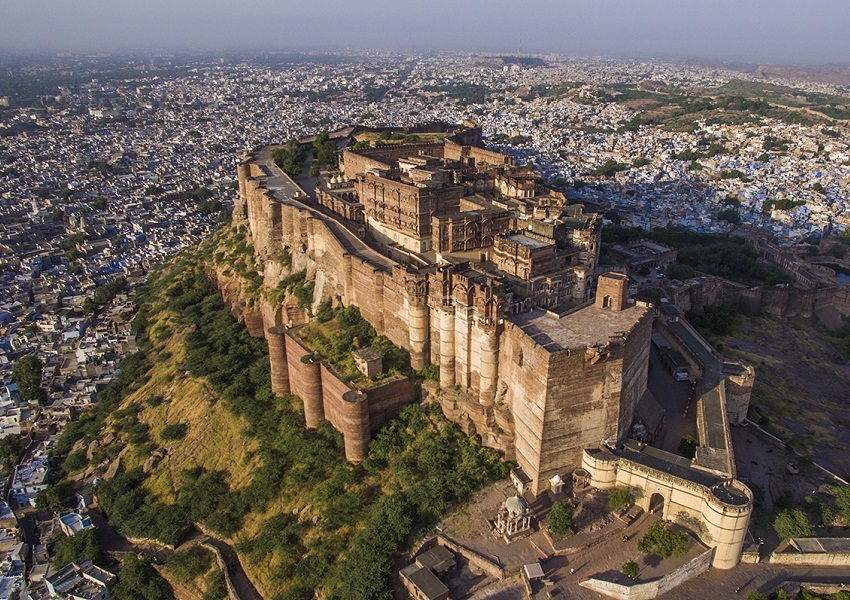 Ideal Trip Duration:
2 Full Days

Nearest City to Jodhpur:
Jodhpur

Best Time to Visit Jodhpur:
October to March

Peak Season:
December to January
At a distance of 205 km from Ajmer, 260 km from Udaipur, 278 km from Jaisalmer, 335 km from Jaipur, 562 km from Delhi, and 571 km from Agra, Jodhpur is the second-largest city in the Indian state of Rajasthan. It is one of the top places of heritage in India, and among the must include places in Rajasthan tour packages.

Jodhpur is featuring many palaces, forts, and temples, set in the stark landscape of the Thar Desert. The landscape is scenic and mesmerizing that one can experience as part of Jodhpur tour packages. Also known as the 'Sun City', Jodhpur was founded by Rao Jodha, the Chief of Rathore Clan in 1459 CE. The city is known to be built in place of the ancient capital, Mandore of Marwar state. In 1679, Mughal ruler Aurangzeb took possession of the state. But after the death of Aurangzeb in 1707, Maharaja Ajit Singh was restored to the throne of Jodhpur. Jodhpur grew into a fine modern city under the reign of Maharaja Umed Singh. Numerous battles have been waged by the neighboring states to possess the wealth of Jodhpur. Eventually, the ruler of the city signed a treaty with the British in 1818, to ensure the safety of the people and the city. The state flourished in peace and stability with trade during British Raj.

Jodhpur is divided into the old city and the new city. The old city circles the fort and is bounded by a wall with several gates. The new city is located outside the structure. It is also known as 'Blue City' because of the houses around Mehrangarh Fort that are painted in blue. Jodhpur's attractions include Mehrangarh Fort, Umaid Bhawan Palace, Jaswant Thada, and Ghanta Ghar. Mehrangarh Fort is one of the most-visited tourist places in Jodhpur. This fort is one of the largest forts in India and is still run by the Jodhpur Royal family. It has many palaces enclosed within its boundaries. It displays the second largest cannon in Asia. Mandore, Kaylana Lake and Garden, Balsamand Lake, Sardar Samand Lake and Palace, Siddhnath Shiva Temple, and Naini Bai ka Temple are some other places to visit in Jodhpur. Jodhpur is also known for the rare breed of horses known as Marwari or Malani, which are only found here.

The bazaars of Jodhpur are a treasure trove of tie-and-dye textiles, embroidered leather shoes, lacquer-ware, antiques, carpets, and puppets. Marwar Festival, Gangaur, and Rajasthan International Folk Festival are the popular festivals celebrated in Jodhpur with great pomp and fervor.

Jodhpur is well connected by road, rail, and air. Jodhpur Airport is the nearest airport which is about 5 km from Jodhpur Junction. The airport is served by flights from Delhi and Mumbai. Jodhpur Junction is an important division of the North-Western zone of the Indian Rail network. It is well connected by direct trains from all metros and major cities in India, including Delhi, Mumbai, Ahmedabad, Jaipur, Jaisalmer, Bikaner, Ajmer, Alwar, Agra, Kanpur, Allahabad, Gaya, Kolkata, Indore, Lucknow, Varanasi, Patiala, Chandigarh, Kalka, Jammu, Chennai, Bangalore and Hyderabad. Jodhpur is well connected by bus with Bangalore, Hyderabad, Mumbai, Agra, Jaipur, Delhi, Udaipur, Jaisalmer, Ajmer, and Ahmedabad.

Winter is the best time to visit Jodhpur and is the peak season for tourist activities. One can enjoy desert camping, sightseeing, and its famous festivals like Desert Kite Festival, Marwar Festival, and many other highlights of Jodhpur during winter.
Internet Availability:
Good
Languages Spoken:
Mewari, Hindi, Gujarati and English
Major Festivals:
Mewar festival, Gangaur festival and Rajasthan International Folk Festival