SHRAVANABELAGOLA TOURISM | BAHUBALI TEMPLE & PLACES TO VISIT IN SHRAVANABELAGOLA

Heritage |
Pilgrimage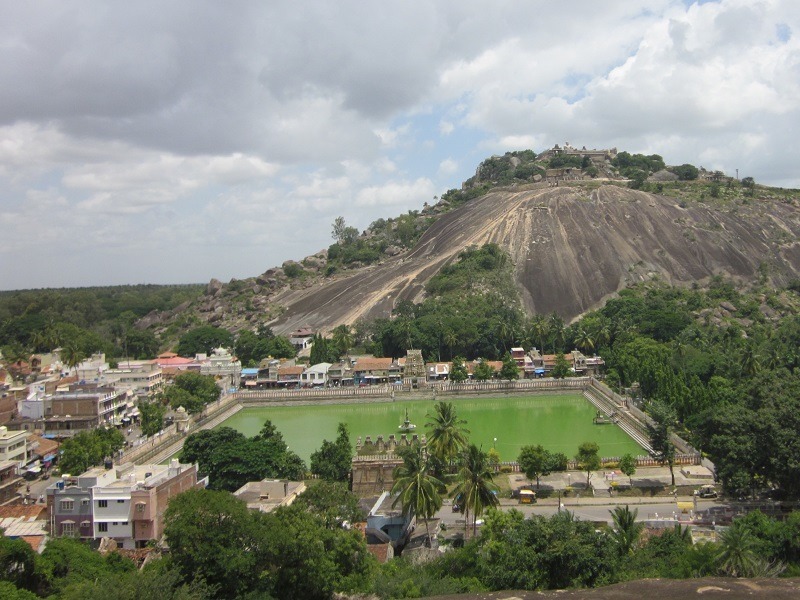 Ideal Trip Duration:
Half Day to Full Day

Nearest City to Shravanabelagola:
Mysore (83 Kms), Bangalore (140 Kms)

Best Time to Visit Shravanabelagola:
October to March

Peak Season:
April to May & September to October
At a distance of 50 km from Hassan, 83 km from Mysore, and 140 km from Bangalore, Shravanabelagola is one of the most popular Jain pilgrimage centers in South India. This is one of the popular 2 day trip from Bangalore and a major heritage / historical site not to miss in a Karnataka tour packages.

This place is named after the pond in the middle of the town (Bela-Kola means White Pond). Shravanabelagola is famous for the Bahubali Statue, among the must include places in Shravanabelagola tour packages. With a height of 58 feet carved out of a single block of granite, the statue is supposed to be the tallest monolithic stone statue in the world. The statue was carved during the period of Chamundaraya, a minister of the Ganga King Rajamalla between 982 and 983 CE. The nude statue of Bahubali is carved carefully with much perfection.

As per the mythology, Lord Gomateshwara (Lord Bahubali) was the son of the first Jain Tirthankara named Lord Adinatha. Lord Adinatha had 99 other sons and when he renounced his kingdom, there was a big fight between the two brothers, Bahubali and Bharatha, over the kingdom. Bharatha lost this battle, but Bahubali did not feel any happiness on seeing his brother's defeat. He then gave the kingdom to his brother and then attained Kevalagnana.

There are many places to visit in Shravanabelagola in the form of Jain temples and historical sites. Shravanabelagola is famous for two hills called Vindhyagiri and Chandragiri where most of the monuments are located. These two hills are spread on both sides of Temple Pond. The main temple of Gomateswara is located on Vindhyagiri hill along with Odegal Basadi, Tyagada Kamba, Siddhara Basadi, Chennanna Basadi, Akhanda Bagilu, etc. Chandragiri is home to about 14 shrines among which Chamundaraya Basadi, Chandragupta Basadi, Chandraprabha Basadi, Kattale Basadi, and Parshwanatha Basadi are important.

There are several historical basadis within the town as well. The great emperor of the Mauryan Dynasty Chandragupta Mourya has spent his last days in Shravanabelagola after becoming a follower of Jainism. His grandson Emperor Ashoka has built a basadi for him on Chandragiri hill in the 3rd Century BC. There are more than 800 well-preserved inscriptions dated between the 6th and 19th centuries in Shravanabelagola.

It usually takes one full day to visit all the historical monuments in Shravanabelagola. About 620 steps provide access to the temple of Gomateswara from the bottom of the hill. For those who can't trek the hill, Dolis are available at the entrance of the temple that charges about Rs. 800 including return. Once in 12 years, Shravanabelagola celebrates the Mahamastakabhisheka festival which attracts thousands of devotees and tourists from all over India. The next Mahamastakabhisheka will be held in Feb 2018.

There are a few accommodation options available in Shravanabelagola in the form of private lodges and Yatri Nivas.

Shravanabelagola is well connected by bus from Bangalore, Mysore & Hassan.
Internet Availability:
Poor
Languages Spoken:
Kannada, English
Major Festivals:
Mahamastakabhisheka - once in 12 Years (Jan/Feb - next one in 2018)