MALSHEJ GHAT TOURISM | PLACES TO VISIT & TRAVEL GUIDE TO MALSHEJ GHAT
Hill Station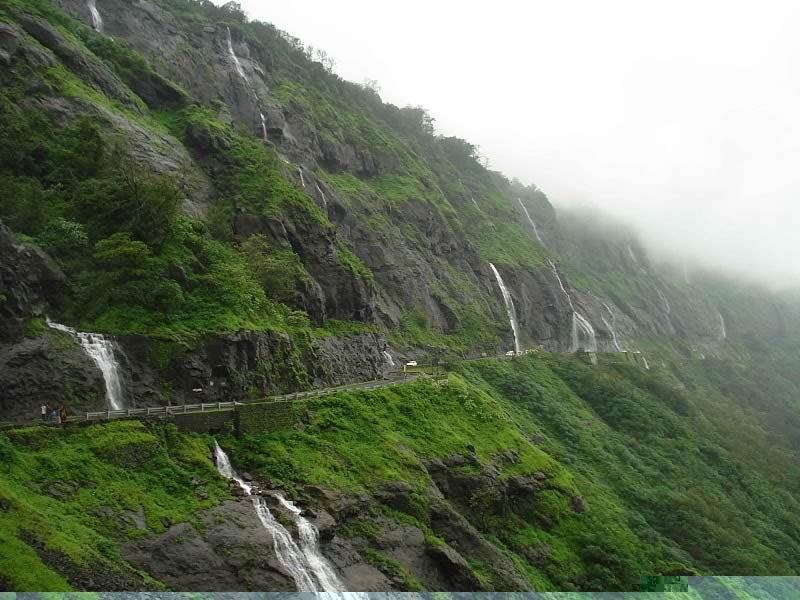 Ideal Trip Duration:
1-2 Days

Nearest City to Malshej Ghat:
Pune (117 Kms), Mumbai (141 Kms)

Best Time to Visit Malshej Ghat:
July to March

Peak Season:
July to October
At a distance of 87 km from Kalyan, 90 km from Igatpuri, 108 km from Thane, 117 km from Pune, 124 km from Ahmednagar, 130 km from Lonavala, 140 km from Shirdi, and 141 km from Mumbai, Malshej Ghat is a mountain pass located on Kalyan - Ahmed Nagar Road in the Thane district of Maharashtra, India. Nestled in the lofty rugged hills of the Western Ghats, it is one of the picturesque places to visit in Maharashtra, and among the popular hill stations near Pune.

Situated at an altitude of about 700 m, Malshej Ghat is an ideal retreat from the clamor of city life and is a heaven full of natural beauty. The place is known for its rugged mountains, trekking trails, amazing waterfalls, and numerous lakes. This stunning mountain pass is an amazing getaway from Mumbai and Pune and lures a huge number of tourists as part of Malshej Ghat tour packages, especially during the monsoon season when the surroundings are come alive with lush greenery and breathtaking waterfalls. Also, the place hosts numerous activities that will enthrall and keep its visitors busy.

With its rejuvenating climate and unspoiled tranquility, it is an ideal destination for people looking for quality time to spend with family, friends, or a special someone. Malshej Falls, Harishchandragad Fort, Pimpalgaon Joga Dam, Kokan Kada, Ajoba Hill Fort, Sindola Fort, etc., are some of the top Malshej Ghat places to visit. For the outdoor enthusiasts and the adventure seeker, there are many trekking trails along its scenic hilly routes and waterfalls. The most famous is the trek to Harishchandragad, which is a hill fort situated at an elevation of 1,422 m. Ancient temples and fortifications atop the hill add to the experience of the trek. Another trekking option is to climb the 400 steps of Shivneri Fort, the birthplace of Chattrapati Shivaji Maharaj. Favorite among bird watchers, this pristine hill station is home to a myriad of birds.

Being a small gateway retreat, Malshej Ghat has very few accommodation options available for tourists. Flamingo Hill resort run by MTDC - Maharashtra Tourism Development Corporation is the primary option in the vicinity. There are other private resorts where you can spend a day or two. However, many tourists can do a day trip to this hill stationas part of Pune packages.

Chhatrapati Shivaji International Airport, Mumbai is the nearest airport which is about 127 km from Malshej Ghat that has well-connected flights from all the major cities of India. Kalyan Junction Railway Station is the nearest railhead which is about 85 km from Malshej Ghat that has well-connected trains from Mumbai, Gandhidham, Jodhpur, Ahmedabad, Bhuj, Amritsar, Ajmer, Shirdi, Gadag, Howrah, Madurai, Coimbatore, Mysore, Puducherry, Tirunelveli, Chennai, Indore, Jaipur, Puri, Bidar, Bangalore, Tuticorin, Patna, and Nagpur. From Kalyan, one can hire a taxi or a bus to reach Malshej Ghat. Malshej Ghat is well connected to various major cities and towns like Mumbai, Pune, Kalyan, Junnar, and Ahmednagar by road via State Transport and Private Tour buses. The best option to reach Malshej Ghat is by hiring a cab or by own vehicle.

July to March is the best time to visit Malshej Ghat to enjoy trekking and sightseeing. However, monsoons are stunning here, and one can enjoy natural waterfalls and overflowing dams during this season. Though trekking is not recommended on rainy days as the slopes can become very slippery.
Internet Availability:
Poor
Languages Spoken:
Marathi, Hindi and English
Major Festivals:
Details Not Available